Classic DACB Collection
All articles created or submitted in the first twenty years of the project, from 1995 to 2015.
Mkabela, Esther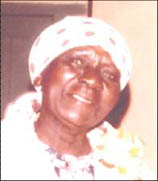 Inkosikazi Nomawa (which means "cliffs") Esther (Letswele) Mkabela was one of the first Nazarene converts in South Africa. She was born on July 16, 1904 at Emankempeni, Swartfontein, Whiteriver, among the foothills of the Drakensberg Mountains. She grew up at Sabie in the Eastern Transvaal, Mpumalanga Province. She was the youngest child in a family of eleven belonging to Zalukile Jim Letswele and Mandinisa Sara Maseko. Her early duties included herding cattle on the hillsides.
In 1923 she began attending school at the Sabie Nazarene Mission where she stayed with missionaries Joseph and Leta Penn. In 1927 she went to the girls' school at Endingeni, eswatini, along with a group of five girls and eight boys. She continued attending the school there until 1929, the year the pioneer Nazarene missionary in Africa, Rev. H. F. Schmelzenbach (Sibhaha), died. She attended the funeral and Samson Mkabela, who was to become her husband, was among those who helped to make the coffin.
In July 1930 they were married at Graskop, a little town high on the edge of the escarpment. They had previously met as classmates at Sabie Nazarene School. Pastor Samson Mkabela (1905-1985) was a preacher/teacher and cabinetmaker, a soft-spoken person with an affable personality. He was endowed with special gifts in teaching and leadership.
At the time they married he was ministering at the Zoeknog Church of the Nazarene. They continued serving there for thirteen years. Among their first converts was Esther's mother Sara who stayed with them for some forty years. Their children Samuel, Barnabas, Rebecca, and Silas were born there. Among those who found the Lord through their ministry at Zoeknog were Rev. Aaron Mathebula, Rev. Nelson Khoza, Rev. Benjamin Silinda, Rev. Pios Khoza, Mr. Zebedee Silinda, and Miss Katarina Khoza.
They pastored the churches of Bethel, Mica, Cottondale and Greenvalley while Samson also taught school. From 1963 on Rev. Mkabela taught at the Mnombelent (Arthurseat) Bible College for over fifteen years.
From 1946 to 1950 Esther pastored the Bethel Church while her husband took a leave of absence and attended the Lemana College of Education in the Northern Transvaal to train as a teacher. She was full of courage and confidence. Sunday mornings before delivering her message she would often lead the congregation in singing the hymn Yimani Isibindi (Stand up, Stand up, for Jesus) with tears of joy rolling down her cheeks. She would forge on and work for the Lord. Her messages were very simple and apt, coming out of her personal experiences. Like her husband she was endowed with a cool and velvet voice. They inspired the congregation with their buoyant anecdotes illustrating spiritual truth.
Esther was always herself and never took herself too seriously. She had an outstanding ministry mentoring younger women, especially counseling them about problems related to resisting non-Christian customs pushed on them by relatives. During their long service at the Bible College she was able to help and influence many of the students.
Samson and Esther Mkabela took her nephew Enoch Litswele (at the age of five) and his brothers into their home and cared for them as their children. These children's home had broken up when their mother passed away. According to African custom the Mkabelas were not required to do this but they did it out of love and kindness. In 2001 Dr. Enoch Litswele became the assistant to the Africa Regional Director of the Church of the Nazarene.
The Mkabelas retired at Acornhoek and in 1986, after Rev. Samson Mkabela had passed away, Esther went to live with their son Barnabas Mkabela at Mkhuhlu. Rev. Enoch Shabangu was the pastor and Esther was a wonderful inspiration to the church. Then in 1995 she went to stay with her nephew Schenod Letswele at Steelpoort. In 2004 she went to live at the Herfsakker Ouetehuis (home for the aged) at Nelspruit.
Although physically frail her spirit was vigorous. Barnabas reported, "We used to visit her at the Old Age Home and would usually find her counselling other residents on pressing issues of their problems and misunderstandings. She would always have a joke for everyone that she met and they all loved her. The management at the home held Esther in high esteem." On July 16, 2004 she celebrated her 100th birthday–an event that was reported by the Lowvelder newspaper:
Esther lives at Herfsakker Old Age Home and, although she suffers from the beginnings of Alzheimer's, she is still on the go. She says: "I don't know why the Lord allowed me to become 100, all I can say is thank you." She doesn't want to speculate on how old she will become but is praying for the Lord to guide her through every day. Her one surviving son is the pride of her life, and she is very excited when she talks about him and her many grandchildren. They come and visit her often and, according to her, they give her something to look forward to. Although Esther has only been a resident at Herfsakker since March this year, she is very happy there, and says: "I am so thankful for the home Herfsakker is giving me and for the people who are looking after us so well."[1]
"Samson and Esther were very good to their children," continued Barnabas. "They taught us to pray which is a pillar of spiritual life. They sent us to school, a foundation of intellectual life. Their home produced a carpenter, a teacher, a professional nurse, two agricultural officers and a minister of religion. They were a practical example of what they preached. They taught us to live in peace with all people." He concluded:
On Tuesday 14 June 2005, we visited Esther at the home and found her in her usual jovial mood. She was singing songs and dancing to welcome us and overall she looked fine. On the following day at 6:30 in the evening she collapsed in the arms of her great granddaughter, who had come to visit her, and she passed away from an acute heart attack. Like her husband Samson she too was promoted to higher service and was interred on the following Sunday at the Arthurseat cemetery next to the grave of her husband. Esther outlived almost all of her colleagues in that generation.[2]
Throughout her life Esther gave testimony to being entirely sanctified and remained a faithful member of the Church of the Nazarene. Inkosikazi Esther Mkabela passed on to meet her Lord just a month before her 101st birthday. She was survived by only one of their five children, Barnabas, twenty-four grandchildren and four great grandchildren.[3]
Paul S. Dayhoff
---
Notes:
"Esther celebrates a century of life," (Lowvelder (Nelspruit, July 16, 2004).

Barnabas Mkabela, report sent by Dr. Enoch Litswele (November 2005).

Obituary of Esther Mkabela.
---
This article is reproduced, with permission, from Standing Stones of Africa: Pillars of the Faith in the Church of the Nazarene, unpublished, copyright pending, 2004, by Paul S. Dayhoff. All rights reserved.