Classic DACB Collection
All articles created or submitted in the first twenty years of the project, from 1995 to 2015.
Mkabela, Ezrom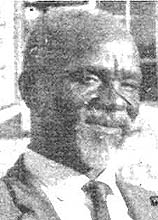 Rev. Ezrom Mkabela was born near Lydenburg in Mpumalanga. In 1912 he began to think about the claims of God on his soul. He attended night school at a Lutheran Church. Desiring to see God he used to peek through his fingers during prayer to look for Him. Once he was sent to the store to make a purchase with twenty-five cents and he kept the change of a tickey (two and a half cents) for himself. Later he wept and confessed to taking it and felt happy afterwards. In 1916 he was baptized at Lydenburg.
He found work across the mountains to the east on the Albany farm near Sabie. In September 1918 while working for the farmer, H. T. Brown, he was sent one day with a wagon to fetch the first Nazarene missionary, Rev. H. A. Shirley, when he arrived from eswatini.
Many people died from a terrible sickness (the influenza epidemic) during the next few months. Grass grew in the paths as no one walked them. Pigs and dogs ate unburied rotting corpses. Fortunate was anyone who had someone to bury him when he died. In 1919 many whites in the area also died.
Ezrom quit his job and moved to Sabie where he joined the Church of the Nazarene in 1921 and worked in the printing press. The mission purchased a three hectare portion of the Albany farm. Rev. Shirley and the printing press moved there. As the Lutheran Church had fallen down in a storm and had discontinued in that area, the Church of the Nazarene started the Bethel Church. Mkabela married Miss Lina Lekhuleni (1906-1997) during that same year.
In July 1922 Ezrom and Lina Mkabela went to Bible School in eswatini. It was a three-day walk across the mountains to Endzingeni from the rail terminal at Hectorspruit. A week-long series of revival meetings was held at Endzingeni that year. Mkabela reports that, on the third day, "the light came to me. An escape hole opened before me. I could not contain myself."
As he repented he saw before him a donkey's broken hoof–an injury which he had caused unbeknownst to anyone. He made the long journey back to where the accident had happened. The owner was astonished when Mkabela appeared to confess his fault and pay ten shillings to make it right. After that he sought and found entire sanctification.[1]
Upon returning to Mpumalanga and the Northern Province in 1926 he became the leader of the district. They evangelized among the people in the lowveld tribal homelands. Churches at Greenvalley and Zoeknog of the American Board Mission were given over to the care of the Church of the Nazarene. Ezrom and Lina Mkabela pastored the Greenvalley Church.
At Greenvalley in 1928 he was accused of kidnapping three girls and taking them to eswatini. They had gone to the Nazarene Bible School at Pigg's Peak. He appeared in various courts and went to prison twice at Graskop and was then taken to prison at Pigg's Peak, eswatini. In the end Mkabela was exonerated and his accusers were themselves indicted for their false accusations.
On another occasion a man returned from work in Pretoria and declared that outsiders from the mountain mist where the thunder came from (Sabie, in the mountains) could not be tolerated. They were locked out of the church for three weeks. Mkabela stayed at Sabie while the missionary, Rev. Joseph F. Penn, travelled three hundred miles to Pretoria to answer the charges.
One day he met one of his accusers who was going out to cut wood. The man cursed him saying, "You are the lackey of the white people," and he threatened to hit him with his ax. Mkabela said, "God helped me to subdue my anger and I spoke kindly to him." A few days later that man was kicked at a drinking party and the Christians were called to take him to hospital.
Lightning once struck the church building and one man refused to allow his three daughters to continue attending. He spoke angrily to Pastor Mkabela, "We will see if this little church of yours continues" (Prevalent superstition was that sorcerers sent lightening to kill). The storm passed. That man died a Christian and his daughters became pillars of the church.[2]
Mkabela had often visited Mr. George Mokabe who lived near the church at Greenvalley. In 1933 Mokabe apparently died. His body lay in the hut all day while relatives gathered to mourn. That night the "dead" man arose and declared that he had arrived at a great hall filled with happy people dressed in white. One was a very great doctor. Mokabe knocked but was not allowed to enter. A messenger told him to first go and repent and prepare himself. They would call for him in three days.
Mokabe called Pastor Mkabela the next morning and did indeed repent and find the Lord. On Thursday, the third day after that, traditional doctors came to help him. He told them that he had not called for them and did not need them; God was going to call for him that day. And indeed he went that day to be with the Lord.[3]
Rev. Nelson Ngobeni paid tribute to those early pioneers, "Ezrom Mkabela, Zephania Ngobeni and Enos Mokoena stood strong in the difficult early days when other workers became discouraged and left the ministry. They persevered even though they were often short of food and clothing."[4] Mrs. Elliott Zwane (Berlina) says of her father, "Ezrom Mkabela was a hard-working, good and honest Christian. He was a good teacher and singer and used to teach us Bible stories every evening. He wanted his children to be well educated." [5]
Ezrom Mkabela left the Northern Province in 1939 without fault. He moved to near Marble Hall in western Mpumalanga and in 1947 bought a farm of about seventy-two hectares. He started a church in affiliation with another group and donated the land for church and parsonage buildings to the congregation.
In 1968 he returned to the Church of the Nazarene and his congregation voted unanimously to come with him. Rev. Mkabela continued to pastor at Mamaneng. He helped to finance the church building. This church later formed the nucleus of a separate district among the Ndebele people of that region.[6]
Paul S. Dayhoff
---
Notes:
Ezrom Mkabela, "Thank God," Lebone la Kgalalelo, (The Lamp of Holiness), Pedi/Sotho/Tswana magazine of the Church of the Nazarene in South Africa, (Florida, Transvaal, South Africa: Nazarene Publishing House, January-March 1974), 3.

Ezrom Mkabela, "Sorcery," Lebone la Kgalalelo, (The Lamp of Holiness), Pedi/Sotho/Tswana magazine of the Church of the Nazarene in South Africa, (Florida, Transvaal, South Africa: Nazarene Publishing House, April-June, 1975), 4.

Report by Nelson Ngobeni.

Tape recording of interview with Enos Mokoena, Arthurseat, February l, 1992.

Mr. and Mrs. Elliot Zwane, letter from Siyabuswa, April 10, 1995.

J. K. Sentsho, "Report from Mamaneng," Lebone la Kgalalelo, (The Lamp of Holiness), Pedi/Sotho/Tswana magazine of the Church of the Nazarene in South Africa, (Florida, Transvaal, South Africa: Nazarene Publishing House, May-June 1968), 2.
---
This article is reproduced, with permission, from Living Stones In Africa: Pioneers of the Church of the Nazarene, revised edition, copyright © 1999, by Paul S. Dayhoff. All rights reserved.