Classic DACB Collection
All articles created or submitted in the first twenty years of the project, from 1995 to 2015.
Mkabela, Samson D.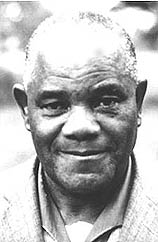 Rev. Samson D. Mkabela was a brother of Ezrom Mkabela. His grandparents, Nwaswikani and Nwaxiviri came from Gaza (Mozambique) during the wars of Muzila and Mawewe. They had settled and died at Ka-Mohlaba (Letaba-Tzaneen area). His father, Ngqakayi Maplanka, moved to Albany farm near Sabie in Mpumalanga. He had several wives and died when Samson was young. Samson Mkabela remembered how he and his twin brother, Elmon, were taken away from home early one morning while their father's body was removed. According to custom twins should not see a corpse. He remembered his mother, Basa Lukheli, weeping. Goats were killed, drums beaten, and mourners danced to the ancestral spirits. Samson was then brought up in his uncle's home.
A man dressed in white once came to their homestead and read from a black book telling of a chief who died after he saw a hand writing on the wall. That was the first Samson Mkabela heard of a God of heaven and earth and it amazed him. As he herded goats along the Sabie river he would watch the clouds, trees, rocks and hills and wonder who made it all. He attended the Lutheran mission school on the farm and learned to read. There were men as well as boys in school but no tables, books, slates or pencils. They moved to Marite in 1919. He sang and prayed with others in various churches but a spiritual hunger remained in his heart.
Samson Mkabela returned to work at the Sompungana (Buchanan) sawmill compound near Sabie. At that time his brother, Ezrom, was helping in the Nazarene printing press at Sabie. In 1922 Mr. Joseph Sihlangu, a young man from the mission, spoke to Samson of his spiritual need and he began attending services.
He told of one Sunday when a visiting white person preached. This spoke to his heart as he realized that the love of God did not discriminate but was for everybody. He went forward to pray when the appeal was given for anyone who wished to be saved to come to the altar. [1]
In 1923 Samson Mkabela began working at the mission and attending school. Missionary "Dulile" Robinson (Chapman) was his teacher and his pastor was Pastor Titus Dlamini. He continued there for eighteen months and learned the rudiments of reading, writing and arithmetic and also some English. Then in 1924 he and his wife Esther went to Bible College at Pigg's Peak, eswatini. He was baptized there by Sibhaha (Missionary Harmon Schmelzenbach).
Back in the southeastern lowveld of Northern Province he served as teacher/pastor at Zoeknog, Bethel, Cottondale, Mica and Greenvalley Churches. He was ordained by Dr. G. B. Williamson in 1961 and in 1963 went to teach at the new Bible College starting at Arthurseat. For over twenty years he taught there. A missionary colleague, Marjorie Peel, wrote of Samson and Esther, "They were always kind and helpful to everyone and left their stamp on many students."[2]
In 1967 their twenty-eight-year-old son, Mr. Silas Mkabela, died from a brain hemorrhage after being attacked from behind one evening. The family was comforted in their tragic loss because Silas had testified that everything was right between himself and God.[3]
Samson Mkabela tells of his own life, "In truth there were times of difficulty and need but there was never a day we went to bed hungry. We did not have many clothes but we never went undressed. God always gave to us according to our needs because we have placed everything in his hands."[4]
Rev. Samson Mkabela succumbed to pneumonia. Missionary Miss Rose Handloser paid tribute to him, "I can just see Rev. Samson Mkabela with his hand upraised, a crooked grin accenting the glory of the Lord on his face, and a mischievous gleam in his eyes. He is worshipping his Lord and Saviour Jesus Christ in person, saying, 'Glory to God! Hallelujah! Praise the Lord!' Every so often his joy is bubbling over into a little leap or two. I've seen him just so on many occasions when the Shekinah glory would fall on the services at Bible College."
In his memory the Pedi proverb was quoted, A tlala a epšha madiba a šuthelela madibana (drought dries up the watering places but water is still found in small springs). Good deeds are able to speak even when their owner no longer speaks. [5]
At his funeral the Honourable Mr. J. B. Mnisi, Minister in the Gazankulu Government and Nazarene lay pastor, spoke of him as having been "transferred to heaven" and related several humourous incidents from the past. Rose Handloser said: "Other speakers recalled examples of Rev. Mkabela as a man who loved his garden, as a builder of furniture, as a pastor, but most especially as a beloved teacher. Young men and women in the ministry today stood all over the very large congregation, proudly acknowledging him as their honoured instructor at the LSM Nazarene Theological College.[6]
Paul S. Dayhoff
---
Notes:
Samson Mkabela, "My Life," Mutwalisi (The Herald), Shangaan/Tsonga magazine of the Church of the Nazarene in Mozambique and South Africa, (Florida, Transvaal, South Africa: Nazarene Publishing House, July-August 1962), 7; idem, (September-October 1962), 4-8.

Marjorie Peel, letter, December 2, 1992.

"Silas Samson Mkabela Has Moved On," Isibani Sobungcwele, (The Lamp of Holiness), Swazi/Zulu Magazine of the Church of the Nazarene in South Africa (Florida, Transvaal, South Africa: Nazarene Publishing House, January-March 1968), 4, 10.

Rev. S. Mkhabela, "God Looks After His Workers," Lebone la Kgalalelo, (The Lamp of Holiness), Pedi/Sotho/Tswana magazine of the Church of the Nazarene in South Africa, (Florida, Transvaal, South Africa: Nazarene Publishing House, October-December 1975), 5.

Rev. A. N. Marakalala, Lebone la Kgalalelo, (The Lamp of Holiness), Pedi/Sotho/Tswana magazine of the Church of the Nazarene in South Africa, (Florida, Transvaal, South Africa: Nazarene Publishing House, vol. 31, no.l, 1986), 10.

Trans African, (Florida, Transvaal, South Africa: Africa Nazarene Publications, November-December 1985), 9; "Essence of Rose," idem, 12.
---
This article is reproduced, with permission, from Living Stones In Africa: Pioneers of the Church of the Nazarene, revised edition, copyright © 1999, by Paul S. Dayhoff. All rights reserved.