Classic DACB Collection
All articles created or submitted in the first twenty years of the project, from 1995 to 2015.
Mlambo, Amon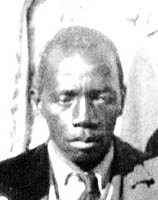 Amon Mlambo, from Gaza in Mozambique, was a pioneer in ministry on the East Rand, Gauteng, South Africa. He did not know the year of his birth but was a young man in 1901. A hunchback, Mlambo was a member of the Chopi tribe whose tribal marking was to file their front teeth. Surrounding peoples looked down on them because they were different and ate snakes. He grew up as a traditional nonChristian. As a young man he went to work in the gold mines in Johannesburg, South Africa where he first lived in a tumbled-down shack. He worked there for only a few years because he saw that many of his fellow young miners were dying of miner's phthisis from inhaling the dust from underground rock blasting. Instead of returning home to Gaza, he went to the Orange Free State where he found work in a coal mine.
There he heard the gospel and found Christ. Years later while conducting an evangelistic campaign at that place with missionary Irvin E. Dayhoff, he testified:
I remember the time when I lived here and I was an ancestral worshipper. I was a drunkard. We used to purchase illicit liquor and then go to an isolated place out in the bush and drink until we were so drunk that some of us had to be carried back to our rooms in the night. We were just like dogs that vomit and then return to their vomit again. But I heard about Jesus who died for our sins, and I came to Him and He saved me. I do not care to drink now. It is here also that I found my wife and I praise God for the nice family of children that He has given me.
In 1928 the African leader working with missionary Dayhoff introduced Mlambo to the missionary. Mlambo and his wife Emily began helping in the Lord's work. Mlambo was in charge of the school at Tweefontein, Springs. Emily Mlambo began a children's Sunday School and a weekly women's meeting in the Modder B African residential area of Brakpan, East Rand, where they lived. She was a good woman and proved a great blessing in the work among the township people. Mlambo felt God's calling to minister to his people and, in 1930, he and his wife became full time workers at the cost of a considerable loss of income. The Mlambos were the leaders of the work in that East Rand area serving along with missionary Irvin Dayhoff.
Mlambo was energetic and faithful and was held in high esteem in the community. He was greatly concerned for the salvation of his people and also for his own children. He would spend much time visiting homes. In the evenings he would teach young miners to read and he would expound the Bible to them. In February of 1932 Rev. E. E. Shelhamer visited South Africa and conducted meetings on the Rand, many of which Amon Mlambo attended.
On March 1, 1932, the missionary was called to Mlambo's home and found him with a burning fever. Within a few minutes Mlambo went to be with his Lord. Emily broke down and wept. Many came to the simple funeral service to pay their last respects to the one who had laboured so faithfully among them. His parting words were: "I am glad to report to you all that I am still following Jesus, our Deliverer, who called me and cleansed me by His own blood…. The words of Mfundisi (Rev) Shelhamer impressed me very much when he preached from the text, 'But my righteous one will live by faith. And if he shrinks back, I will not be pleased with him' (Hebrews 10:38). Let us not look back, for Christ is not there. A snake will bite you there. These words are continually with me. Let us not look back. Let us push forward in order that Christ may be pleased with us. Let us push forward!"
This message made a great impression on Emily and she courageously acted upon it. She was left with eight children and went to live with her brother and old father near Witbank. Immediately she began organizing a Sunday School there and began regular Sunday services with a mid-week prayer meeting for women. One Sunday she testified, "Some people find fault with me and persecute me very much because I am a woman and am trying to preach the gospel. But I cannot help that I am a woman. God has put the burden of my children and my neighbors' children upon my heart and I must do something. I am like an ox yoked to a plow. I cannot turn to the right hand or the left. I must pull." Years later it was reported that Emily Mlambo had joined a Church of the Nazarene in Soweto, Johannesburg.[1]
Paul S. Dayhoff
---
Notes:
Rev. and Mrs. I. E. Dayhoff, Missionary Vicissitudes, (Cincinnati, OH: God's Bible School and Revivalist, 1938), 70-76. African Missionary, (Brakpan, Gauteng, South Africa: Hephzibah Faith Mission, March 30, 1930, No. 7), 4.
---
This article is reproduced, with permission, from Africa Nazarene Mosaic: Inspiring Accounts of Living Faith, first edition, copyright © 2001, by Paul S. Dayhoff. All rights reserved.