Classic DACB Collection
All articles created or submitted in the first twenty years of the project, from 1995 to 2015.
Mnisi, Jones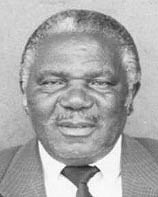 Jones B. Mnisi was a pioneer from Welverdiend near the border of Kruger National Park. As a schoolboy during a revival at Arthurseat Mission in 1942 he found the Lord and was fully sanctified in 1950. He completed primary school at Arthurseat and missionaries Elmer and Mary Schmelzenbach lent him funds to go on to Maripi High School at the Arthurseat Mission and then to teachers' training at Lemana College of Education. He earned his teacher's diploma in 1953. He repaid it all when he started working.
As the first teacher and principal at the mission school at Welverdiend he helped parents in the community to see the need to send their children to school. Then he motivated the children to attend Sunday School and church services.
He married Miss Sina Mabaso (1936-2005) about 1955. They had four girls and two boys.[1] In the next few years, as they served as lay pastors, Welverdiend became one of the largest churches in the district, a testimony to Mr. Mnisi's leadership and ministry. In 1961 the Mnisis lost their two-year-old son, Michael, due to a heart defect.
Mr. Mnisi was elected member of the Gazankulu Homeland parliament and became minister of education in 1976. Later he held the portfolio of agriculture and forestry. The Honourable Mr. Mnisi was speaker of the House and was also the official praise singer of the Mnisi people.
About 1961 a prominent traditional doctor in the area, Mr. Mzondi Mawulele, began to oppose Mnisi. Mnisi had favoured the government policy of fencing off separate grazing, agricultural, and residential areas in order to make optimum use of the land. On two occasions bands of drunken men were sent to kill Mnisi. Mnisi heard of the impending attacks and sent his family away from home. Then he walked out to the fence and spoke to the men hiding in the bush in the darkness. On each occasion they left peacefully.[2]
Mr. Jones Mnisi served for many years as treasurer of the Eastern District, as a member of the district advisory board and the Bible College board of control. He was one of the first to pay tithes faithfully, also tithing his cattle. Throughout the years he generously supported the church financially and donated thousands of rand to its work.[3]
Welverdiend was one of the places where thousands of refugees arrived, fleeing from the civil war in Mozambique during the mid-1980s. Many were infected with scabies, tuberculosis and malaria and had nothing but the clothes on their back.
Jones Mnisi and Rev. Meshack Rebese, the district superintendent organized help. The local Nazarene congregations sheltered and fed them initially. One pastor, Rev. Elmon Makhubela, had eighty-six in his home one weekend. Makeshift shelters from branches and poles were erected to provide shelter during the very cold nights. Food, candles, matches, medical supplies and blankets were sent in trucks and planes by Nazarene Compassionate Ministries and by others. A tent to accommodate five hundred people was erected at the Welverdiend Nazarene Church.[4]
In later years Mr Jones and Mrs Sina Mnisi operated a business in their home community. Mr Mnisi never sold any intoxicating products or tobacco. The Welverdiend community looked to him as a pillar of strength and as the community spokesman. Truly he could say, "Follow Christ as you see me follow him." The Mnisis continued to promote the work of the church in many ways both at home and in surrounding areas.[5]
Jones Mnisi passed away on June 15, 2003, which was Father's day.[6]
Paul S. Dayhoff
---
Notes:
Mrs. Pretty Mnisi-Lambane, fifth born daughter of Mnisi Jones, email message to Michele Sigg, dated May 24, 2010.

Told by Rev. D. R. Alexander at Nazarene Theological College, Johannesburg, October 30, 1993 as he had heard it from Jones Mnisi.

Rev. Enos Mokwena, taped interview, Feb. 1, 1992.

Trans African, (Florida, Transvaal, South Africa: Africa Nazarene Publications, November-December 1985), 2-3.

Rev. Meshack Ribisi, "Mr. Jones B. Mnisi", World Mission, (Florida, Transvaal, South Africa: Africa Nazarene Publications, July 1988), 15. J. B. Mnisi, letter, September 25, 1995.
Email message, Mrs. Pretty Mnisi-Lambane.
---
This article is reproduced, with permission, from Living Stones In Africa: Pioneers of the Church of the Nazarene, revised edition, copyright © 1999, by Paul S. Dayhoff. All rights reserved.