Classic DACB Collection
All articles created or submitted in the first twenty years of the project, from 1995 to 2015.
Moagi, Godfrey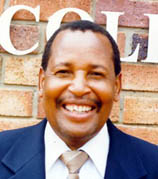 Rev. Godfrey Moagi was born in Sophiatown on April 4, 1942, the second child of Senaka and Molaletsa Moagi. He started his schooling at Rustenburg and then on to Meadowlands High and eventually matriculated at Orlando High School. In his youth, his mother was paralyzed and lay in bed for two years and his father was unable to earn enough to support the family. As a result Godfrey had to leave home in 1964 during his final year of high school and go to work. He worked for the Westrand Administration for five years and then went to work for Impala Platinum Mines. He hoped to finish school through private study, but he quickly fell in with rough companions and became an alcoholic.
As a boy of thirteen, Godfrey had heard the gospel from a Nazarene preacher, and in 1960 had heard a Nazarene missionary preach. Of course he had studied the Bible a little at school but now he turned his back completely on religion. He had vivid dreams of death, heaven and hell. Once, in an alcohol fueled delirium, he was taken to the mental hospital in Krugersdorp and awoke three days later in a padded cell. He was a diabetic and not eating properly contributed to his mental health problems.
Try as he would, Moagi was unable to break his alcohol habit. He could not hold a job. He described his life as being like a piece of paper blown in the wind or a log floating down a flooded river. His mother died and Moagi became thin and worried, thinking he was going to die at any time. He was always sick and drunk and was afraid to sleep for fear he would not wake up. For a second time he was taken to a cell in the hospital where he stayed for three weeks. He knew he needed help. Religious faith always remained on the periphery for him. Once he picked up a tract showing the ways to eternal life or eternal Hell. On another occasion, he heard a girl testifying on a train. Despite the power of these images and words, he could bring himself to faith. Again he drank and a fellow employee framed him for the theft of a radio so he could get his job. This time Moagi went to jail with an eighteen-month sentence.
It was the first Christmas he had been sober for many years. All alone in prison he began, for the first time in his life, to pray earnestly. He desperately wanted to make a success of his life but he now knew he needed God's help. On January 3, 1975, he felt some assurance that Christ had died for him. On January 7, he gave himself to the Lord and like a flash of lightning he knew his sins were forgiven. He recounts that this unforgettable experience was the first time he felt happiness in his life. At that time a chaplain appeared who was able to shape him as a new Christian disciple.
When he came out of prison, the Lord helped Moagi make a new life. He found a Nazarene church, married Miss Gertrude Mthembu on March 3, 1978 and God blessed them with a daughter, Tebogo, born on May 6, 1980. Moagi then trained and worked as a building contractor. In 1985, he left a well-paid job at LTA to follow a calling to the ministry. He graduated from African Nazarene Theological College at Port Elizabeth, Eastern Cape, on April 23, 1989 with his Bachelor of Theology degree through Canadian Nazarene College.[1]
He and Gertrude were appointed to lead the Katlehong Church on the East Rand. The area, at this time, was a war zone and the violence reached a climax in 1993. Thousands were killed there that year. Gertrude lost her job just at a time when travelling to work became very dangerous. People were shot, thrown from trains, and burned to death in the streets. There was large scale intimidation and extortion, cars were hijacked or overturned and burned. Many homes were destroyed.
One Sunday evening in July 1993, Moagi was closing the church yard gates when a man rushed in for protection. There was machine-gun fire and the man's friend was slumped over dead in the car out in the street. Later the car was burned. Moagi phoned the police who came and took pictures and left without getting out of their vehicle. Five cars were burned on the block that night and charred bodies were found in them the next day.
The following morning some youths ran into the church yard and there was shooting in the street. An elderly lady from the church, Mrs. Mathilda Mpila, lived in a cottage behind the parsonage. She had been standing before the window and, on hearing the shots, went and sat on her bed. A bullet came through the window right where she had been standing. Gertrude saw what happened from the parsonage and rushed over to see how she was. Mathilda did not know what had happened until Gertrude showed her where it had struck the wall. Finding the bullet on the floor, they praised the Lord for her miraculous escape. Gertrude suspected that the police may have been responsible for the shooting. When the police came, they denied that the bullet was theirs and gathered the evidence quickly, leaving soon after. A few minutes later a little girl brought the message that Gertrude was marked to be killed as a collaborator with the police. Immediately, Gertrude rushed down the street to the corner where the young men that had sent the girl were standing. She explained to them that she was remonstrating the police about shooting into the church yard. The young men apologized to her.
Often Moagi was caught in the midst of gunfire in the streets. He would just freeze where he stood, prepared to die. Once he saw two people shot down as they were running near him. One morning, on his way to a self-help training center where he was working, Moagi was told, "Go back to sleep. No one is going to work today." He went home, changed clothes and tried to get another taxi. He saw a well-dressed young man shooting and chasing people away from a taxi. Moagi stood still. The man said to him, "Yebo, Mfundisi!" (Yes, Preacher!) and let him board the taxi. Gertrude later warned him by phone not to come home. Godfrey felt like he had deserted his family. After three days, the rioting had died down enough so that he could safely return home.
Moagi knew of many that, like himself, were able to survive the violence through moments of grace. Meshack Motaung, a businessman and member from the nearby Thokoza Church of the Nazarene, once drove his van through a hail of bullets. Moagi saw the vehicle afterwards and said he did not see how anyone in it could possibly have survived. Another time, Brother Meshack was riding in the back of a bakkie (pickup). He had been sitting with his back to the window but for no apparent reason changed places and sat over to the side. Moments later, a bullet came through the windshield. It nicked the ear of the man sitting in the middle of the front seat and came through the rear window right where Motaung had been sitting a few moments before.
In writing out the account of these and other events and praising God for his protection, Pastor Moagi detailed, "We have learned to experience God in a deep and unique way. Death stalks our streets. Nights are a terror. Yet the hand of God upon us gives us an unusual peace."[2]
He and Gertrude served the Lord and the church faithfully and heroically during the years of political violence leading up to the elections for the "New South Africa" in April 1994. By the mid-1990s, with the new completely representative government in South Africa, political violence died down at Katlehong, though some criminal activity continued.
While continuing to pastor at Katlehong, Moagi joined the Rutec Company and obtained a certificate as a micro-enterprise trainer. He also held a certificate for Healthy Church Finances. After a year he enrolled at the University of Johannesburg and obtained his BA Honours and Masters degrees in Fine Arts. Moagi was involved in youth outreach programs and preached in high schools around Katlehong. He was a member of the Top Ten Club for elderly people and belonged to the Katlehong Pastors' Fellowship. He lectured at the Primrose Nazarene School of Extension, training pastors.
Although his health began deteriorating from hypertension and renal problems, he continued studying and managed to train at Mode For Small Business early in 2005. He joined the Bible League and obtained a diploma in Leadership Studies. He was still attending the Million Leaders Mandate training program when he was admitted to Baragwanath Hospital. He was called to glory on the morning of October 20, 2005. "He will be dearly missed by his family, friends, colleagues and the church as a whole. He is presently with the Lord and his soul is resting in peace." The following tribute by his daughter, Tebogo, was read at the funeral:
The Legacy He Left Behind

He was a simple man who loved God. He loved to laugh and share his joy with everyone around him. He had no fear of life and he was so positive and outspoken. Let's not forget his stubbornness, but that helped him to fight for God's love to be perfected in him.

We used to watch nature together. He loved plants and trees, animals and all humankind. He was fascinated by the way God created everything. In all he knew and saw he gave God all the glory and honour.

He loved reading; he loved this church; he loved his family; he loved his friends; he loved my mother with all his heart; he loved me with all his heart; he loved God with all his being.

The weaker his health got, the stronger he became. The more he was rejected, the more he accepted all, for who they were. And when he died that morning, he became alive!!

He was forgiving; he was humble; he was sensitive; he was straightforward; he was wise.

He had his mistakes, but he was man enough to admit them and ask for forgiveness. That is his legacy. And I am woman enough to let his legacy live on and to serve God as he did.

He is my father and today I am so proud to be called by his name.
Paul S. Dayhoff
---
Notes:
G. Moagi, paper (written at ANTC, Port Elizabeth, 1987).

G. Moagi, handwritten report, (November 1993).

Obituary of Rev Godfrey Moagi, sent by Dr. Enoch Litswele, (in December 2005).
---
This article is reproduced, with permission, from Africa Nazarene Mosaic: Inspiring Accounts of Living Faith, first edition, copyright © 2001, by Paul S. Dayhoff. All rights reserved.