Classic DACB Collection
All articles created or submitted in the first twenty years of the project, from 1995 to 2015.
Modiba, Elina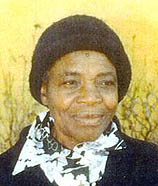 Elina Mokgadi (Pasha) Modiba (1927- 2005) was the first Nazarene convert at The Heights, high in the Drakensburg Mountains above Ofcolaco, near Trichardtsdal, Limpopo Province. When she came to work at the mission she told her friends that she would leave if the missionary lady, Mrs. Betty Emslie, shouted at her. She did not need to leave and Missionary Betty Emslie helped her find the Lord in 1950 when Miss Katarina Khoza visited from Acornhoek and preached on Noah and the Ark.
Elina heard God's call to the full time ministry to preach the gospel. Although she had attended the farm school near her home she obtained very little education. The missionaries, Rev. Rex and Mrs Betty Emslie, encouraged her. Attending church was a problem as traditional sacrifices were often made at home during church times. Her family was very offended when she went to church anyway. They disliked her praying. It was also a difficult problem to be released from her work on the farm. All residents had to work for three months a year for their rental. Many times this included Sunday work. Her sisters told her she would never marry if she went to Bible College. They said that no one would want her.
She attended Bible College during 1953-54 at Siteki, eswatini, and returned to help at pioneer preaching points in the Lorraine and Blouberg Districts and working with the missionaries. In The Downs area she pastored the Ga-Mafefe Church while Pastor Idah Ntimane pastored at nearby Fertilis. It was very hazardous for them living high in the mountains and descending to cross the Mohlapetsi River when it was in flood during the rainy season. Elina also encountered many difficult problems in the ministry as a single lady, but the Lord used her greatly.
Meanwhile, a man named Mr Daniel Modiba (1912-) from Rantenburg, in the Tzaneen area, found spiritual help and became a Nazarene. He wanted very much to see a church started at his home. The district leaders told him that no pastor was available.
God seemed to show him that, since his wife had died, the only way for them to get a pastor was for him to marry a pastor. He first wrote to Elina Pasha in 1952 when she had no idea who he was and she did not give him any encouragement at all. He persevered with his courtship and they were married in 1963.
Pastor Elina Modiba started the church at Rantenburg and served there faithfully for many years with the support of her husband. Finally they pastored the Moime Church near Lenyenye. Whenever Missionaries Paul and Margaret Dayhoff would visit the district Elina would bring them and their family a large jar of honey or other special gift. Upon retirement the Modibas resided at Moime.[1]
After the death of her husband, Elina Modiba continued with an active ministry. She exemplified a Christian lifestyle, visiting the needy, witnessing for the Lord and preaching whenever and wherever there was opportunity.
Elina passed away on February 27, 2005. At her funeral on March 5 at the Moime Church a man testified how he was touched by seeing Elina Modiba riding in the town of Politsi on a bicycle with her Bible on the carrier on her way to church. He wanted to hear what this woman was teaching and one Sunday he went to the church where she was preaching. The Word of God spoke to him and he was converted that day. He said that was why he felt bound to come to pay his last respects to Pastor Modiba who had helped to change his life.
Late in life, Pastor Modiba was sick for quite a long period. The church members at Moime said that even during her illness she encouraged and inspired the believers to hold on to their faith in Christ. Sickness could not stop her from testifying that life is found only in Christ. Everyone praised her Christian life. Leaders and pastors from the Northeast District loved Pastor Modiba and when she died, they came to lay their fellow worker to rest. She had lived faithfully for Christ right up to her last moment on earth. Rev. Major Mampa from the Lulekani Church, Phalaborwa, on the Drakensberg District, also attended the funeral. He was from The Heights and he characterized Elina as "Our role model." He reported how everyone was blessed that day by the testimony of her life that she had left.[2]
Paul S. Dayhoff
---
Notes:
Elina Modiba, taped interview by Calvin Maenetja, August 1993; letter, September 20, 1995.

Rev. Major Mampa, letter to Paul Dayhoff, March 15, 2005.
---
This article is reproduced, with permission, from Living Stones In Africa: Pioneers of the Church of the Nazarene, revised edition, copyright © 1999, by Paul S. Dayhoff. All rights reserved.