Classic DACB Collection
All articles created or submitted in the first twenty years of the project, from 1995 to 2015.
Mokoena, Enos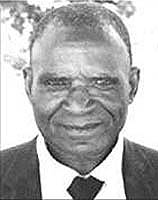 Rev. Enos Mokoena, a great man of God, was a pioneer leader in establishing the work of the church both in Mpumalanga, Northern Province, and in other regions of South Africa.
He was born at Richmond near Sabie and was the youngest child of Mlambo and Lebeyile Mokoena. As a boy he attended a Wesleyan night school at Kleinfontein in the Sabie area for a while until the teacher died. In 1919 he went through the tribal initiation school at Sabie.
While he was working on a gold mine there in 1922, a Nazarene missionary, Rev. Joseph F. Penn, visited their compound. It was just a collection of grass huts with very little sanitation or cleanliness. What impressed him greatly was to see Brother Penn in his nice clean suit kneel down in the dirt to pray for them. His previous experience with white men had been that they often swore at him and kicked him. Rev. Ezrom Mkabela sometimes visited them too. Here Mokoena found the Lord and in 1924 attended the mission school at Sabie.
Feeling God's call to preach he travelled to Pigg's Peak in 1925, walking across eswatini from Hectorspruit. He continued there in the Bible College until 1930. First of all he needed to learn to read the Bible and write. While there he experienced the baptism with the Holy Spirit.[1]
He was at Endzingeni near Easter time in 1929 when the pioneer missionary to Africa, Harmon Schmelzenbach, passed away. Enos Mokoena helped to make a simple pine coffin for the burial. There were great revivals in the College and in the school at Endzingeni during those days. These spread far and wide as the students went out to hold meetings. Thomas Ndlovu (later a very successful evangelist) responded to the Lord as a teenager in a service where Enos Mokoena preached. In eswatini Enos Mokoena was mentored by Dr. William Esselstyn.
Enos Mokoena and Pastor Lois (Mathebula) Mokoena (1908-1994) were married in 1931. He paid eight cows to her parents for lobola (marriage payment). She was from Marite in the Northern Province and was converted in 1924 while working in the missionaries' home at Sabie. Her parents had tried to force her to marry a non-Christian man. The missionaries protected her and she went to Bible College at Pigg's Peak in 1926. While there she also was sanctified. She was a great prayer warrior and a strong and influential leader among the women and in the missionary society throughout her life and always faithfully supported her husband. They had nine children, one son and eight daughters. Five of their daughters became qualified nurses.
Upon his return from eswatini, Mokoena travelled about forty miles from Sabie on horseback to pastor Sand River Church, near the site of the future Arthurseat Mission. He also taught school at Sand River. In 1935 he was transferred to Bethel (near Sabie) where he pastored and taught school.
While at Bethel he once purchased a cow from Mr Case. Unbeknownst to Mokoena, a traditional doctor named Zitha had wanted that same cow and became very angry when it was sold to the preacher. He obtained a certain stone from a man named Monareng and placed it close to Enos Mokoena's home. It contained a mineral that was reputed to draw lightning. Twice the Hhelehhele church in eswatini had burned down and it was attributed to the presence of just such a mineral stone.
Now Zitha's own homestead was close to that of Mokoena. Lightning did strike but it hit and completely burned down the doctor's own worship and medicine hut. While drinking with Nkonyane one day, the doctor confided this to him and told him that he feared Enos Mokoena greatly because he was a powerful sorcerer indeed. Nkonyane was the father of Samson Mkabela's daughter-in-law and Mokoena heard about it from them.
In 1943 Mokoena became leader of all of the Nazarene churches in South Africa and went to live at the Arthurseat Mission. From 1946 to 1948 the Mokoenas attended eswatini Nazarene Bible College. Enos Mokoena was an excellent student. He was ordained at Arthurseat in 1947 by General Superintendent Dr. Hardy C. Powers and was the first ordained Nazarene elder in South Africa.[2]
Mokoena tells of advantages the church had in the southeastern lowveld of the Northern Province. The Church of the Nazarene ministered to all three major tribes of the region, Swazi, Tsonga and Pedi. On the other hand the Lutheran mission had ministered only to the Mapulana (Pedi) people and the Swiss Presbyterian mission had concentrated their ministry among the Shangaan (Tsonga) people. The chiefs of the region received the Nazarenes well but none of them repented.
The Nazarenes cultivated a reputation for honesty and the leaders set the example. Mokoena tells of a visit he made to Matikiti's (Mr. Travers') store one day. He bought three wagon chains. Upon arrival home he found he had been given a considerable amount of extra change (over a pound). Returning the following day he told the sales person, Mr. Maluki Maditweni, that he had received the wrong change. The man, thinking that he meant he was short-changed, protested vehemently and affirmed that he had given the correct change. When he realized what Mokoena was saying he was greatly shocked. He had never heard of such a thing. He told Mokoena that he could have just accepted the extra money as a gift from God. The reply was, "I fear God, not you."
In 1944 the mission leaders were called to Madabula's farm in the direction of Tzaneen where people were dying of malaria, including many children. The farmer had heard about the mission hospital at Acornhoek. Enos Mokoena went to the place to arrange to help them. The foreman on the farm was Mr. Masiye. Mokoena, along with two women, was visiting homes in the area when they were attacked by an angry Cape buffalo, an extremely dangerous animal. It was unusual for one to be roaming outside the game reserves.
It left the women and chased Mokoena and he escaped with his life by ducking behind a hedge. The foreman treated him with great respect after that, saying he must have powerful medicine. Masiye had an enemy named Mabunda who had been jealous of his position for years and wanted to kill him. Masiye was certain that it was Mabunda who sent the buffalo after Mokoena to kill him. Mokoena and his companions were able to testify to God's protecting power.
On July 22, 1960, Enos Mokoena was riding his motorcycle, returning from camp meeting at Lorraine Mission (Northern Province). Near Acornhoek he swerved to the right to avoid three bicycle riders approaching on the wrong side of the road. He struck one of the bicycles, fell and badly injured his face. For three days he was unconscious and was at Baragwanath Hospital in Johannesburg for three months. Returning home, he remained at Tintswalo Hospital, Acornhoek, until after Christmas that year. For ten years he suffered much with a hole draining near his eye. Finally a concerned visiting specialist, Dr. Jones, was able to operate and solve his problem.[3]
In 1962 Mokoena was elected as the first African Superintendent in South Africa. He continued in that capacity until retirement in 1974. After that he continued to minister especially with revivals, the Men's Ministry and conferences. He has been one of Africa's most faithful men in the church and is a great man of prayer.
Enos Mokoena knew his Bible exceptionally well. He knew the names of the prophets and kings of Israel and Judah along with their contemporary neighbors and could recount events in their lives. He knew the references for many verses and passages and could recite many from memory. Rev. Major Mampa pays him tribute, "Rev. Enos Mokoena has challenged my life. I always visit him and he gives me courage and hope to overcome problems. As District Superintendent he lived a faithful and victorious life. He even praised the Lord for saving him when he fell from his motorcycle. Always a very good example he still likes to preach and teach even though retired." [4]
In 1974, after nearly fifty years of ministry serving the church,[12] the Mokoenas built a home adjoining the mission at Arthurseat and continued active in the work of ministry, locally and on the district. Their daughter Miss Kezia Mokoena, a nurse, helped them greatly in fixing up their home.
In 1994 Enos Mokoena had to have a leg amputated due to diabetes and six weeks later Lois passed away after a short illness. He remained in poor health and passed away peacefully to his eternal reward on November 19, 1999 at the age of 97. He was survived by his son and eight daughters; twenty-six grandchildren and thirty-two great grandchildren. He was the oldest Nazarene elder in Africa.[5]
Lala ngokuthula, Koena ea metsi amagolo. Ulwile ukulwa okuhle uqedile ibanga lakho. (May your loving soul rest in peace. You have fought a good fight and you have finished your race.)[6]
Paul S. Dayhoff
---
Notes:
Rev. E. Mgwenya, "The Love of God to People," Montsoša-Bošego (The Herald), Pedi/Sotho magazine of the Church of the Nazarene in South Africa, (Florida, Transvaal, South Africa: Nazarene Publishing House, September-October 1967), 3.

W. C. Esselstyn, "Africa Moves Forward," The Other Sheep, (Kansas City, MO: Nazarene Publishing House, April 1948), 7.

Mutwalisi (The Herald), Shangaan/Tsonga magazine of the Church of the Nazarene in Mozambique and South Africa, (Florida, Transvaal, South Africa: Nazarene Publishing House, November-December 1960), 8.

Major Mampa, report, August 23, 1993.

Joanie Doerr, "Out of Africa," email of Nov. 21, 1999.

The obituary read at Rev. Enos Mokoena's funeral. Sent by Rev. Gideon and Mrs. Jeanette Tredoux.
---
This article is reproduced, with permission, from Living Stones In Africa: Pioneers of the Church of the Nazarene, revised edition, copyright © 1999, by Paul S. Dayhoff. All rights reserved.