Classic DACB Collection
All articles created or submitted in the first twenty years of the project, from 1995 to 2015.
Morgan, Mary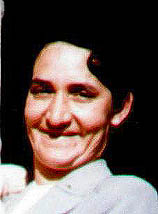 Mary Morgan was one of the early converts in Johannesburg. She found the Lord at Kliptown in April 1949 and became a great leader in the missionary society on the region. She was a natural leader and never expected more of others than she was willing to do herself.
As a new convert, the Lord told her that she should sell a piece of property and donate the proceeds to the church. She told no one, not even her husband Ernest, what the Lord had asked her to do. Mr. Ernest Morgan was later called to the ministry.
Then, in 1965, during the camp meeting, Mary felt that she needed to contribute toward the expenses of the meeting. The Lord reminded her of the property He had asked for many years before. There was an urgent need for a large tabernacle in Cape Town. The Morgans had several pieces of property and decided to donate the best one that was in Protea. They signed the title deed over to the Church of the Nazarene for the property to be sold to help erect the tabernacle. They did not even want to know how much it brought.
Mary succumbed to cancer at an early age after a life of devoted service to God and the church. She passed away on June 29, 1968 [1], while they were pastoring at the Sunnyside Church in Cape Town. Rev. Ernest Morgan later remarried and pastored the Lenasia Church in Johannesburg.[2]
Paul S. Dayhoff
---
Notes:
Date of death provided by her son, Morris Morgan, via email dated 4/14/2015.

Notes by Carol Zurcher. Telephone conversation with Corrie Morgan (wife) at Lenasia, January 10, 1996.
---
This article is reproduced, with permission, from Living Stones In Africa: Pioneers of the Church of the Nazarene, revised edition, copyright © 1999, by Paul S. Dayhoff. All rights reserved.