Classic DACB Collection
All articles created or submitted in the first twenty years of the project, from 1995 to 2015.
Ndhlovu, Samuel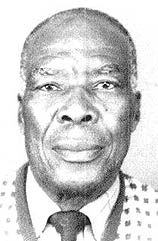 Samuel S. Ndhlovu was a Baptist minister but disagreed with certain policies of his denomination. Along with twelve members, he eventually decided to leave his church and to rent a place where they could worship. They were prayerfully seeking for a group with which to associate as they did not want to be an independent congregation. They were looking for a church that preached the full gospel and was interested in people's salvation.
One of their members, Mr. A. Chonco, was headwaiter in the dining hall at Grey's Hospital in Pietermaritzburg. He noticed that two of the white nurses, Margaret (later Mrs. Margaret Pim) and Jeniffer, were different from the others. They conducted themselves like true Christians. They prayed before meals, they were friendly, and occasionally gave out tracts. He approached them and found that they were Nazarenes and they told him of their faith in the Lord. He reported this to his pastor, Rev. Ndhlovu. At first Ndhlovu thought they were from an independent African movement called the AmaNazaretha.
However, when he found out that these nurses had excellent Christian testimonies, he asked to see their pastor, Rev. Robert Sandie Thain Smith, and borrowed a copy of the Nazarene Manual. He read it eagerly and wanted to know whether the church practiced what was in it. This was in 1961.
Rev. Enos Mokoena, the district superintendent from the southeastern Northern Province lowveld, went to see Ndhlovu. Ndhlovu also met the missionaries, Rev. Reginald and Mrs. Lillian Jones. Ndhlovu believed in holiness. Friendship and mutual understanding developed and, in 1963, Ndhlovu and his people joined the Church of the Nazarene. His ordination was recognized.
He had contacts with the authorities through many years of ministry in the area, and a good site was obtained for a church at Imbali. In 1974 he not only pastored the Imbali congregation but preached on the radio and also helped the local Indian Nazarenes to get a church of their own in town. When the Kwazulu District was organized, Samuel Ndhlovu became its first superintendent.
He and his wife, Mrs. Phildah Ndhlovu (1928-), desired that their children receive the best possible education and opportunities. Their eldest daughter, Sibongile, was doing well at the University of Zululand but when she reached her final year, the Ndhlovus were struggling financially. They did not have the money for her university fees. They prayed earnestly and asked the Lord what they could do about it. Eventually Phildah arranged to borrow a large sum of money from the firm where she was employed, on the condition that it be repaid in three months. She had always been faithful to give her tithe to God and the church, but the only way she could see to repay this was not to tithe during that time. After the loan was repaid she began to give her tithe faithfully again. Then came the disappointing news that Sibongile had failed her final year at the university. Phildah felt convicted about not paying her tithe during those months. Asking God's forgiveness and promising to pay her back tithe brought great peace and joy to her heart.
Sibongile had to leave the university. She was married the following year and then had a child. However, later she went back to complete her degree and Phildah helped them by keeping her grandchild. Phildah says that their family is faithfully tithing but were greatly strengthened by the lesson they learned from this experience in their lives.[1] In 1982, the Ndhlovus suffered the loss of their nineteen-year-old daughter.[2]
In 1987, disastrous floods hit KwaZulu Natal. Torrential rains began to fall on September 25 and continued unabated for the next four days. Many areas of KwaZulu/Natal received an unbelievable eight hundred millimeters of rain in this short time. Thousands of people were left homeless and hundreds lost their lives as a direct result of the floods. Rescue efforts were hampered severely because so many of the major bridges had been washed away and a majority of the rural roads just did not exist any more. Missionaries Ron and Dianna Gilbert witnessed concerned people giving everything they had, in some cases their very lives, to save and to assist others.
The reports of the district superintendents, Samuel Ndhlovu and Ron Gilbert, show the mighty hand of God's protection on his people throughout KwaZulu Natal. "Yes," said Ron Gilbert, "we experienced great loss. At least ten Nazarene pastors and fifty Nazarene laymen had their homes either completely destroyed or severely damaged. They also lost all or most of their food, clothing, furniture and food crops. But WE CAN PRAISE THE LORD that as far as we know now, there has been no loss of Nazarene lives or even serious injury!"
Government leaders asked Rev. Gilbert to be the chairman of the Flood Relief Program for their area. Assistance came from the Regional Office and help was on the way from the Hunger and Disaster Fund, donated by Nazarenes around the world to help our KwaZulu Natal people replace their lost property and rebuild their lives.
In 1992, the Ndhlovus' daughter, Mrs. Busisiwe, and her husband, Mr. Stanley Bhebhe, were in the U.S.A. where he got his Ph.D. in Religion and Society at Drew University. In 1994, they were on the faculty at Nazarene Theological College, South Africa. In 1996, Dr. Bhebhe left NTC and became chief operating officer in South Africa for World Vision.
The area of the KwaZulu South District was profoundly affected by the political turmoil leading up to the elections of April 1994. In April 1991, Ndhlovu reported at the district assembly that many people had left their homes and the churches had scattered. Some were beginning to return. The Hammarsdale church and parsonage were vandalized. The spirit of violence was on the increase. He also reported, "It has been a tough two years. There is often shooting at night making it difficult to sleep. Many people have been killed, including some who were living next door to us, but God has been with us."
Lilian, a fifteen-year-old high school girl, conducted a Christian Association Movement meeting at her high school. The attendance had gone from twenty meeting in a classroom to about seventy meeting in the school hall. There were so many problems and they came together to share them and pray together. God helped them. Lilian was the only Christian in her family.
At the April 1992 district assembly Ndhlovu reported, "We recognize the special presence of the Lord. The unrest affects us all. People leave their homes to hide from their enemies and this has reduced the churches. In some places it is not safe to have evening services or cottage meetings. Crime is on the rise." In spite of all of this, the Hammarsdale Church had a 25% increase in tithes and offerings and the Inchanga Church a 39% increase.
After retirement, the Ndhlovus continued to pastor the Imbali Church. In 1995, Rev. Samuel Ndhlovu served as interim superintendent of the KwaZulu South District. He thanks the Lord for protection in a car accident in June. The car was a write-off.
In 1996, all of the churches and districts in Natal, that had been ethnically organized as African, Asian or White, merged into one district with Rev. David Holmes as Superintendent.[3]
Rev. Samuel Ndhlovu, a pioneer church leader and a man of God, died on October 6, 2001 at the age of seventy-two. At the time of his death, he was busy helping the Imbari Church find a pastor. Some of his final words to his daughter, Busi Bhebhe were, "God is in control."[4]
Paul S. Dayhoff
---
Notes:
C. Zurcher, 1989, Memories of Miracles in Africa, (Kansas City, MO: Nazarene Publishing House), 56-58.

H. Friberg, 1982, Like a River Flowing: The Church of the Nazarene in Africa and the Republic of Cape Verde, (Kansas City, MO: Nazarene Publishing House), 30; T. Esselstyn, 1975, Cut from the African Rock: A Portrait of the Church of the Nazarene in Africa, (Kansas City, MO: Nazarene Publishing House), 64; Trans African, (Florida, Transvaal, South Africa: Africa Nazarene Publications, May-June 1982), 3.

Carol Zurcher, notes; Busi Bhebhe, letter, August 5, 1995.

Joanie Doerr, Out of Africa, Weekly E-mail newsletter from Africa Region, (October 10, 2001).
---
This article is reproduced, with permission, from Living Stones In Africa: Pioneers of the Church of the Nazarene, revised edition, copyright © 1999, by Paul S. Dayhoff. All rights reserved.