Classic DACB Collection
All articles created or submitted in the first twenty years of the project, from 1995 to 2015.
Nku, Christinah (A)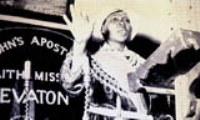 Born into South Africa's Dutch Reformed Church in 1894, Christinah Nku experienced numerous visions as a young girl. Plagued with illness as a young woman, she was told by God she would not die. A decade later, she received a vision of a large church with twelve doors, and then in 1939 a vision to build it not far from Johannesburg. In her dreams, Christinah recalled the healing of the crippled bystander in John's Gospel, which led her to focus on the healing ministry in her own religious life.
Christinah and her husband, Lazarus, in 1924 had been baptized into the Apostolic Faith Mission, a large Transvaal indigenous church, but after a personal and doctrinal conflict with its leader, the young woman struck out on her own as a healer. She named her church the St. John Apostolic Faith Mission, and while it began as a Pentecostal church, her powers and interest in the healing ministry soon gave it a distinctive character. AFM became one of the largest indigenous churches in South Africa, attracting over fifty thousand members. Its founder was known as "a mother with a thousand teats" whose spiritual gifts fed millions. Although the church and its founder took no overt position on political issues, both Lazarus Nku and the couple's son, Johannes, who eventually assumed the senior male leadership position, were active in the African National Congress (ANC).
An important feature of the Zionist-Apostolic Pentecostal churches was the place they accorded women as members and ministers. Most such churches had strong women's organizations that provided friendship, assistance, and a sense of feeling important in a lonely world. Excluded from power in the mainstream churches and marginalized by apartheid's cruelty and a male-dominated African society, at least two million women found these churches to be welcoming places. Female prophets were common, as were "lady bishops," as women leaders were sometimes called. Mother, or "Ma," Nku, as she was known, began her ministry in the Johannesburg slums, and crowds made their way each day to her two-room dwelling for prayer at 5:00 and 9:00 a.m., and at 3:00 and 7:00 p.m. Hundreds of persons reported being healed, and Christinah neither sought fame nor took money for her healing prayers. Eventually she agreed to accept a shilling for each person who came to her for healing, and from these offerings she was able to build seventy churches throughout South Africa. Schools and youth programs were added as well.
Much of the Apostolic Faith Mission service resembled the rite of other Pentecostal churches. Scripture readings, hymns, preaching, and offerings were part of the liturgy. People were encouraged to talk directly to God and to deliver their testimony and petitions, after which those in attendance knelt and loudly uttered their own prayers of the heart.
The use of water was a distinctive attribute of the church, and Christinah was given to praying over buckets and bottles of it for her adherents. The healing service began with persons drinking water that had been blessed; then the ministers, having washed in the holy water, laid hands on each person. Sometimes in smaller services, ritual bathing and the controlled use of enemas and vomiting were administered as part of the rites to a few participants.
The church created its own marching band, which attracted new members, for the lively sound and blue and white uniforms were show-stoppers on slum streets. Choirs added compelling music to the services and became ways of interacting with other churches through choir festivals and competitions. Like choirs in the black churches of segregated America, the African choral groups expressed solidarity and affirmed personal and corporate worth and dignity in an otherwise harsh and restricted world. A four-day annual choir festival was a galvanic event for the entire church. Members came from all over South Africa, sang and shared meals together, prayed, and were baptized.[1]
When Jesus saw him lying there and knew that he had been there a long time, he said to him, "Do you want to be made well?" The sick man answered him, "Sir, I have no one to put me into the pool when the water is stirred up; and while I am making my way, someone else steps clown ahead of me." Jesus said to him, "Stand up, take up your mat and walk." At once the man was made well, and he took up his mat and walked.

–John 5:5-8
Frederick Quinn
---
Notes:
Linda E· Thomas, "Christinah Nku: A Woman at the Center of Healing Her Nation," in Embracing the Spirit, ed. Emilie M. Townes (Maryknoll, N.Y.: Orbis Books, 1997), 65.
---
This article is reproduced, with permission, from African Saints: Saints, Martyrs, and Holy People from the Continent of Africa, copyright © 2002 by Frederick Quinn, Crossroads Publishing Company, New York, New York. All rights reserved.
---
External link
Encyclopaedia Britannica (complete article): Zionist Church