Classic DACB Collection
All articles created or submitted in the first twenty years of the project, from 1995 to 2015.
Ntimane, Idah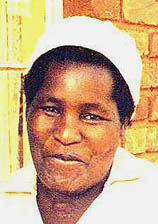 Panyile Idah Ntimane was born at Alsace near Trichardtsdal in the Northeastern Transvaal (later Limpopo Province}, the third child of Petrus and Sabina Ntimane. Her mother Sabina endured severe and persistent physical abuse by her husband and this had a very negative effect on their marriage. Mrs. Orphina Mahlatji recalls how in 1958, while she was teaching Sunday school at Botjwana, a very drunk man entered the church. At the end of the lesson he came forward to be prayed for, saying, "I have severely abused my wife. She ran away and left me with the children." It was Petrus Ntimane. Following Mrs. Mahlatji's invitation, he and his children came to church the following Sunday and he was sober. Later, when his wife learned of his conversion, she returned to the family. The whole family became Christians and joined the church.
Idah found the Lord through the ministry of the pioneer missionary at Lorraine, Rev. Irvin E. Dayhoff Phulamadibogo ("One who first breaks through river fords") in an evangelistic campaign near her home, Tickey Line (Hlohlokwe) in 1958. The song "Pass Me Not Oh Gentle Saviour" really spoke to her and she began attending services. Idah went to stay with Sister Hazel Pass at the Lorraine Mission.
During the Downs Youth Camp in 1959, God spoke to her about the ministry. She did not respond then but went home and found a place to pray alone. She had no education, clothes or money for Bible College. When she spoke to her parents about this, her parents showed their disapproval by offering her two cents to help her. Mrs. Elina Modiba and Mrs. Mahlatji encouraged her very strongly to go to Bible School To earn money on the farms she walked across the Drakensberg Mountains to Ohrigstad where she had relatives. Finally in 1960 she was able to go to Bible College at Siteki, eswatini. Later her parents began to see the value of her work and changed their attitude towards her. Rev. Enoch Litswele recalls how, when Idah arrived at the Bible College, he was assigned the huge task of teaching her to read and write. Thanks to her determination, even though she had never had any formal education, she completed her theological studies.
After graduation she went back to her home at Tickey Line where she taught Sunday school. Seeing this, her father was disappointed as he clearly did not understand what his daughter had been trained for. He was also worried that she would not get married and he wanted to receive the lobola (bridal price, paid by the future husband). Since Idah was not prepared to abandon her calling he stopped attending church.
In 1964 Idah Ntimane wrote:
Although I was saved, I began to be aware of a continual source of sin in my heart because at times I wished to go back. I desired to do certain things that I had come out of which should not be done by a person who has been saved. I became aware of His holy writings (Rom. 12:l-2; Eph. 4:22; Gal. 2:20 Rom. 6:60). Quickly I asked for His Holy Spirit and by grace He gave Him to me. The old person left my heart through that cleansing and I became a sanctified child of God. I rejoiced greatly.[1]
She was assigned to work with Elina Pasha (Modiba) at the Downs, high in the Drakensberg Mountains. They pastored down the mountains to the west in the Ga-Mafefe area. Every week it took them all day to walk down the mountain and on the return home they had to stop overnight at a village. It took all day on Sundays to minister to the churches of Mafefe, Fertilis, and Moila. These small congregations could not pay them much and with the reduced subsidy from the mission, Idah learned to sew in order to survive financially. She then went to Blouberg and was involved in youth work for four years.
In 1968 she returned to the Northeast District and served at the Moime Church for a short while before being assigned to Ramokako the following year. The preaching point there had just been organized into a church by Pastor Rosina Mmola (Boshielo). Idah stayed with the Shipalana family and services were conducted there. When the authorities would not grant them a site to build a church, Idah challenged each church member to pray for an hour each day about this problem. Eventually God answered their prayer and Induna (Headman) Shikwambana gave them a building site. They continued to pray and in 1972 the district helped them build a church and a home for the pastor. Mrs. Maina Mailula tells how Idah taught her and others the way of the Lord and how to teach Sunday school. The congregation (now called Mhlava Cross) loved Idah and developed well.
Rev. Charles Maake became the pastor right after the church was built. Idah was distressed at leaving Ramokako where she had invested her efforts, prayers, and knowledge under extremely difficult conditions. She served at Lorraine Mission until she moved to Nkowankowa (Letaba, Tzaneen) in 1979. Little did she know then that this was where she was to spend the rest of her life. This was a town with many educated people (while she lacked education). When she arrived the church was weak and badly needed reviving. There were less than fifteen members who were mostly women and children Idah began practicing what Mrs. Modiba had taught her, to visit homes and assist with preaching at funerals for families that did not belong to any church. As a result, the church began to grow.
The previous pastor who lived nearby lost a child and publicly accused Idah Ntimane of killing it by sorcery. At this point she wondered how she could continue to pastor there if the congregation thought she was a sorceress. The district leaders encouraged her to stay because leaving would look like an admission of guilt. Three years later, however, the ex-preacher would still not greet her and she determined to leave even though the church wanted her to stay. They said they would free her for six months but if the church suffered it would be considered her fault. She prayed much about her dilemma and decided to stay. Faithfulness and perseverance eventually helped her to overcome the problem and her faith increased.
Idah Ntimane was ordained a minister by General Superintendent C. H. Stickland in 1986 and she came to be well accepted in the community as a lady pastor. She was asked to officiate at important funerals. The police asked her to come to their functions. She was asked to pray for rain at special town meetings. There were strong, talented men in the congregation and she worked well with them. Mr. Ben Khoza was one of the faithful leaders for a number of years while he was the postmaster at Letaba although his home was at Thulamahashe in the lowveld of southeastern Northern Province. He greatly encouraged the Nkowankowa church to reach full financial support of their pastor.[2]
Idah organized regular revival services and called pastors from far and near to help with them Accommodation was built on the church premises for visiting preachers. As members came from further and further from the church in different directions she organized cell groups that met for midweek services instead of having everyone come to the church on Wednesdays. Each cell had a leader and a pastor. These cell groups related well to each other, supporting each other in difficult times and celebrating together when blessed.
Whenever a church member lost a close relative Idah encouraged the church to organize transport to attend the funeral. Even though she often suffered from ill health, she accompanied them to places as far away as Johannesburg, Bushbuckridge, and Malelane to attend funerals. She had deep feelings for other people–more than she did for herself. For example, when her brother passed away at the same time as a member of the church, she stayed to preach the Word of God to the family before going to attend to her own grief. She was always careful to visit and pray for the sick and taught the members to share this responsibility.
She actively encouraged Christian marriage among the youth and assisted in the courtship of Christian young people. She related how she once sent someone to call a girl to come and plait her hair when in fact a young man had come to the church to propose. When a suitable courtship started she would give a symbolic key to the girl which she would take back on their wedding day. She also liked to share her joy with other pastors and would often invite other pastors to conduct weddings at Nkowankowa.
Idah was known for her compassion towards the needy. When the church discovered that she was giving the food that she herself needed to hungry neighbours, they decided to give her a monthly allowance to feed these people They also brought her clothes to give to needy people. Idah was a generous and cheerful giver who gave her last cent. Everyday she seized opportunities to do something good for others, Christians and non-Christians alike. As a result the members learned to give cheerfully and they took very good care of her as their pastor. Having no children of her own she adopted two girls, Judith Ntimane and Portia Sodi, who she cared for from pre-school until they passed matric. She tried to handle disputes among church members herself to insure confidentiality but involved men and women leaders of the church when necessary. She avoided gossip and treated all members the same.
It was said of her, "When you leave her home she would say 'Dankie swinene (Thank you very much).' You left wondering just what she was thanking you for.." On July 27, 2003 she organized a Day of Thanksgiving at the church and described some of the hardships she went through as a pastor: lack of money, food, clothing, etc. The most touching account was when she pretended to have a sore leg. She bandaged one foot and travelled with others to the Arthurseat conference barefooted because she did not have shoes to wear. She concluded by saying, "I thank God because today I have clothes, shoes, food; I get a salary every month and my medical expenses are paid for by the church."
She loved singing the church hymns and encouraged the organization of two choirs that sang in church services and at weddings. As she observed how the youth loved singing and dancing the church purchased musical instruments to attract and encourage the youth. They were taught to accompany the singing with these instruments.
Following a visit to Bushbuckridge in 1988 Ida organized a district Women's Ministry. Mrs. M. N. Malebati was elected president of this ministry and served for the next fifteen years. This has proved a valuable tool to encourage the whole district in the way of the Lord, teaching the Word and helping the pastors. The women visited other districts for fellowship and to learn from them.
Under her leadership the Mulati preaching point developed into a church The youth at Mulati loved her and wanted her to conduct their wedding ceremonies. This once involved a 400 kilometer round trip to Venda for a wedding. Idah also started the Mamitwa preaching point and appointed members from Nkowankowa to pastor it.
Mrs. Mahlatji describes Rev. Ntimane as a woman full of love for the work of God who was patient and had a burden for the work She was a woman of prayer and easy to work with. She did not spare herself even in the face of the ill health that she experienced throughout her life.
Rev. Idah Ntimane continued to successfully pastor a large and growing congregation at Nkowankowa until the beginning of April 2006 when she began suffering from serious heart failure and on May 7 she went to her eternal home. She was buried at the Hlohlokwe cemetery. The non-Christian Headman intervened on their behalf when the local authorities refused to allow them to enter the cemetery as burials were only allowed earlier in the day. He was greatly impressed by the funeral service and promised that they would name an important project in her honour.[3]
It is not possible to write adequately about Rev. Ntimane. What is written here is just the tip of the iceberg. The church as a whole was shaken by her departure. Her life, her contributions, her dedication, her sacrifice, her love, her commitment to God and to people remain fresh in the memories of all who knew her She made a great impact on everyone whose life she touched. She served the Lord in ministry from 1959 until 2006, a total of 47 years. We do not hesitate to liken her to Mary who anointed Jesus with expensive perfume that filled the house (Mark 14:9) and Jesus said that wherever the Gospel is preached her deeds would be remembered.[4]
Paul S. Dayhoff
---
Notes:
I. Ntimane, "Three Things that Have Happened to Me," Montsoša-Bošego (The Herald), Pedi/Sotho magazine of the Church of the Nazarene in South Africa, (Florida, Transvaal, South Africa: Nazarene Publishing House, July-August 1964),11.

Idah Ntimane, taped interview by Calvin Maenetja, (August 1993}.

Calvin and Joyce Maenetja, letter, (27 June 2006).

Mrs A. S. Mhlongo, "Rev. Panyile Ida Ntimane," Mulati Church of the Nazarene, (20 May 2006).
---
This article is reproduced, with permission, from Living Stones In Africa: Pioneers of the Church of the Nazarene, revised edition, copyright © 1999, by Paul S. Dayhoff. All rights reserved.