Classic DACB Collection
All articles created or submitted in the first twenty years of the project, from 1995 to 2015.
Paton, Alan (B)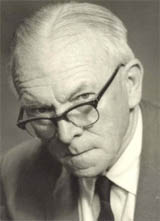 Alan Stewart Paton (January 11, 1903-April 1988) was a prominent South African novelist, a spokesperson for prison reform, and a founding member of the Liberal Party in the 1950s. Paton made his international reputation as the author of Cry the Beloved Country (1948), a novel which enjoyed a large readership worldwide, and which clarified the horrors of South Africa's system of racial classification and legislation for many outside of Africa.
Paton was born in Pietermaritzburg in the province of Natal and remained there until his death. Four decades after he completed Cry the Beloved Country, his name remained uniquely identifiable among South African novelists. In the face of his literary accomplishments, other aspects of his work tended to be eclipsed, including that in penal reform, and his activities with the Liberal Party throughout the 1950s and 1960s. Paton used his prominence to propagate his belief in the moral bankruptcy of apartheid and his vision of a non-racial society. His writings and his role in the emerging political liberalism of his time made him an important historical actor in the cultural and political genesis of white dissent.
As a child Paton was much moved by the natural beauty and the animal life of the Natal countryside. His father was a strict authoritarian and disciplinarian. His mother somewhat tempered the father's harsh ways, and taught Paton to read. Paton was an avid student, entering Natal University College in 1919 to pursue a science curriculum. Paton not only completed his degree, but became president of the Student Representative Council in his final year.
Returning to Natal, Paton took up a teaching assignment at Ixopo High School, an all-white institution near Pietermaritzburg. While there, Paton married Doris Olive Francis in 1928. They had a son, David. The family then returned to Pietermaritzburg, where Paton took up a post at Maritzburg College, where he remained until 1934.
Paton and Jan Hofmeyr, the Cape political leader, had become acquainted through their mutual work with the Students' Christian Association. In 1933 Hofmeyr became minister of education, interior, and public health, and, in 1934, transferred responsibility for reformatories from the Department of Prisons to the Department of Education. Paton applied for the position of reformatory principal and was seconded to Diepkloof Reformatory in Johannesburg.
The 13 years Paton spent at Diepkloof (1935- 48) were a source of literary, spiritual, and philosophical inspiration. Paton's remedial philosophy was based upon mutual trust and responsibility. As the boys proved themselves capable of responsibility, they were given greater freedom. In 1946 Paton toured a number of prison systems in Europe and the United States. During this tour, Paton wrote Cry the Beloved Country. The novel tells the story of an African pastor's trek to Johannesburg in search of his son and his sister. He finds them, the son on trial for murder, the sister mired in a life of prostitution and despair. The novel speaks to the physical degradation of the land in the reserves and the moral and physical impoverishment of the urban areas. Paton's underlying message is that the ultimate power and responsibility of the individual is to act, bolstered by faith, a thread throughout much of Paton's work. Paton's second novel, Too Late the Phalarope, a meditation on miscegenation and Afrikaner notions of "pure race," was published in 1952. Although Paton did not publish his third novel, Ah, But Your Land Is Beautiful until 1981, he published a number of non-fiction works in the interim, including his biographies of Jan Hofmeyr (1965) and Archbishop Geoffrey Clayton (1973), and a number of short stories, later collected in Tales from a Troubled Land.
With the formation of the Liberal Party, Paton was elected a vice-president. He then toured the United States in 1954 to write a piece on race relations there for Collier's. Paton was elected chairman of the Liberal Party in 1956, and in 1958 he was elected the party's president. Paton contributed a column, ''The Long View," to the party's periodical, Contact, from 1958 through 1966. When the party's chairman was detained in 1960, Paton led the party for four months. In the same year, he was presented the Freedom Award in New York.
Much of the 1960s and 1970s were taken up with Paton's biographical projects, and odd pieces in magazines or for lectures. His last novel, Ah, But Your Land Is Beautiful, was an episodic work and the first book of a planned trilogy. The second and third volumes were never written, but Paton did complete the second half of his autobiography, Journey Continued, in 1988.
Alan Paton will probably be remembered most for his literary accomplishments and his moral force. It has been suggested that Paton's brand of liberalism was overtaken in the 1970s and 1980s by events, the heightened level of state violence and the increasing polarization of black and white. Yet Paton's basic message, shorn of all political adornment, has continued to touch his readers. Paton was able to evoke the universal desires for dignity and recognition, the universal rights to full citizenship and basic needs through his characters. Paton's sensibilities were rooted deeply in his Christian faith and the evident sincerity in his evocations of the harsh realities of apartheid will continue to touch readers.
Joshua Lazerson
---
Bibliography
Edward Callan, Alan Paton, Twayne Publishers: Boston, 1982.
Alan Paton, Towards the Mountain, Charles Scribner's Sons: New York, 1980.
Alan Paton, Journey Continued: An Autobiography, David Philip: CapeTown, 1988.
---
This article was reprinted from The Encyclopaedia Africana Dictionary of African Biography (In 20 Volumes). Volume Three: South Africa- Botswana-Lesotho-eswatini. Ed. Keith Irvine. Algonac, Michigan: Reference Publications Inc., 1995. All rights reserved.