Classic DACB Collection
All articles created or submitted in the first twenty years of the project, from 1995 to 2015.
Qoboza, Percy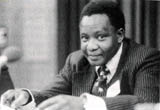 Percy Petre Tshikidso Qoboza (1938-January 18, 1988) was a prominent South African journalist, who was a persistent critic of apartheid.
Known as "Percy" to friend and foe alike, he was born in Sophiatown, Johannesburg, a township later to be "reclassified" as a white area and destroyed. Although a Zulu, he considered himself "urban," and "detribalized," and often bridled at tribal identification.
Having obtained his primary education at St. Cyprian's Anglican School in the township, Qoboza then attended Pax Training College in Pietersburg in the northern Transvaal. After graduating, he decided to become a priest and proceeded to the Roma University Seminary in Lesotho. After two years, he abandoned his studies there to care for his father, who had suffered a stroke, and for his sisters.
In 1958 Qoboza joined the Johannesburg City Council as a clerk in the municipal offices of Soweto Township. There, he developed an interest in politics and, in 1960, resigned his job to join the hitherto all-white Progressive Party as a full-time organizer and assistant.
In 1963 he left the party to take up what was to become his life's profession, beginning as a municipal reporter for The World, a liberal white-owned daily newspaper targeted at a black readership. He worked his way up to acting news editor in 1967, to news editor, and then, in 1974, editor. In 1975 Qoboza was awarded a prestigious one year Nieman Fellowship in Joumalism at Harvard.
Just over a year after his return to The World, the newspaper was banned, along with most prominent black organizations and individuals. Qoboza was detained without charge or trial for about six months. Upon his release, he became editor of the Post Transvaal, a paper started by his former employers to replace The World. It, too, was closed down by the government, another victim of state repression following the Soweto student revolt in June 1976.
Qoboza, in the United States at the time the Post Transvaal was closed serving as a guest editor for the Washington Star in Washington, D.C., stayed abroad for two years. Upon his return to South Africa, he worked as a public relations consultant and as associate editor of City Press, another liberal white-owned paper with the largest black circulation in the country. He became editor of City Press in 1984, and held that position until his death, which occurred on his 50th birthday. He was survived by his wife, Ann, and five children.
During his career, he received several awards in addition to the Nieman Fellowship including the Golden Pen of Freedom award of the International Federation of Newspaper Publishers.
Qoboza was a controversial figure in South Africa for, while he fought uncompromisingly against apartheid, he stood for a non-racial and democratic society and was quick to criticize contrary trends among Africans, especially at the height of the "black consciousness" movement in the 1970s. He once told a foreign diplomat that he feared that people like himself would be "caught in the middle because we hope to speak to all sides" and would "become the first victims of the revolution." He also had reservations about armed struggle and sanctions against South Africa, positions that gained wide popularity in the 1980s. But none doubted his dedication to the cause.
His impact on the development of African journalism was widely felt. His style, in particular as evidenced in his popular columns "Percy's Pitch" and "Percy's Itch," was widely emulated. Amidst controversy, he maintained a voice of reason in an often inflammatory environment. His funeral, attended by more than 3,000 persons representing every shade of African opinion as well as prominent white journalists, community leaders, activists, and international observers, was proof of his unique role in the anti-apartheid struggle.
Steven McDonald
---
Bibliography
Ammen Akhalwaya, "Remembering Percy Qoboza," Africa Report, New York: March-April 1988; Study Commission on U.S. Policy Toward Southern Africa, South Africa: Time Running Out, Berkeley: University of California Press, 1981; Donald Woods. Biko, New York: Paddington Press, 1978.
---
This article was reprinted from The Encyclopaedia Africana Dictionary of African Biography (In 20 Volumes). Volume Three: South Africa- Botswana-Lesotho-eswatini. Ed. Keith Irvine. Algonac, Michigan: Reference Publications Inc., 1995. All rights reserved.