Classic DACB Collection
All articles created or submitted in the first twenty years of the project, from 1995 to 2015.
Shembe, Isaiah Mdliwamafa (B)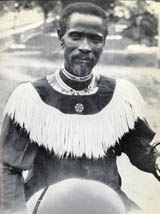 Separatist church leader. He had no formal education. During his youth he became famous as a visionary prophet and healer. He was baptized into the African National Baptist Church (1906), but later broke away to found the Nazirite Baptist Church (1911). Five years later he announced some revelations. He established a holy village near Durban and developed into one of the most prominent Zulu figures of his time. On his death in 1935 he was revered as a black messiah. His son Johannes Galilee Shembe inherited leadership of his church. Johannes - a Fort Hare College graduate - lacked his father's charisma, and had trouble maintaining his leadership. Nevertheless, he still had 80 000 adherents in 1970.
Mark R. Lipschutz and R. Kent Rasmussen
---
Bibliography
Oosthuizen, G. C. The Theology of a South African Messiah [Isaiah Shembe]. Leiden: Brill, 1967.
Barrett, David B. Schism and Renewal in Africa. Nairobi: Oxford University Press, 1968.
——–. "Who's Who of African Independent Church Leaders." Risk (Geneva, W.C.C.) 7(3) (1971): 23-34.
Sundkler, B. G. M. Bantu Prophets in South Africa. 2nd edition. London: Oxford University Press, 1961.
---
This article is reproduced, with permission, from Dictionary of African Historical Biography, 2nd edition, copyright © 1986, by Mark R. Lipschutz and R. Kent Rasmussen, University of California Press, Berkeley and Los Angeles, California. All rights reserved.
---
Photo Gallery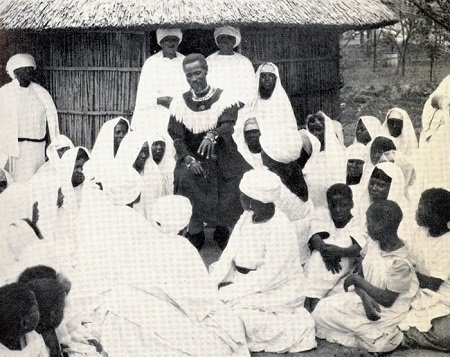 [1] Isaiah Shembe wearing a black dress (all others in the church wear white) with a white collar and a necklace of Zulu beadwork, holding a European sun-helmet.
[2] Shembe paying a visit to the women's section at Ekuphankameni, the headquarters of the Nazarite Church.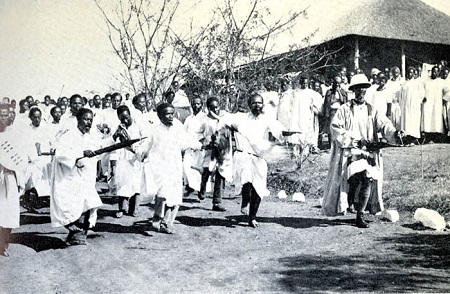 [3] Shembe, in sun-helmet and umbrella, leading the men's section dancing through the Ekuphakameni village.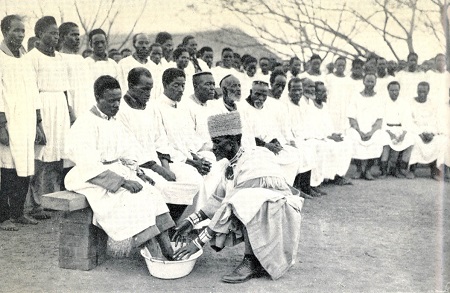 [4] A footwashing ceremony led by Shembe.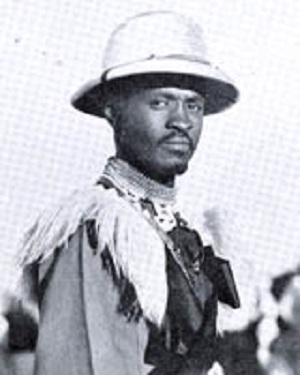 [5] Shembe's son and sucessor, Johannes Galilee Shembe.
All photos from Bantu Prophets in South Africa, 2nd ed., by B. G. M. Sundkler (London: Oxford University Press, 1961).