Classic DACB Collection
All articles created or submitted in the first twenty years of the project, from 1995 to 2015.
Shembe, Isaiah Mdliwamafa (A)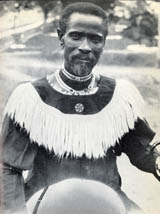 Zulu religious leader and founder of the Nazareth Baptist Church.
Shembe was born at Ntabamhlophe near Estcourt, Natal, South Africa, of Zulu parentage. After involvement with Wesleyans, he associated with Baptists and was baptized in July 1906. He seems to have acted as an itinerant evangelist prior to coming into contact with Nkabinde, a former Lutheran who was regarded as a prophet. Nkabinde led him to develop a healing ministry in 1910. A year later, he founded the iBandla lamaNazaretha (Nazareth Baptist Church), a controversial religious movement rooted in Zulu tradition. Shortly afterward he acquired a farm that became his holy city of Ekuphakameni and established an annual pilgrimage to the sacred mountain of Nhlangakazi. Shembe was noted for his vivid parables, dramatic healings, and uncanny insights into people's thoughts. He wrote many moving hymns, composed music, and provided his followers with a rich liturgical tradition based on modified forms of traditional Zulu dancing. Critics of the movement claim that his followers regarded Shembe as an incarnation of God. Others, led by Lutheran scholar Bengt Sundkler, argued that Shembe's theology was an Africanized form of Christianity.
After Shembe's death a succession conflict occurred before leadership passed to his third wife's son Johannes Galilee Shembe. More serious trouble erupted following J. G. Shembe's death in 1975, when the movement split between his brother, Amos Shembe, and son Londa Shembe. Amos Shembe took the title "bishop" and seems to have led his followers toward orthodox Christianity. Londa Shembe openly admitted that he was unsure whether his movement was Christian, a form of Judaism, or perhaps more closely related to some other religious tradition such as Hinduism. Today there are about one million amaNazaretha in Southern Africa.
Irving Hexham
---
Bibliography
Irving Hexham, ed., The Scriptures of the amaNazaretha of Ekuphakameni (1994); Irving Hexham and G. C. Oosthuizen, eds., The Oral History and Sacred Traditions of the Nazareth Baptist Church, 3 vols. (1996 - 1997); G. C. Oosthuizen, The Theology of a South African Messiah (1967); Bengt Sundkler, Bantu Prophets in South Africa (1961) and Zulu Zion and Some Swazi Zionists (1976); Absalom Vilakazi et al., Shembe: The Revitalization of African Society (1986).
---
This article is reproduced, with permission, from Biographical Dictionary of Christian Missions, copyright © 1998, by Gerald H. Anderson, W. B. Eerdmans Publishing Company, Grand Rapids, Michigan. All rights reserved.
---
Photo Gallery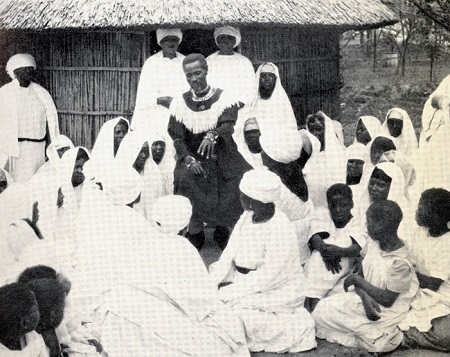 [1] Isaiah Shembe wearing a black dress (all others in the church wear white) with a white collar and a necklace of Zulu beadwork, holding a European sun-helmet.
[2] Shembe paying a visit to the women's section at Ekuphankameni, the headquarters of the Nazarite Church.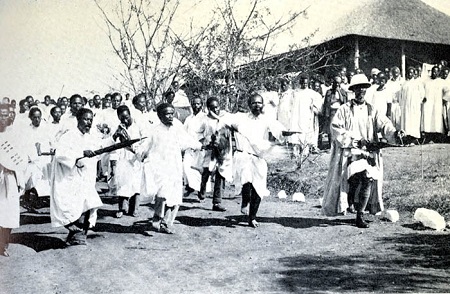 [3] Shembe, in sun-helmet and umbrella, leading the men's section dancing through the Ekuphakameni village.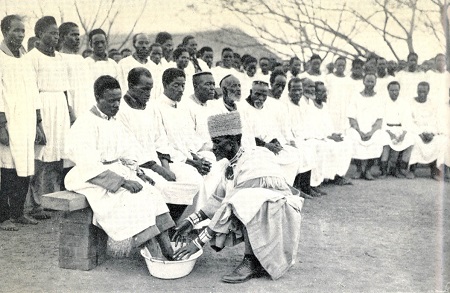 [4] A footwashing ceremony led by Shembe.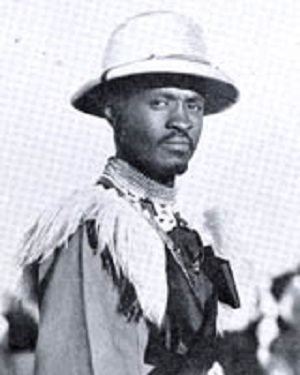 [5] Shembe's son and sucessor, Johannes Galilee Shembe.
All photos from Bantu Prophets in South Africa, 2nd ed., by B. G. M. Sundkler (London: Oxford University Press, 1961).