Classic DACB Collection
All articles created or submitted in the first twenty years of the project, from 1995 to 2015.
Soga, Tiyo (D)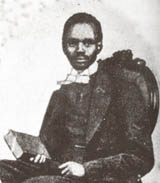 South African minister.
Born in Eastern Cape Colony, Soga went to a mission school and later received more advanced education at Lovedale. He also spent two periods studying in Scotland under the auspices of Scottish Presbyterian missionaries, qualifying first as a teacher and later as a minister at the University of Glasgow. In 1856 he was ordained in Scotland in the Presbyterian Church–the first black South African to be ordained to the Christian ministry. Back in the eastern Cape, he served as a minister at Mgwali (1857-1868) and at Tutura from 1868 until his untimely death. His missionary approach was typical of the time, concentrating especially on preaching and rudimentary teaching. He had, however, a stronger interest than most in the healing dimension of Christian mission.
Willem Saayman
---
Bibliography
John A. Chalmers, Tiyo Soga: A Page of South African Mission Work, 2d ed., (1878).
H. T. Cousins, From Kafir Kraal to Pulpit: The Story of Tiyo Soga (1899).
W. Saayman, "Tiyo Soga and Nehemiah Tile: Black Pioneers in Mission and Church," Missionalia 17, no.2, (1989): 95-102.
D. Williams, Umfundisi: A Biography of Tiyo Soga, 1829-1871 (1978) and ed., The Journal and Selected Writings of the Rev. Tiyo Soga (1983).
---
This article is reproduced, with permission, from Biographical Dictionary of Christian Missions, copyright © 1998, by Gerald H. Anderson, W. B. Eerdmans Publishing Company, Grand Rapids, Michigan. All rights reserved.