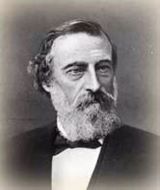 James Stewart was a Scottish missionary and educator in South Africa. Born in Edinburgh, Stewart graduated in arts at the University of Edinburgh and in 1855 began the theological course at New College, Edinburgh. He also began the medical course at Edinburgh in 1859, but he interrupted his medical training to join *Livingstone's Zambezi expedition. The expedition, initiated on behalf of a Scottish committee planning a mission to support Livingstone's ideas, was to investigate the possibilities for mission in the area. Not only did this come to nothing, but Stewart became temporarily a bitter critic of Livingstone.
In 1867, having completed his medical course and having been ordained, Stewart was appointed to the Free Church of Scotland Mission at Lovedale, South Africa. He insisted almost from the beginning that the way ahead in education was general and technical education rather than higher education for the brightest. When the authorities in Scotland backed Stewart over this issue against William *Govan, the principal of Lovedale, Govan resigned, and Stewart in 1870 became principal of what was then the leading educational institution in Africa. Under Stewart, Lovedale rapidly increased in size but continued to provide education to the highest level for both its white and its black students. Indeed, Lovedale produced many of the leaders who were to found the African National Congress in 1912. During periods of leave from Lovedale, Stewart played a part in the pioneer period of both the Livingstonia Mission in Malawi and the Scottish Kikuyu mission in Kenya.
Despite a strong paternalist side, Stewart always supported the legal equality of the races in the Cape Colony and in 1870 founded a magazine, the Kaffir Express, which later became the South African Outlook, a consistent proponent of Cape liberalism. As a reply to the increasing attacks on "liberal" education for Africans, he wrote in 1887 Lovedale, Past and Present. The Free Church of Scotland made him moderator of the general assembly of 1899. He died while still serving as principal of Lovedale.
Andrew C. Ross
---
Bibliography
James Stewart, Dawn in the Dark Continent (1902).
S. M. Brock, "James Stewart and Lovedale" (Ph.D. diss., Univ. of Edinburgh, 1974).
J. P. R. Wallis, The Zambesi Journals of James Stewart (1952).
J. Wells, Stewart of Lovedale (1908).
---
This article is reproduced, with permission, from Biographical Dictionary of Christian Missions, copyright © 1998, by Gerald H. Anderson, W. B. Eerdmans Publishing Company, Grand Rapids, Michigan. All rights reserved.