Classic DACB Collection
All articles created or submitted in the first twenty years of the project, from 1995 to 2015.
Van der Merwe, Maartjie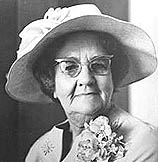 Maartjie (Ras) Cloete van der Merwe was born at Hoopstad in the Orange Free State into a Christian home. When Maartjie (Max) was a girl they moved to Windhoek, Namibia. At age nineteen, she married Mr. Arie Willem Cloete. Neither of them were Christians.
The AEB (African Evangelistic Band) held services in their church. Arie responded and was converted. She told him that night that she felt too dirty to sleep with him and should rather go to another room. Her husband explained salvation to her and three days later she found the Lord during a morning service. When Arie arrived home from work that evening, she met him at the gate and he said, "I can see the Lord has done a great work in your heart and given me a new wife." Many years later an AEB worker explained to her about holiness of heart and prayed with her. She found the peace and assurance of entire sanctification.
When her husband's work permitted, they moved to Krugersdorp on the West Rand. A year later, when Auntie Max was only thirty-nine, Arie passed away. While staying with her daughter Hester and son-in-law, Rev. J. J. "Oom Kosie" Coetzee (1917-1995), the Nazarene pastor, she worked at the Farmers Cooperative in Vryburg (North West Region). Many times when unwholesome jokes were being told she would walk out of the room. One day, the manager asked her why she did this. He said the jokes were not really dirty. She replied, "Well, they're certainly not clean!" The next day he apologized to her and never again was such conversation carried on in her presence.
She joined the Church of the Nazarene and was asked to be matron at the Bible College. She always tried to keep a home atmosphere. She treated the students as her children. There was always a celebration on a birthday or wedding anniversary. A student, Gideon Tredoux, was so surprised on his birthday that he burst into tears because it was the first birthday party he had ever had. She was strict about keeping the rules and spoke firmly to students who broke them. They so respected her that they would always apologize to her when she had to reprimand them. She did not delegate all of the work and she was not a policeman.
In quietness and humility, she did the necessary work for her master with joy. She helped to form soul winners, giving love, courage, and help in solving problems. She would pray, laugh, and cry with the students. She was never too tired to do right in any situation and make a success of it. At two o'clock one morning, Estelle woke her up with the question, "Should I marry Victor Joubert or not?" Auntie Max counselled her and she left at 4:00 a.m. with peace in her heart. Forty-five minutes later, Auntie Max was up preparing breakfast and making tarts for an advisory board meeting.
She had a great sense of humour. One day she phoned the parsonage at Potchefstroom, and Rev. Louis Kriel heard a lady say it was the post office and they were testing the line. Would he please whistle? He was very skeptical but he did whistle a tune. She laughed and said, "Your birdseed is on the way." He did receive a package of birdseed.
She loved to join the students in practical jokes. Mrs. Lorraine Booyens told that once the minister from Welkom, Pastor Dirk Koekemoer, and his wife were at the college for a preachers' conference. The men students took all four wheels off of their car and left it standing on bricks. Mrs. Koekemoer was expecting, so the lady students made a plan. That evening as they emerged from chapel Auntie Max made a terrible scene indicating that Mrs. Koekemoer had to go to hospital right away and the wheels on their car had to be replaced immediately. The vehicle was quickly made ready. Mrs. Koekemoer then sauntered out and calmly drove away to the chagrin of the men students.
Auntie Max retired to Welverdiend in 1968 where Kosie Coetzee was pastor. There she married Mr. Rassie van der Merwe and they moved to Klerksdorp. They were faithful in supporting every aspect of the work of the church and in witnessing for Christ.
Auntie Max's life plainly testified to a close, blessed and simple walk with God. She gave all to Jesus, the church and her fellow man. She was greatly loved in the South African District. She left an outstanding example to the next generation.
Paul S. Dayhoff
---
Notes:
Dawie de Koker, research paper written as a student at Vanderbijlpark Satellite Extension College, 1992; "Laymen," Trans African, (Florida, Transvaal, South Africa: Africa Nazarene Publications, May-June 1988), 3.
---
This article is reproduced, with permission, from Living Stones In Africa: Pioneers of the Church of the Nazarene, revised edition, copyright © 1999, by Paul S. Dayhoff. All rights reserved.