Classic DACB Collection
All articles created or submitted in the first twenty years of the project, from 1995 to 2015.
Vilakazi, George Boy Fanyana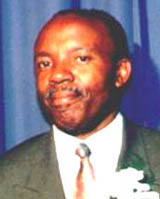 George Boy Fanyana Vilakazi was born on November 30, 1948 in Jabavu, Soweto, Gauteng, in the shacks. In those days the houses were built of sacks, like tents, and eventually corrugated iron was used. His father was Aaron Mfanuzondlani Makiya Vilakazi and his mother was Martha Ginindza. He was taken to visit his grandparents in eswatini because that was the birth place of his parents. He started schooling at Fred Clear Salvation Army School and did his high school studies at Morris Isaacson High School. He started working for Johnson and Johnson in 1972.
His mother was a Nazarene and she introduced him to the church in 1957. He grew to love it but was not saved. He explains, "So many things happened in that church that I liked. The Sunday school and Vacation Bible School took me by storm. I loved it and enjoyed it. I was saved in 1972. Although I was a weak Christian I loved God. I began to be stronger in the 1980s."
He married Mrs. Thabile Vilakazi (1951-). She was a Catholic lady and was born at Orlando in Soweto. They were blessed with three lovely boys. Thabile loved the Lord with all her heart and became a strong Christian. She was a member and ardent fan of the famous Orlando Pirates Soccer Club, but after she was saved she relinquished everything that would distract her from her faith in God. George writes this:
She dedicated her life to Jesus and grew stronger spiritually than I was. As a result she started to encourage me to really commit my life to Him. We attended the Church of the Nazarene at Mofolo North under the pastor, Rev. Caiphas Mnisi, who was really my spiritual father. He inspired both of us to grow in Christ through prayer. We will not forget a very strong layman, Mr. Shadrack Zulu who later became lay pastor of that church. He also played an important role in our growth as Christians.

We will not forget the Easter Camp Meeting of 1979 at Orlando Church of the Nazarene when we both felt the high calling of God to go to Bible College. The speaker was Rev. Juliet Ndzimandze. When the invitation was given we went rushing to the altar. The presence of the Holy Spirit was felt. It was as if we were being filled with the power of the Holy Spirit and the calling simultaneously. We felt God's presence in our lives and wanted to go to Bible College that same day. The Lord our God had spoken unequivocally and it was up to us to accept the calling. I needed an assurance from God and prayed for Him to confirm His calling by giving us a baby.
For six years Thabile had failed to have a baby. This was after their two children had died, the second one from an asthmatic attack. After going to many special doctors, one hospital recommended an operation. They declined this however and decided to leave the matter in God's hands. In 1980 Thabile had a bouncy baby boy whom they named Mpendulo (God's answer to our prayers). Their calling was confirmed in this marvelous and miraculous way. They praised God and thanked Him. However, they did not go to Bible College and this child nearly died from asthma.
Four years later they prayed for forgiveness. Then God gave them another son. Vilakazi resigned from the company he had been working with for seventeen years and where he had been promoted to a supervisory position. He no longer enjoyed the work. God's calling was pressing.
In 1985 they moved to eswatini Nazarene Bible College and started classes the following year. Again Vilakazi tells about it: "The Lord was so good to all of us. Our son Mpendulo was permanently healed of asthma. Glory! Glory to God! God was with us and we enjoyed every single day of our stay and study in eswatini. We finished our programmes, a diploma in theology for Thabile in 1989 and the ThB degree for myself in 1989. Thank you, Jesus! Glory to God!"
They pastored at Big Bend, eswatini, in 1989 while still studying. One Sunday in February 1991 they were travelling home to Siteki in the late afternoon. It had been a good day and they were rejoicing. A young man whom Vilakazi had visited at his home for several weeks gave his life to Christ and was saved that morning in the service.
Vilakazi was driving a kombi (minivan) with Thabile, their two children and a friend. Suddenly a bakkie (pick-up) came past them and forced them to stop. Five young men emerged from the vehicle and one of them was waving a gun. At gunpoint he made Vilakazi get out of the kombi with his hands up. He took the keys and the spare wheel which they tried to fit onto their bakkie because they had a flat tyre. They demanded money and other valuables which were all handed over to them including a fine handbag which Thabile prized highly. Then they hit Vilakazi and pushed his head through the window of the kombi so he would not see them anymore to recognize them. He was not badly hurt and took the opportunity to touch Thabile's hands and they prayed. He vividly remembers her words, "My hubby, you still have so much to do, to work for the Lord, nothing, no harm, will come upon us." Then she prayed a short prayer.
Soon another bakkie came by and the robbers flagged it down pretending to ask for help. The driver and the five passengers were forced to get out. They were all robbed of their money, watches and valuables; then they were made to lie down on the ground while their vehicle was hijacked. Vilakazi explains further: "God intervened in a miraculous way and the robbers stopped concentrating on us. We were sorry for what happened to the other group and at the same time considered ourselves very fortunate. We still had our kombi only losing the keys and no one was killed."
The entire incident lasted for about an hour and a half. After the bandits had left Vilakazi began shaking like a leaf. They were fearful that the gang might return. Later they realized that God had been with them all along.
In 1992 they were called to serve at Dennilton, KwaNdebele, on the Highveld District. Then in 1994 they accepted a call from the Mofolo North Church in Soweto, where they had been members for nearly thirteen years. Vilakazi had vowed that he would never return to Soweto, but he had forgotten that he was not in control of his calling and its ministry. He wrote, "Here I was back at the place of the days of my youth. The place that I loathe so much. It was truly not a place to settle in. I had forgotten one thing. I was not called to go and settle but to preach and spread the good news." Mr Zulu, a strong and humble man, was the senior member of the church board and was his right-hand man. Zulu had been with that church for thirty-four years. Vilakazi got along very well with him. Vilakazi was also very much involved in ministry to couples.
When they arrived there was a vacancy at Jabulani and Thabile was asked to pastor there. She was the first lady pastor at that church. It was a large congregation and God was with her. She was a good minister and managed well with the help of God. Subsequently she became an evangelist on the district. For a time she pastored at Mamelodi, Pretoria, and continued to preach in different churches especially those that did not have pastors. She was a gifted woman ever ready to help when a need arose.
Both of them were ordained in 1996 at the Good News Conference Centre in Johannesburg and in 2000 Vilakazi reported:
I love the Lord with all of my heart. He is number one in my life. Secondly I love my wife with all of my life, and thirdly, I love the work of the Lord with all of my heart. God is so good to me, how can I leave Him? Thabile is still my wife after twenty-six years of marriage. Thanks be to God, we are a wonderful team. I am so happy that we are able to fulfill God's high calling. He is faithful. He will see us through as promised in I Corinthians 15:57-58: "But thanks be to God! He gives us the victory through our Lord Jesus Christ. Therefore, my dear brothers, stand firm. Let nothing move you. Always give yourselves fully to the work of the Lord, because you know that your labor in the Lord is not in vain".[1]
Vilakazi was the Zone leader in Soweto from 2001-2003. He served the Mofolo North Church in Soweto for fourteen years. In 2007 he was diagnosed as having a malignancy in one of his lungs. After surgery his health deteriorated and he retired on June 7, 2008. On that occasion District Superintendent Rev. Bethuel Mkhonde stated:
Rev. Vilakazi was one of the great leaders on or district. Rev. George and Rev. Thabile dedicated their lives to the ministry as effective church leaders. God uses godly leaders. Godly leadership means work–often hard work. Effective means "active, powerful, strong and mighty." The dictionary includes "prepared and available for service." I have seen those characteristics in this couple. Rev. George Vilakazi, like the Apostle Paul, had his thorn in the flesh, he continued to say that God's grace was sufficient for him. His favorite verse was, "Seek your happiness in the Lord, and he will give you your heart's desire." (Ps. 37:4).[2]
George Vilakazi died in 2009.
Paul S. Dayhoff
---
Notes:
1 Rev. George Vilakazi, report by letter, (April 2000); Further report of July 2000.
2.Bethuel Mkhonde, text of his message at the retirement of Rev. George Vilakazi, June 7, 2008). Obituary for Rev. George Vilakazi.
---
This article is reproduced, with permission, from Africa Nazarene Mosaic: Inspiring Accounts of Living Faith, first edition, copyright © 2001, by Paul S. Dayhoff, Florida, South Africa: Africa Nazarene Publications, 2002. All rights reserved.