Classic DACB Collection
All articles created or submitted in the first twenty years of the project, from 1995 to 2015.
Williams, Neville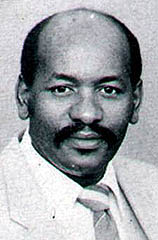 Neville James Williams was born in Wynberg near Cape Town in 1947 and was baptized in the Wynberg Dutch Reformed Church that same year. Neville was raised in a Baptist home and joined the Battswood Baptist Church in 1956. He found the Lord as Saviour at the age of thirteen and was entirely sanctified through the ministry of Rev. Harmon Schmelzenbach, Jr.
He and his wife, Mrs. Noelene Jennifer (Payton) Williams (1949-1996), were married in 1968. Sensing God's call to the ministry, he enrolled in the Rehoboth Nazarene Bible College in 1970 and graduated in 1972.
Financial problems began when Williams went to Bible College because they had just purchased a lovely new bedroom suite on a six-month cash payment basis. Now with only one of them earning a salary, they fell behind in their payments, and it was impossible to finish paying the account on time. Desiring to be good Christian witnesses, they prayed about what to do and decided to go together to see the manageress in charge of the Cape Town firm and explain their situation. Sensing their sincerity, she readily agreed to give them six extra months to pay without interest. So impressed was this lady with their Christian honesty, that many years later she still sent them a Christmas card every year.[1]
They began their pastoral ministry at Tiervlei where they worked for a short time, moving on in 1969 to work at the Heidenveld Church of the Nazarene. In 1975 Williams became pastor of the Matroosfontein Church and was ordained by Dr. Eugene L. Stowe in 1977. They served the church faithfully through the years at both the local and district levels.
Neville Williams had a great sense of humour and was always ready to laugh at himself. While visiting the United States in 1986 he visited a shop where they sold hairpieces. He had his picture taken in a blond wig (he had a dark complexion and was very bald). The photo greatly amused his family and friends back home.
In May 1987, while still pastoring the Matroosfontein Church, Cape Town, Rev. Neville Williams was elected the district superintendent of the Western Cape District. Prior to that they had pastored for nearly nineteen years in the Western Cape.
While attending the First Africa Regional Conference in Harare, Zimbabwe, in 1987 they left their family at home. Their eight-year-old son, Eugene, was hit by a car while alighting from a bus and suffered serious head injuries. On receiving the word his parents immediately returned home where they found him in a coma. Fortunately an ambulance had been passing just as the accident took place, and a Nazarene pastor who was at the scene accompanied the lad to the hospital. On the way he heard one of the attendants say, "We're losing him." The pastor placed his hands on Eugene and prayed for him. The doctors said he had a ten percent chance of recovery and if he did recover he would be paralyzed. Many people all over the world prayed for the boy.
Rev. Williams had just been elected district superintendent and often had to be away with his many duties. When he could not be there, Noelene stayed at the bedside. Eugene was unconscious for fourteen days, and during that time they kept talking to him even though there was no evidence that he heard them. One day Neville Williams walked in and said, "Hullo, Eugene," and Eugene answered in a croaking voice, "Hullo, Daddy." The next day, when they left, they looked back and saw he had gotten out of his wheelchair and was following them down the hall. Five weeks later Eugene walked out of hospital. The doctors could not explain it.[2]
In 1990, the three churches of the Central (White) District in the Western Cape area changed districts to establish membership by geographical rather than racial boundaries. The Covenant, Emmanuel and Emmaus churches became part of the Western Cape District. This was the first move in this direction in South Africa. Also in 1990 a huge parade of cars, bakkies (pick-ups), and trucks moved into Kayelitsha (African) Township. Hundreds of young Nazarenes and ministers sponsored an Impact Evangelism program and food and clothing distribution to needy people.[3]
Rev. Williams was elected a member of the General Board of the Church of the Nazarene in 1993. He was also chairman of the Republic of South Africa National Board of the Church and chairman of the Board of Trustees for Nazarene Theological College of South Africa. In addition he was chaplain for the City Council of Cape Town. Noelene was the principal of the Little Lighthouse Crèche of the Covenant Nazarene Church and the district NWMS president.[4]
On Sunday evening, September 29, 1996, the Williams family was travelling between annual church meetings at the Wellington and Mitchell's Plain churches. A small truck travelling in the opposite direction blew a tire, lost control and flipped over. It landed directly on top of the car carrying Neville, Noelene, Eugene (age 17) and Alana-Lee (age 12). They were all killed instantly except Eugene who sustained massive head injuries and died later in a local hospital. Their two surviving adult sons are Quinton and Stewart. The funeral service was a triumphant one with four thousand people in attendance.[5]
Paul S. Dayhoff
---
Notes:
C. Zurcher, Memories of Miracles in Africa, (Kansas City, MO: Nazarene Publishing House, 1989), 60.

Rev. Neville Williams, Prayer meeting message at Bethany First Church of the Nazarene, February 29, 1996.

Trans African, (Florida, Transvaal, South Africa: Africa Nazarene Publications, March-April 1991), 12; (May-June 1990), 11; ( May-June 1994), 10.

Rev. N. J. Williams," World Mission, (Kansas City, MO: Nazarene Publishing House, October 1987), 20.

"Tragic Auto Accident Claims Lives of Family," Weekly Summary: Nazarene Information Service, (Kansas City, MO: Nazarene Communications Network News, October 4, 1996 and October 11, 1996).
---
This article is reproduced, with permission, from Africa Nazarene Mosaic: Inspiring Accounts of Living Faith, first edition, (Florida, Gauteng, South Africa: Africa Nazarene Publications, 2002), copyright © 2001, by Paul S. Dayhoff. All rights reserved.