Classic DACB Collection
All articles created or submitted in the first twenty years of the project, from 1995 to 2015.
Allison, Oliver C.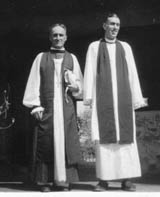 Oliver C. Allison was a missionary with a long record of service in the Sudan–a total of 35 years serving in various capacities.
The son of an English clergyman, Allison was the second of four boys. He was born in Stafford, England on May 28, 1908. He received Christ as his personal Savior when he was fourteen years old. As a young boy he was greatly influenced by the life and works of famous missionaries such as Hannington and Mackay, who were both missionaries in Uganda. He regarded these men as his heroes and mentors, and although he never actually met them, he very much wanted to follow in their footsteps.
Allison spent one year at Cambridge University Mission in Bermondsey where he gained experience in Christian education by teaching the Gospel before seeking theological training for the ordained ministry. He was ordained in 1932 and served for three years as a part-time curate in Boscombe. At the same time, he was also the youth secretary in the Diocese of Winchester.
It was through Bishop Guy Bullen, who then was assistant bishop in the Sudan that Allison came to know about Sudan. At this time Allison offered to join the Church Missionary Society (CMS). His desire was to serve in the Nuba Mountains region in northwestern Sudan. God answered his prayer, and on September 30, 1938 he traveled to Sudan. After three weeks at sea, he arrived Port Sudan and continued his journey on a train to Khartoum where he met Bishop Gwynne, the first Anglican and CMS missionary to set foot on Sudanese soil.
After staying in Khartoum for a while, he was informed that, he would go to Juba in South Sudan to work there. This complete change in his original plan came, of course, as a surprise to him but it made him realize that God intended him to start work in South Sudan, rather than in the Nuba Mountains, and so he accepted the change without a complaint.
The journey from Khartoum to Juba took fifteen days on board a steamer sailing southward on the White Nile. On arrival, he attended the annual conference of the CMS Gordon Memorial Sudan Mission, which was always held in January. There he met great missionaries like Archdeacon Archibald Shaw, Canon Ewell, Canon Paul and Mary Gibson. He was put in charge of the Bari Parish in Juba where he not only served as a parish priest but was also responsible for primary education and for church services for the English speaking congregation in Juba. It was at this time that he realized the necessity of knowing the Bari language and started seriously studying it. To familiarize himself with the extent and the nature of his parish jurisdiction, he immediately went on a tour of the whole Juba District.
Allison had a gift for talking with people, and so during this trip, he made a lot of friends among the local people–teachers, school children, chiefs, and indeed, all the people in his parish and beyond. Because he talked a lot, the people always described him as the talkative "Bwana." Bwana is a Kiswahili word with a variety of meanings but here it is used as a title of respect for all the white missionaries. In fact, the Episcopal Church of the Sudan until recent years, was known by the local people as "the church of bwana" in contradistinction with "the church of padre" (the Roman Catholic Church).
While he was officially designated to work among the Bari-speaking people, Allison also served among the Dinkas at Malek. It is worth noting here that the Bari, Nyangwara, Mundari, Pojulu, Kuku, and Kakwa tribes all speak the Bari language. So, for purposes of clarity, it is better to refer to these groups as the Bari-speakers or Bari-speaking tribes, as they would want to be called. This will also save us from confusion when referring to the Bari tribe itself.
Yona Lawi, Allison's house helper, accompanied him on all his tours of the district. Yona also made it easier for Allison to pick up the Bari language within a reasonably short period of time for he spoke fluent Bari after only one year in Juba.
In 1947, when he was at Malek, he received a letter from the Archbishop of Canterbury, informing him of his appointment to the office of assistant bishop in the Sudan. This appointment was made by Bishop Morris Gelsthorpe, who became the first bishop of the new Diocese of Sudan in 1945. Allison was consecrated on April 25, 1948 in St. Alban's Abbey in the United Kingdom, thus becoming an assistant to Bishop Morris Gelsthorpe.
In 1952, Allison succeeded Gelsthorpe as bishop of the Diocese of Sudan. He was not only bishop for the Sudan, but he also had responsibilities for Egypt, Eritrea, Ethiopia, Djibouti, Somalia, and Eden. He served both the local communities and the British nationals who lived in these countries. He attended Episcopal synods in Cyprus, Egypt, Iran, Sudan, and London. In his time, the church in the Sudan expanded greatly. He confirmed thousands of Christians and ordained more deacons and priests. It was during Bishop Allison's episcopate that the Rt. Rev. Daniel Deng Atong was consecrated as the first Sudanese bishop in 1955. In 1963, more Sudanese were consecrated as assistant bishops, namely Elinana J. Ngalamu and Yeremaya K. Datiro. Allison visited all the parishes in his diocese once a year.
Bishop Allison's life journey was not without danger. On one journey, the plane in which he was travelling crashed into the Red Sea, but Bishop Allison managed to swim ashore. One time he was travelling in a plane from England to Sudan and their plane was hijacked and forced to land in Benghazi, Libya. On another journey, their plane developed an engine problem in the air but fortunately did not crash. He also had several car accidents but always escaped unhurt.
Most of the time he spent in the Sudan, Bishop Allison had no fixed abode. When he arrived in the country, he was immediately transferred to Juba, where he lived for a period of eight years. In 1947 he was transferred to Malek in the Upper Nile Province, and in 1948, he stayed in Khartoum for a short period of time. He also lived for short periods in both Maridi and Lainya. When the Clergy House in Khartoum was confiscated by the Sudanese government in 1974, the bishop had no house until his retirement as the bishop of the Diocese of Sudan in 1976.
Bishop Allison witnessed the suffering of the South Sudanese Christians at the hands of the Arab Muslim government. He was a witness to the events that took place between 1947 and 1955 which led to the mutiny of the Equatoria Corps, thus marking the beginning of the long war between the Christian South Sudan and the Arab Muslim government of North Sudan, which has continued up to this day. He also witnessed the enactment of the "Missionary Society's Act 1962," according to which all Christian missionaries were expelled from the Sudan. During the Khartoum incident in December 1964 when thousands of South Sudanese living in Khartoum were killed by Arab Muslims, Bishop Allison became a host to hundreds of South Sudanese who took refuge in the Clergy House. He witnessed the dispersion of the Christians in 1965, when the shooting and killing of South Sudanese in the southern towns of Juba and Wau was carried out by the Sudanese government army. Many South Sudanese had to flee to Congo, Uganda, Ethiopia, Kenya, and Central Africa Republic, to live the life of a refugee. Truly, Bishop Allison shared with the Sudanese Christians their times of grief and sorrow and never forgot these incidents.
Bishop Allison was a good shepherd and took great care of his flock. He even visited those outside the Sudan who were living in refugee camps in the abovementioned countries to see their physical conditions and to share with them the situation at home. Rev. Gordon Tikiba had this to say about Bishop Allison:
He kept in close contact with all those who were in exile. Where possible he visited them and saw their physical conditions. With his help, many men and women were trained while in exile for service in the Church of Christ in the Sudan. (But God Is Not Defeated, p. 92).
Rev. Canon Clement Janda confirmed this when he wrote: "We were kept together by sharing stories told by the roving Bishop Oliver Allison. He informed us of what was happening to the other Episcopalians in other parts of the world; but more particularly in Eastern Africa." (ibid., p. 25).
As mentioned earlier, Bishop Allison made many friends in the Sudan. The Arab Muslim administrators both in South Sudan and in the north were always willing to listen to him when he expressed his views on the Sudanese conflict. Both the southern and northern peoples of the Sudan found in Oliver the spirit of love. He always told the Sudanese people–especially the Arab Muslim authorities in the north–about love, emphasizing that peace could only be achieved through dialogue.
He retired as bishop of the Diocese of the Sudan in 1976 and went back to England. He died in June 1989.
James Lomole Simeon
---
Bibliography
This story is partly taken from the profile of Bishop Oliver Allison written by Gordon Tikiba, in Samuel E. Kayanga and Andrew Wheeler, eds., But God Is Not Defeated, Celebrating the Centenary of the Episcopal Church of the Sudan, 1899 - 1999 (Nairobi, Kenya: Paulines Publications Africa, 1999), pp. 90 - 93.

Interview with some of the clergy and bishops in the Sudan, during the celebration of the centenary, December 1999, Khartoum, Sudan.
---
This article, received in 2003, was researched and written by Mr. James Lomole Simeon, Esq., Chancellor of the Diocese of Khartoum, Sudan, 2002-03 Project Luke Fellow.