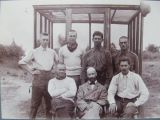 Archibald Shaw was a Church Missionary Society (CMS) missionary in Sudan. Born at Edgbaston, Birmingham, England, Shaw studied at Emmanuel College, Cambridge, and in 1905 was one of a party of five young men sent out under the CMS's Gordon Memorial Sudan Mission to establish the first CMS mission on the Upper Nile. Inadequately prepared for so challenging a land and people, all except Shaw withdrew within 18 months. His dogged perseverance during succeeding decades laid the foundation for the Episcopal Church in southern Sudan. He served as secretary of the mission from 1907 until 1936, and as archdeacon of southern Sudan from 1922 until 1940. Though often understaffed and underfunded, the evangelistic and educational work of the CMS under Shaw's leadership penetrated the vast territories of the Dinka, Zande, Moru, and Bari peoples. His tenacity and courage became legendary not only among Europeans, but also among the Dinka, who remember him affectionately by his Dinka name Macour' (Machuor), taken from the color of the ox he owned. His translations of the Scriptures and worship forms, and his respect for indigenous musical idioms continue to provide inspiration for the Dinka church, which has flourished during the 1980s and 1990s under indigenous leadership. Shaw is buried in Nairobi.
Marc R. Nikkel
---
Bibliography
Shaw served as translator and guide for anthropologist C. G. Seligman and with his encouragement published several ethnographic articles, including:
"Dinka Songs." Man 20 (1915): 35-36.
"Dinka Animal Stories (Bor Dialect)."
Sudan Notes & Records 4 (1919): 255-275.
"A Note on Some Nilotic Languages."
Man 16 (1924): 22-25.
See also Marc R. Nikkel, "The Origins and Development of Christianity among the Dinka of Sudan, with Special Reference to the Songs of Dinka Christians" (Ph.D diss., Edinburgh Univ., 1993).
Shaw's records and personal correspondence are at the CMS archive, Birmingham Univ. Library (Acc. 111), England.
---
This article is reproduced, with permission, from Biographical Dictionary of Christian Missions, copyright © 1998, by Gerald H. Anderson, W. B. Eerdmans Publishing Company, Grand Rapids, Michigan. All rights reserved.