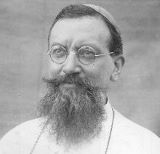 Jan van Sambeek was a Dutch missionary bishop in Tanzania. Born in Veldhoven, North Brabant, Netherlands, Sambeek entered the Society of Missionaries of Africa (also known as White Fathers) in 1910. After some years of further study and teaching, he arrived in Chilubula, Bangweolo, Zambia, in 1919, became educational secretary in the vicariate, and was invited to the meetings of the British Advisory Board on Education in Livingstone, Rhodesia, from 1925 to 1927. He composed several African language grammars and dictionaries (in Kinyakusa, Kisafwa, Kiha, and Kibemba). His Kibemba grammar and dictionary remain the standard works. In 1936 he was appointed vicar apostolic of Tanganyika (Tanzania), then the largest vicariate in East Africa. In 1946 the vicariate was divided and he opted for the northern, poorer part in the Buha region and became the bishop of Kigoma. He insisted that missionaries should have a sound knowledge of the language and local customs of the people they worked with. Even in the years of retirement in Kabanga, Tanzania, he continued producing books for the use of Christians and young missionaries.
J. G. Donders, M Afr
---
Bibliography
"Mgr. Jan van Sambeek," Petie Echo, Missionaries of Africa, Rome, no. 579 (June 1967): 273-291.
---
This article is reproduced, with permission, from Biographical Dictionary of Christian Missions, copyright © 1998, by Gerald H. Anderson, W. B. Eerdmans Publishing Company, Grand Rapids, Michigan. All rights reserved.