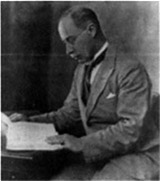 Albert Ruskin Cook, born March 2, 1870, was the son of W. H. Cook, M.D., a general practitioner in Hampstead. His mother's father, Edward Bickersteth, was a hardworking clergyman, and his uncle, E. H. Bickersteth, was Bishop of Exeter and a well-known hymn writer (Stock, 1899).
Albert Cook's interest in missionary work started in 1896 when he was still at Cambridge. In 1896, Cook was among the missionaries that the Church Missionary Society sent to Uganda.
The party arrived on February 19, 1897. Two days later they began to see patients in a shed. This is when the Mengo Medical Mission was founded. By May 14, the first Mengo Hospital was all ready to be opened. It had two wards, one for the men and one for women. The building had walls made of reeds, a thatched roof, and floors of mud stamped hard and smooth. The doctor himself lived in just such a reed thatched house.
Over 17,000 patients were seen at the dispensary and 189 admitted to hospital. 314 minor surgical operations were performed and 140 more serious ones were done under chloroform anaesthesia during Albert Cook's first year after founding the hospital.
Before sailing to Uganda, a doctor friend of his asked him why he wanted to bury himself in a place where he would see ulcers and fevers. Later, while in Uganda, Albert answered him in a letter that listed the cases he had seen during the first twelve months, starting with one hundred and fifty patients with gun shots.
Albert married his co-worker Katharine Timpson who introduced the idea of training of nurses and midwives in Uganda. This led to the founding of The Lady Coryndon Maternity Training School.
Albert Cook also established a treatment center for the venereal diseases and sleeping sickness in 1913, which became Mulago Hospital. He is also the founder of Mengo Hospital.
In 1932, Cook was knighted. In 1934, he retired after 37 years of service, but remained as consultant to the Hospital and to the Government European Hospital. He died at 81 years of age in 1951 and was buried on Namirembe hill near the Cathedral.
Eddie Sempala
---
Bibliography:
Eddie Sempala, Uganda God's Generals: The Pioneers, digital ed. (Kampala: Eddie Sempala, 2019), chapter 3.
---
This article, received in 2019, was written by Eddie Sempala, an Apostle, author, and church historian studying revivals in Uganda, Kenya, Africa and Asia. He is the Founder of Generals Ministries International and the pioneer of Africa God's Generals research project aiming a documenting stories of men and women of God which will be helpful in kindling fire for ministry in the next generation of ministers.