Classic DACB Collection
All articles created or submitted in the first twenty years of the project, from 1995 to 2015.
Katalihwa, Dan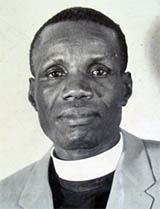 Dan Katalihwa was born in 1921 in Nyakatete in western Uganda on a special day-the day his uncle got married. For that reason, he was later named Katalihwa implying that "Akarungi k'ekka egyi tikarihwa" which literally meant "the happiness of this family will never end."
At the time of his birth, his parents were pagans. They had shrines for the gods they worshiped. Dan was therefore raised in an environment of African traditional religion. His main activity was to look after goats and sheep.
His maternal uncle Kikurungu took him to Ntuntu Church of Uganda where a man named Ernest was the catechist. Ernest taught Dan and his sister Iburabwiza Sophia both reading and writing. They wrote using slate stones. Ernest examined them and found out that they could answer the baptism questions by themselves. Ernest invited a priest–Rev. Andrew Seeri from Kabarole in Rwenzori Diocese–to come and baptize the qualified catechumens. Even though it was about seventy miles from Rwenzori Diocese to Ntuntu Church, the pastor used a bicycle to ride through bushy areas inhabited by hostile animals. For this reason, he would stay for several days before returning to Kabarole. Whoever failed the questions would not be baptized until the next year. Dan was finally baptized at the age of nine on January 30, 1930 at Ntuntu Church of Uganda by Rev. Seeri.
In 1937, Dan was confirmed and later started primary one. The fact that he had been a catechumen meant that he knew how to write and read, and he was therefore promoted to primary two before the term ended. As a pupil, he acted as a caretaker in the absence of the teacher to control the other pupils. The school was at Ntuntu Church, five kilometers from Nyakatete village. In December 1937, the regional school office at Ibanda sent an entrance examination and Dan passed it and was promoted to primary three in 1938. By then, primary five had very few pupils so they called a teacher from Mbarara headquarters to come and interview the primary three pupils to get the more advanced pupils whom they could send to primary five to increase the number. Dan was among those promoted to primary five in 1939.
There was no primary six in Ibanda, so Katalihwa joined Nyakasura School in Fort Portal in 1940. As Nyakasura School was a day school Katalihwa had to stay overnight at Bukuku Church of Uganda. Katalihwa was a bright pupil and was in the second position after Martin Rubale.
Unfortunately, Katalihwa's father passed away in 1940 so Katalihwa did not have an opportunity to go to secondary school. The only option was to join Canon Apollo Primary Teachers College in 1941 where he finished two years and graduated as a teacher. He became a teacher at a demonstration school for one year and later went to Ntuntu primary school as a head teacher from 1944 to 1955. He later joined Mbarara Teacher Training College for two years to advance his training. Katalihwa taught for nineteen years as a primary teacher.
While at Canon Apollo in 1941, Katalihwa had a vision. The Holy Spirit convicted him that he was not doing the right thing until he confessed Jesus Christ. One day he joined the brethren (Abeishemwe) in the chapel. While there, a voice warned him that he was despising the Abarokole (the born again). He then accepted Jesus Christ as his Lord and Savior and gave a testimony. He become a devoted evangelist and preached in many schools. [1]
All along Bishop Erica Sabiti of Rwenzori Diocese, knew Katalihwa and when he went to Ntuntu for pastoral visit he asked the Batagwenda (Kitagwenda people) whether they could get a Mutagwenda (a person from Kitagwenda) to be their pastor because Kitagwenda didn't have one. So the Batagwenda recommended Katalihwa. At night in a conversation with the bishop, Katalihwa accepted to begin training to become a pastor. He therefore left teaching and joined Bishop Tucker College, Mukono.
After his studies he served his diaconate in Kitagwenda where he moved with his wife and two children. After two years he joined Balya College, Bukuku to teach grade three lay-readers. The rest of the family was left in Kitagwenda with Esther, Baseko, and Kezia Ntuha, members of the Balokole fellowship. The couple had two daughters and seven sons. As of 2012, there were eight surviving children: Francis Asiimwe, Mary Muhumuza, Emmanuel B. Katalihwa, Asaph Kuhiirwa, Enoch M. Katalihwa, Nathan S. Katalihwa, Joshua T. Katalihwa and Cranmer A. Katalihwa.[2]
Later, Katalihwa was recommended to go for further studies in Toronto, Canada. From Canada, Katalihwa was appointed diocesan secretary/treasurer of Rwenzori Diocese. Not long afterwards he became the archdeacon for all of Tooro: Kamwenge, Kasese, Bundibugyo, Ntungamo, and Fort Portal in western Uganda.
In 1979, he was transferred and became the first Kamwenge archdeacon. However, as he had no residence at the archdeaconry he stayed at Ntuntu except during pastoral visits when he stayed at Reverend Misaki Vuringoma's place at Kamwenge headquarters. The archdeaconry of Kamwenge had six parishes–Ntuntu, Kyabenda, Kamwenge, Kichwamba, Nkoma, and Mahyoro. As it became tiresome to visit all six parishes Katalihwa was transferred to Ntuntu to establish the Ntuntu Archdeaconry. As the first archdeacon of Ntuntu, he did a lot of service in his jurisdiction.
A year before his retirement he was put on a one year contract. Before he could retire, the provincial secretary wrote to Katalihwa, asking him to make a five year plan for the archdeaconry. Instead, Katalihwa made a ten year plan in which he proposed the creation of a Kibale-Kitagwenda Diocese because he knew that every archdeaconry would produce other parishes. During his term of office a total of fifteen parishes had been established.
Ntuntu Archdeaconry ran from Ankole to the Dura / Kibale forest. During his time, many activities were carried out in his archdeaconry–missionary work, tourism, conversions, and education, to mention a few. Ntuntu Archdeaconry established Kyabenda Archdeaconry, Kamwenge Archdeaconry, and churches in Nkongoro, Kabuga, Rwaijaza, Rubona, and Kyabandara. As a pastor, he initiated many development projects in the Kitagwenda area, Kamwenge district.
Katalihwa controlled Ntutu, Kamwenge, Kyabenda, Nkoma, Busabura, Nyakasenyi, Kasasi, Kichwamba, Mashyoro, and Kibumbi parishes. He used his Volkswagon van for his visits. He traveled many miles through the bush where there were hostile animals and many pagans so that Jesus Christ could penetrate all these areas.
Katalihwa played a big role in expanding the church in western Uganda. He was a courageous man, determined to do whatever he deemed necessary for the glory of God.
Retired Bishop Yustus Kamanyire said of Katalihwa:
Canon Katalihwa should be applauded for his physical effort and intellectual maturity in managing all of Tooro as an archdeacon and also establishing various archdeaconries which are still strong up to now. May God bless his ten year plan of Kibale-Kitagwenda proposed Diocese which is at hand in Kamwenge District. May God also bless Dan's wife Sarafina Bagaya who was born in a royal Christian family and participated in church expansion because of helping her husband. Sarafina Bagaya, a granddaughter to King Kyebambe Kasagama, did a great role in helping her husband.
Katalihwa died on September 18, 2013, aged 92 years, at his home in Ntuntu Kitagwenda. He was buried on September 21, at Ntuntu C.O.U. cemetery, according to his will. He is survived by Mrs. Seraphic Abooki Katalihwa (aged 90 years in July 2014) and eight children. [3]
John Kateeba Tumwine
---
Notes:
Reported by Canon Nkoyoyo.

Corrections and additions by Cranmer Katalihwa, last born of Katalihwa's children. Email message to M. Sigg dated 5/6/2012.

Ibid.
---
Sources:
Kamanyire, Rev. Yustus, retired bishop of Rwenzori, interview by author.
Rev. Canon Nkoyoyo, retired lady who served under Dan Katalihwa, interview by author.
Tuma, A. D. Tom and Phares Mutibwa, ed. A Century of Christianity in Uganda, 1877-1977. Nairobi, KE, Uzima Press, 1979.
Anderson, William B. The Church in East Africa, 1940-1974. Dudoma, TZ: Central Tampayira Press, 1977.
---
This story, received in 2010, was written by Rev. Canon John Kateeba Tumwine, director of Global South Institute at Uganda Christian University, coordinator of regional theological colleges in the Church of Uganda, and member of the DACB Advisory Board, East Africa. The story was updated by his family in July 2014.
---
Photo Gallery