Classic DACB Collection
All articles created or submitted in the first twenty years of the project, from 1995 to 2015.
Kauma, Misaeri Kitemaggwa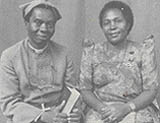 Misaeri Kitemaggwa Kauma was the third child born to Abiathar Magala and Besimensi Nasejje Nakamya, of Nsangi Kyaddondo, Uganda. Abiathar Magala and his wife were residents of Namagoma before moving to Nsangi, which explains why Misaeri was born at Namagoma on August 15, 1929, but baptized by the parish priest at Nsangi, a week later. When he became a candidate for confirmation, he took his classes in that same parish, and was confirmed by Bishop Wills.
Misaeri grew up in a family of five boys and five girls. [1] He started attending Nsangi primary school at the early age of five in 1934, and received his secondary education at Makerere College School from 1946 to 1948, and in Busoga College, Mwiri, from 1949 to 1951. He then attended Mbarara Teacher Training College in 1952, graduating as a grade four teacher. Two years later, he upgraded to being a grade five teacher. He took a short course in the classroom management of Sunday school children before entering Buwalasi Theological College. He was at Buwalasi from 1962 to 1963, and received a diploma in theology in 1964 from Mukono Bishop Tucker College, when it moved from Buwalasi to Mukono in 1964. He went to Durham University in England for another degree in 1965, and returned to Uganda in 1968 after his graduation.
Misaeri worked hard to apply the knowledge and the skills he had gained in his education to excelling as a classroom teacher, a deacon, a priest, a bishop, and an international dignitary who was respected all over Africa, Europe, and America. It was Jesus Christ who allowed Misaeri to excel and to reach great heights, since Misaeri came from a family of moderately low status. His father was not a chief or even a confirmed Christian when Misaeri become an assistant bishop, and it was Christ who pushed him beyond his expectations.
Misaeri and his wife Geraldine's testimony was a proclamation that Jesus Christ was their chief cornerstone, their personal savior, their "jet fighter," and their "greatest ladder." Misaeri spoke of Jesus as if he was actually seeing the Lord. He told his wife Geraldine that "If it were possible to make trust in Jesus into an injection, I would have injected all my children and all the Christians I met during my pastoral visits, because with Jesus Christ as Lord and Savior, everything is possible." Misaeri wanted his parishioners to take advantage of the great grace that is available to all who confess Jesus Christ as Lord and Savior.
Misaeri's greatest opportunity to know Christ as Lord and Savior came on March 5, 1950, when he was at Mwiri College. His maternal uncle, Jonah Mondo preached the gospel of salvation to him from a text in Mark 10:27: "Jesus looked at them and said, 'With man this is impossible, but not with God; all things are possible with God.' "Misaeri was filled with the Holy Spirit and from that day onwards, he began to repent of his sins. He thanked Jesus for taking a heavy basket of sins from atop his head.
The fire of salvation penetrated his whole body and changed him completely. He began to preach Christ with vigor, and he did so until he died in 1997. The fire of salvation influenced his career as a student, a teacher, a theologian, an ordained minister, a photographer, a writer and government commissioner for HIV/AIDS, a family leader, a nationalist, a Buganda kingdom advocate, and an international evangelist. That fire pushed him higher and higher, even if it also brought him as many enemies as it did friends.
Misaeri loved the brethren, the people who acknowledged Jesus Christ as Lord and Savior, very much. That was why he took Rev. Canon Peter Kigozi as his mentor, confidant, and co-worker in the ministry of reaching children and youth in all the provinces of the Church of Uganda. Reverend Peter Kigozi, who was then a youth worker in the same province, had a lot in common with Misaeri. Like Misaeri, Peter was a teacher, a linguist, and a friend to the children and brethren of the abundant fire. The greatest difference between Peter and Misaeri was their height and skin color. Peter was a very tall, light brown man, while Misaeri was short, slender, and had dark brown skin.
Misaeri spent the first eight years after he was saved working with Peter Kigozi in the youth ministry. Peter helped Misaeri to remain in the bosom of Christ, to become sensitive to any sign of resentment against the saved, and to always go down on his knees seeking God's intervention, repentance, and forgiveness. Those years helped him to grow from being a novice to becoming mature in the journey of salvation. As a good mentor, Peter remained very close to Misaeri in things relating to marriage, to the ministry of the Bible, to the kingdom of heaven, and to the issues concerning the Buganda kingdom.
On December 15, 1956, Misaeri married Geraldine Rita Nabuli Nsubuga at St. Philips and Andrews Mukono (a church that became a cathedral in 1984), in a ceremony that included four other couples: Rev. Onesifolo and Catherine Musana, Kezekia and Perusi Kanakulya, the Nagambyes and the Nkuggwas. Misaeri had met Geraldine during the church meetings at Mukono with the help of elders in the fellowship. Both Misaeri and Geraldine were teachers. Rev. Butrer and Rev. Canon Yowasi Musajjaakawa presided over their wedding ceremony.
They had seven children, but one was stillborn. They also had many grandchildren. [2] What is interesting about the children's names? Misaeri gave his children and grandchildren names which fall into four categories: the clan, the proverbial, the Christian, and the revival adaptation. The way he chose names for his children and grandchildren reflected his attitude towards his culture. Being saved before becoming a theologian helped him to learn how to use a sharp knife in selecting which elements of his culture to preserve for his family and which to drop. In the Baganda culture there are many good, required elements that promote Christianity, and loving the Kabaka is essential. There is nothing wrong with a Christian giving his children clan names. Clan names in Buganda demonstrate love for the Kabaka (the king of Buganda) and a pure Muganda must have several symbolic names.
One might ask why someone such as Misaeri, who had affection for Baganda names, decided to write his name wrong. He used to write it as "Kauma" instead of as "Kawuma." His wife Geraldine explained this in relation to the confusion that had occurred with letters that had been posted to him, and letters sent to Samuel Kawuma, his fellow teacher at Bishop secondary school. The confusion prompted Misaeri to take out the letter "w." The name "Kawuma" belongs to the Kkobe clan (Kkobe is food, a type of stem tuber from a climbing plant). He kept the names Kitemaggwa and Magala silent, even when he became bishop of Namirembe in 1985, and never mentioned them.
Misaeri loved his Kabaka, and he showed this love to his clan members, to his students, and to his congregations. Misaeri was one of the first Muganda in the 1990s to address Prince Ronald Mutebi as Kabaka. Most of the Baganda royalists from 1967 to 1992 were afraid to do so, since the Kabakaship had been banned in 1967 by President Milton Obote.
The Kabakaship of Buganda was reinstated in 1993 by President Yoweri Kaguta Museveni. When Misaeri received the opportunity to crown Ssabasajja Kabaka Magulunyondo Ronald Muwenda Mutebi II in 1993, he felt very humbled, but he was very eager to perform such a noble task for his king. His presence in the coronation arrangements was a deterrent to the many dark rituals and rites which would have otherwise been performed. The reign of Kabaka Muwenda Mutebi has been more favorable to Christian practice in the palace when compared to the past reigns of Ssekabaka Daniel Mwanga, Ssekabaka Daudi Chwa, and Ssekabaka Sir Edward Luwangula Muteesa II.
The deep spiritual relationship between Peter Kigozi and Misaeri Kauma had led some people in the Buganda kingdom (especially the royalists) to resent Misaeri. The royalists projected Peter Kigozi's cultural scars on his disciple. They thought Misaeri would not protect the kingdom of Buganda like Peter Kigozi, his master, had. Peter had done an abominable thing, culturally speaking, in Buganda, by marrying the Queen mother of King Edward Muteesa II, Lady Irene Namaganda in 1942, with support from Martin Luther Nsibirwa. At that time, Peter was a teacher of Kiswahili in the Palace school and Martin Nsibirwa was the prime minister of the Buganda kingdom.
The royalists never wanted Misaeri Kauma to become the bishop of Namirembe, and their resentment was felt throughout his ministry. In fact, he spent ten years as the assistant bishop of Namirembe. Clergy like His Grace The Most Reverend Livingstone Mpalanyi Nkoyoyo and Bishop Yokaana Balikuddembe Mukasa were consecrated as full bishops of Mukono diocese and Mityana diocese, respectively (carved out from Namirembe Diocese).They left their senior, Misaeri, the post of mere assistant bishop.
Becoming an ordained minister in the Namirembe diocese meant turning into a royalist, and any bishop in Namirembe who failed to protect the Buganda kingdom (such as Bishop Brown, in the Kabaka crisis of 1966), did not fare well. Bishop Brown, for instance, had plucked the prayer for the Kabaka out of the Luganda Prayer Book, quickly replacing the prayer of his Highness with that of the President of Uganda. That act, and many other things, annoyed the Baganda royalists, who vented their fury on him. They also brought about the removal of the division between the office of the Archbishop and the office of the Namirembe diocese, even though the two offices were sharing the same compound. The bishops of the Namirembe diocese, beginning with Bishop Tucker, had the responsibility of defending the kingdom of Buganda in a number of ways. This explains why the royalists took a very long time to trust Misaeri with such a great responsibility.
The Church of Uganda was privileged to have Misaeri Kauma as a bishop. It was unusual that a vibrant bishop of his caliber, especially coming from Buganda, should come into the church hierarchy, because cultural influence had acted as a buffer against the possibility that the roots of Christianity would sink deeply into the indigenous context. Christianity had only been able to extend shallow roots among the clergy and lay readers in the Namirembe diocese from the time when Ssekabaka Muteesa I realized that there was darkness in the lifestyle of his subjects (the Baganda).
A bishop of Misaeri's caliber helped the revival movement to get the mandate it needed to penetrate the cultural systems. Misaeri was known for his open confrontations with those who worshipped dead ancestors, because it was that very darkness that promoted child abuse and human sacrifices in the Baganda culture. Misaeri's open confrontation with ancestral worship earned him a nickname, and some royalists used to refer to him as the omukopi (uncultured) bishop. The clergy referred to him as "metronaire" [sic] because he regularly insisted that every member of the clergy had to become completely transformed in Jesus Christ.
The legacy of confronting the dark areas in Kiganda culture could be related to his hard work as a writer. Misaeri wrote and translated into Luganda a number of books for Sunday school, for confirmations, and for people suffering from HIV/AIDS. His intention was to get Christians in the mother church to have deep roots in Jesus Christ through reading and writing. One of his disciples, Bishop Michael Ssenyimba, has emulated and extended many of Kauma's qualities to an even greater extent.
Before entering ordained ministry in 1965, Misaeri had been a teacher. He taught English in several schools, including Mukono Bishop Secondary. When he became a deacon, he was posted to Namirembe Cathedral. He also served in the Ndejje Deanery for some time. In 1968, he was made an assistant provincial secretary responsible for refugees. He went to Nairobi, Kenya in 1970 as a secretary for refugee relief for Africa. From there, he was able to travel to several countries in Africa and Europe.
He really had compassion for people who were suffering, and knew that Jesus had the solution to every problem. With Jesus, nothing was impossible (Mark 10:27). Misaeri directed the refugees to Jesus, which was a major step in his path to becoming an international evangelist. His heart for suffering people persuaded His Excellence Yoweri Kaguta Museveni, in 1995, to make Misaeri a government commissioner in the fight against the Human Immunodeficiency Virus and the Acquired Immune Deficiency Syndrome (HIV/AIDS), a task that he carried out very well. What is remembered of his struggle against HIV/AIDS is his prayers for the sick and his acceptance of condoms for prevention. On one occasion he spoke to adolescents and young people saying, "If you become a fool by indulging in fornication and promiscuity, never be [so] stupid [as] to refrain from using a condom."
Misaeri encouraged the church to accept people living with HIV/AIDS. He walked with Philip Bongole Lutaaya, an artist who was the first to openly declare his HIV status in Uganda. He persuaded the church to listen to Lutaaya at that time. He backed His Excellence Yoweri Kaguta Museveni when the president came out openly to identify with people suffering from HIV/AIDS, at a time when other East African countries were shying away from such behavior. Also, the work of grooming Reverend Canon Gideon Byamugisha, a clergyman who has done commendable service in the prevention of HIV/AIDS worldwide, was initiated by Misaeri Kauma.
In 1973, after doing work among refugees for three years, he was appointed principal of Bishop Tucker Theological College in Mukono. He served in that position for only two years, and then became assistant bishop to the Right Reverend Dunstan Nsubuga (Wewawo), bishop of Namirembe Diocese, in 1975. It took him ten years to attain the full title of bishop of Namirembe. After his consecration in 1985, Misaeri vowed to never consecrate an assistant bishop unless it had been agreed that the assistant would become full bishop.
God blessed Misaeri's ten year bishopric. During that time, from 1985 to 1995, Uganda turned into a peaceful nation. As the bishop of Namirembe, Misaeri acted as a bridge between the kabaka and President Yoweeri Kaguta Museveni. He encouraged the two leaders to sit together. The most colorful day occurred on December 8, 1991, in Luweero. It is remembered that the two leaders sat together during the consecration of Bishop Mensusera Bugimbi, the first bishop of the Luweero diocese, for the entire day. On that day, Misaeri took several photographs of the event himself, since he was a keen photographer. The wedding of Kabaka Muwenda Mutebi and Nabagereka Sylivia Naginda, in 1999, was also very colorful, but the two leaders were not as comfortable as they had been in Luweero. It will always be a joy for the church to see the kabaka and the president of Uganda sitting together, as it was in the days of Misaeri Kauma.
Misaeri Kauma is also remembered as a pioneer of private universities in Uganda. He worked together with others to start Ndejje University in 1992. The university came as a reimbursement to the Christians of Ndejje for the diocesan headquarters that had been moved from there to Luweero. The people of Ndejje thought that they deserved to host the headquarters of the diocese, as they had worked for it since 1896. By that time, Ndejje was already a deanery, and at one time, Bishop Dunstan Nsubuga (the old boy of Ndejje) posted Misaeri Kauma to prepare the Ndejje Church to become a cathedral. The design of St. John's Church in Ndejje resembled that of St. Paul's Cathedral in Namirembe, to a small extent. All of this annoyed the Christians in the Ndejje parish.
The establishment of the university, however, appeased them, and reduced the people of Ndejje's hatred for Misaeri Kauma and Bishop Mensusera Bugimbi. In 2009, Ndejje University changed from being a turbulent institution to becoming one of the leading private universities in East and Central Africa. Bishop Michael Ssenyimba, the vice chancellor of Ndejje University from 2002 to 2011, caused Misaeri Kauma's favorite verse to come true many times over: "With man this is impossible, but not with God; all things are possible with God."
Misaeri Kauma died of a natural sickness on October 7, 1997, after a successful marriage of forty-one years and after having seen his grandchildren.
He is still remembered for his tireless efforts on the work of the synod hall at Namirembe. He strived to see the synod hall come to completion, but this only became possible during the time of his successor, Bishop Samuel Balagadde Ssekadde. Constructing buildings was not so much in his veins. Most of the buildings he started, such as those at Kalangala-Ssese and at Namugongo Martyrs Seminary were not completed during the time of his jurisdiction. Misaeri also had a late start when it came to building his family house at Nsangi. Thanks to his many friends, it became possible for him to leave his wife Geraldine with something worthwhile in terms of sustenance.
From the time of her husband's death in October of 1997, Geraldine continued to see the impossible becoming possible. A retired teacher, she had vowed never to become a retired believer. In the absence of her husband, she remained an instrument for spiritual growth in the church and in her family, which served as an indicator of the indispensable combination of qualities that the couple had exercised together in the work of building God's Kingdom here on earth. Geraldine and Misaeri shall always be known as a couple who sacrificed all their international and local opportunities in order to become rich in spiritual wealth rather than in material wealth.
James Selugo
---
Notes:
His brothers were Henry Nsereko (deceased), Paul Muwanga (deceased),Christopher Ssajjabi (a resident of Kabowa), Rev. Samuel Buule (went to America in the 1980s), and the Very Reverend Canon Augustine Ssekadde Musiwufu (Dean of St. Paul's Cathedral of Namirembe from 1999 to 2010). Musiwufu had several names, as he was the last child born to Abiathar and Besimensi.
His sisters include Catherine Nantege (a retired teacher at Nsangi), Norah Nambalirwa Mpuna Mukasa (a widow at Bbira), Deborah Nababi (deceased), Christine Nakakawa Kasule (widow and retired teacher in America), and Ruth Namboga (a retired teacher at Nsangi). Misaeri's sisters and brothers held him in great respect, especially when Henry Nsereko and Paul Muwanga died, as Misaeri became the eldest brother. He also took over leadership of the family after the death of Abiathar in 1992.
Their six children grew up, did well in their studies, were saved, got married, and got good jobs. They grew up to be responsible citizens. These are their names: David Musajjagyagenda Mugabi (first), Enock Mwesigwa Magala (second), Ruth Kiwabudde Mirembe Nantege (third), Moses John Kitemaggwa Muwanguzi (fourth), Stephen Misaeri Kyasiima Male (fifth), Ssuubi (stillborn), and Peter Dunstan Lekaboamu Abiathar Biyinzika Mutumba Kwawu (seventh). Apart from David Musajjagyagenda, who died leaving two children, the rest continued to pursue their careers in America and in Uganda.
These are their grandchildren: David and Victoria Nalubaale produced Ruth Rabecca Besimensi Nantege Mirembe and David Paul Lekoboamu Nsereko Musajjagyagenda Mugabi Kuteesakwe. Enock and Florence Nakimera produced Rebecca Nambalirwa, Rachael Nantege, and Misael Nathan Magala. Ruth and Reverend Canon John Senyonyi produced Sarah Geraldine Nakiranyi, John Paul Muwanguzi Sembuusi, and Mathew Malachi Misael Mbabaali Musaasizi. Moses and Mary Nazziwa produced Geraldine Florence Mary Nakakawa, Martha Babirye Nantume Kukkiriza, and Aidah Mary Nakato Namboga. Steven and Catherine Kikomeko produced Paul Tendo Magala and Esther Kirabo Nantumbwe. Peter and Silvia Nabayego married on April 18, 2009.
---
Bibliography
Kalimi, John (Rev.). Bishop Misaeri Kauma. Bukedde: The New Vision Printing and Publishing Company, Ltd., 2010. www.Bukedde.co.ug
Kauma, Misaeri. "The Bishop's Consecration Charge" February 17, 1985, Namirembe Diocese.
Kauma, Misaeri. Enjiri Ya Makko. Kampala: Centenary Publishing Company House, 1984.
Namirembe Diocese, minutes of the Diocesan Council meetings. (1985-1994).
"[The] Death of Bishop Misaeri Kauma" The New Vision Printing and Publishing Company, Ltd. October 7, 1997.
Sajjabi, Y. "The Saint who Lived Amongst Us." The Bridge (Namirembe Diocese magazine) Safariscope, May 31, 2009.
Ward, Kevin. Called To Serve, A History, 1913-1989. Kampala: Bishop Tucker Theological College, 1989.
Interviews by author:
Erifazi Sebbowa ( age 85, Wamirongo-Namulonge village), 2009.
Besweri Kuta-Musoke (age 78, Timuna Village), 2009.
Haggai Bunkeddeko (age 70, Ndejje village), 2009.
Joyce Kabugo (age 66, Kawuga-Mukono village), 2009.
Rev. Canon Augustine Ssekadde Musiwufu (age 61, brother, Dean of Namirembe Diocese), 2010.
Rev. Canon George Sendege (age 67, Kasiiso-Luweero village), 2010.
Rev. Canon Nathan Lukwago (age 80, Ttula-Kawempe village), 2010.
Rev. Canon Peter Kigozi (age 90, mentor, Ntinda village), 2009.
Rev.Canon Eriya Paul Luzinda (age 84, Wattuba-Matuga village), 2010.
Rita Kauma (age 75, wife, Nsangi Village), 2010.
---
This article, received in 2010, was researched and written by Rev. Canon James Selugo of Ndejje University, Uganda, where he is DACB liaison coordinator.