Classic DACB Collection
All articles created or submitted in the first twenty years of the project, from 1995 to 2015.
Kivengere, Festo (B)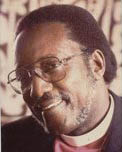 Anglican Bishop of the Church of the Province of Uganda, Rwanda, Burundi and Boga-Zaire.
Kivengere was a leading figure in the East African Revival (Balokole [saved ones]) movement. Born in Uganda and trained as a teacher, he was originally rejected for ordination in Uganda; but he was ordained as a deacon in the United States and a priest in 1967 in Uganda. He won a reputation as a preacher and evangelist and launched the work of African Evangelistic Enterprise (a pan-African movement) in East Africa. He was consecrated bishop of Kigezi in 1972 during President Idi Amin's reign of terror and fled the country in 1977 when Amin attacked the churches and Bishop Janani Luwum was murdered. He returned to Uganda when Amin was overthrown but continued to travel widely, attracting large audiences in America, Australia and Britain. He became an international spokesman for the Church of Uganda and courageously denounced the human rights violations that continued unabated during Milton Obote's second presidency. In 1982, when thousands of Nyarwandan refugees were expelled from their homes, Kivengere organized assistance for them although it was unpopular and dangerous to do so. He warned against the dangers posed to the Church of Uganda by the way in which Obote drove a wedge between Catholics and Protestants through favoring the Church of Uganda. In 1983, he ordained three women as priests in his diocese in spite of official opposition but with the support of his own diocese. He died of leukemia at the height of his powers and influence.
M. Louise Pirouet
---
Bibliography
With Dorothy Smoker, Kivengere wrote Revolutionary Love (1983), J. E. Church, Quest for the Highest: An Autobiographical Account of the East African Revival (1981); Anne Commes, Festo Kivengere, a Biography (1990); Margaret Ford, Janani: The Making of a Martyr (1978); Louise Pirouet, "Religion in Uganda Under Amin," JRA 9, no. 1 (1980): 12-29.
---
This article is reproduced, with permission, from Biographical Dictionary of Christian Missions, copyright © 1998, by Gerald H. Anderson, W. B. Eerdmans Publishing Company, Grand Rapids, Michigan. All rights reserved.