Classic DACB Collection
All articles created or submitted in the first twenty years of the project, from 1995 to 2015.
Luwum, Janani Jakaliya (B)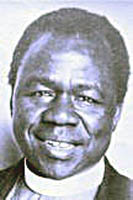 A Ugandan clergyman, he was one of the most influential leaders of the modern church in Africa.
Born in Uganda in 1924, he joined the Anglican Church in Uganda and became a deacon in 1955. The following year he was ordained a priest and between 1954 and 1961 he worked in the upper Nila Diocese. In 1961 he became priest of the Diocese of Mbale.
On 25 January 1961, he was consecrated bishop of northern Uganda at Gulu. After five years he was appointed archbishop of the Metropolitan Province of Uganda, Rwanda, Burundi and Boga-Zaire, the second African to hold this position.
Archbishop Luwum was a leading voice in criticizing the excesses of the Idi Amin regime that assumed power in 1971. In December 1976, in a broadcast Christmas sermon, he attacked the regime, making reference to Christian victory achieved through suffering; the broadcast was abruptly taken off the air. As a further protest against the harassment of Christians in Uganda, the archbishop threatened to lead a march through Kampala to petition president Amin.
In February 1977, security forces raided Luwum's home. In response Luwum and 17 other Anglican bishops in Uganda sent an open letter to the president with copies sent to government ministers, other church leaders and the All-Africa Conference of Churches in Nairobi. This letter protested the security forces' treatment of the archbishop, and also accused the government of abusing its power, adding: "We have buried many who have died as a result of being shot and there are many more whose bodies have not been found. The gun which was meant to protect Uganda as a nation, the Ugandan citizen and his property, is increasingly being used against the Ugandan to take away his life and his property." This was the first time any member of the church had publicly criticized the military regime so strongly.
Shortly afterwards, on 14 February, Idi Amin publicized his "knowledge" of a "conspiracy" against the state in which Luwum was alleged to been involved. Luwum and his wife were interviewed by Amin in the presidential palace near Lake Victoria, and after denying any involvement in the plot to overthrow the government, Luwum was advised to concentrate solely on his religious functions.
Two days later the archbishop and other leading churchmen were invited to a large rally in Kampala. During the ceremonies, confessions were read out by three other alleged conspirators and Luwum was named as one of those involved, as well as accused of being a key figure in smuggling arms into the country in preparation for a coup against the government. The Luwum family denied these allegations but later in the day Luwum was arrested along with two government ministers. On the same day, 16 February 1977, he was killed by government emissaries leaving a widow and five children.
According to the government, he was killed in a car crash on the way to an interrogation. He had apparently tried to overpower the driver with the help of two ministers arrested with him, and this had caused a fatal collision. However, other sources have said that the damage to the car does not correspond to the official version of the accident and that Luwum was shot dead by security forces. His body was buried secretly and there was no inquest.
---
Sources Consulted Include:
Africa Year Book and Who's Who (London: Africa Journal, 1977).

Africa Today, first edition, (Denver, CO : Africa Today Associates, 1981).

Africa Who's Who, first edition, 1981.

Africa Who's Who, second edition, 1991 (published by Africa Books Ltd., U.K).

Ralph Ewechue (ed.), Makers of Modern Africa, 2nd edition (London: Africa Books, 1991).

Daily Times of Nigeria (Lagos).

Nigeria Year Book, 1974, 1975, 1976-1978, 1979, 1980 (Lagos : Nigerian Printing & Publishing Co.).

S. Decalo, Historical Dictionary of Togo, 3rd ed., (London : Scarecrow Press, 1996).

Ralph Uweche, Africa Who's Who, 1991 (Lagos, Nigeria: Africa Book Ltd.).

J. C. Choate, The Voice of Truth International, 1991, Vol. 21 (U.S.A.)

E. EL Hadj-Omar, Who's Who In Africa Dictionary.

In the Land of the Pharaohs- An introduction to a 1968 case study by Khalil Mahmud, 2nd ed., (London : Cass, 1968).

L. H. Ofosu-Appiah, Dictionary of African Biography, volume on Ghana & Ethiopia, volume on Sierra Leone & Zaire, (New York : Reference Publications, 1977-).

Cyril P. Foray, Historical Dictionary of Sierra Leone (London : Scarecrow Press, 1977).

Gailey H. A., A History of Sierra Leone.

I. Geiss, The Pan-African Movement (London : Methuen, 1974).

L. C. Gwan, Great Nigerians.

E. Kay (ed.), Dictionary of African Biography (London : Melrose Press, 1971-1972).

Pan-Vegio Patriot Macdonald- H. Edward Wilmot

R. K. Rasmussen, Historical Dictionary of Rhodesia Zimbabwe (London : Scarecrow Press, 1979).

E. Rosenthal, Encyclopaedia of South Africa, 7th ed., (Cape Town : Juta, 1978).

S. Ramgoolam, Seychelles Government Annual Reports.

S. Taylor (ed.), The New Africans (London : Paul Hamlyn, 1967).

V. Thompson and R. Adlof, Historical Dictionary of Congo (London : Scarecrow Press, 1996).

Times Newspapers Ltd; Obituaries from the Times (Volume 1, 1961-1970; Vol.2, 1971- 1975)

P. J. Vatikiotis, The History of Egypt, 3rd ed., (London : Weidenfeld and Nicolson, 1985, c1969).

H. Zell and H. Silver (eds.), A Reader's Guide to African Literature (London : Heinemann, 1972).

H. Zell, C. H. Bundy and V. Coulon (eds.), A New Reader's Guide to African Literature, rev. ed., (London : Heinemann, 1983).
ARTICLES IN LEARNED JOURNALS
Journal of the Historical Society of Nigeria (Ibadan : Ibadan University Press): Vol. V Nos. 2 & 3, 1970, (Adeleye, R. A.).

Journal of the Historical Society of Nigeria (Ibadan : Ibadan University Press): Vol. VI Nos. 204, 1969, (Ekejiuba, F.).

Journal of the Historical Society of Nigeria, "A Biographical Sketch," (Omu Okwei), (Ibadan : Ibadan University Press): Vol. III No 4, 1967.

Journal of African History, (London : Cambridge University Press): Vol. V No 3, 194 (Hopkins A. G.).
PERIODICALS AND NEWSPAPERS CONSULTED
Africa (Tunis : Ministère des Affaires Culturelles et de l'Information, 1971 ff).
Africa Diary (Delhi : Africa Publications (India), 1961 ff).
Africa Research Bulletin (Africa Research Ltd), (Oxford : Blackwell, 1964 ff).
Ambassador International (Vol 211; 1985).
Commonwealth Currents (1978).
Guardian (London, s.n.).
Independent (London, s.n.).
The Times (London).
West Africa (London : West Africa Publishing, 1917).
---