Classic DACB Collection
All articles created or submitted in the first twenty years of the project, from 1995 to 2015.
Nsibambi, Simeoni (B)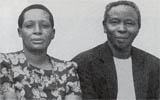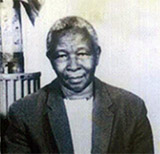 Ugandan evangelist and leader in the East African Revival .
One of the many sons of a prosperous Ganda subchief, Nsibambi was educated in Anglican schools. During World War I he served in an army medical corps in German East Africa and afterwards became a government health officer. During the 1920s, after a religious conversion, he searched for personal holiness; this was satisfied through a meeting in 1929 with a young missionary doctor from Rwanda, J. E. Church. Giving up his work he became an independent evangelist. Through his personal contacts he built up the group that became the foundation of the Balokole (Saved Ones) in Buganda. He traveled with Church and others to preach at conventions; his younger half-brother, Blasio Kigozi, was a worker with the Church Missionary Society Ruanda Mission. His wife Eva, was sister-in-law to William Nagenda, the revival's leading evangelist.
After 1943 Nsibambi, although confined almost entirely to his home with heart trouble, continued his influence through personal work. His last years were clouded by Nagenda's serious illness and premature death, and by the formation by some of the Revival Brethren around Kampala of another group known as Kuzuzuka (Reawakening).
Jocelyn Murray
---
Bibliography
J. E. Church, Quest for the Highest: An Autobiographical Account of the East African Revival (1981).
---
This article is reproduced, with permission, from Biographical Dictionary of Christian Missions, copyright © 1998, by Gerald H. Anderson, W. B. Eerdmans Publishing Company, Grand Rapids, Michigan. All rights reserved.