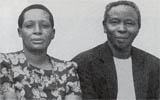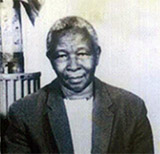 Simeon Nsibambi, father of the former Prime Minister of Uganda, Professor Apolo Nsibambi and co-pionner of the East African Revival, was born in 1897. His father, Sezi Kimwanje sent him to school early to be taught in Christian education. Simeon was saved at the age of twenty two, near the end of his college years.
When he left school, he was appointed a Public Health officer in the government of the Kabaka of Uganda. However, Simeon was more concerned about the state of the church.
After reading Christian literature and the Bible, Nsibambi made a vow: "I have committed myself to God the Father. As from today I desire to be genuinely holy and never unintentionally do anything unguided by Jesus." At the age of fifteen he had already vowed not to drink alcohol ever in his life.
Simeon was disappointed that he was unable got a scholarship to study abroad. This was when God assured him in a vision that such earthly things were not the most important things in life; rather to receive eternal salvation was the pearl of great price. He had to go to a mountain in Toro to spend time praying before starting ministry. It was here that Simeon heard a voice telling him to take off his shoes.
Nsibambi next took a break to go to Toro for a period of prayer before embarking on the work God was calling him to do. When he arrived in Fort Portal he was given a boy to lead him up to the mountain. Nsibambi stayed there alone, but only after leading that boy to Christ. It was therefore on the mountain that he heard a voice telling him to take off his shoes. Simeon bought two kanzus and told his wife Eva that it was his dress. He also told her that the Lord had called him to be an evangelist; he would not have the time to attend to the many affairs for which a husband is responsible. He went on to explain that all the family responsibilities were going to fall on her.
Nsibambi found the year 1943 a strain and he was confined almost entirely to his house, but God began to use him in a ministry of personal work in his physical weakness. Leaders of Christians work and visitors to Kampala would not leave without a visit to Nsibambi, and would often return home with a new challenge and blessing.
Simeon Nsibambi went to be with the Lord in February 1978.
Eddie Sempala
---
Bibliography:
Sempala, Eddie. Uganda God's Generals: The Transformers. Digital edition. N.pl.: N.Pub., 2018.
---
This article, received in 2019, was written by Eddie Sempala, an Apostle, author, and church historian studying revivals in Uganda, Kenya, Africa, and Asia. He is the Founder of Generals Ministries International and the pioneer of Africa God's Generals research project aiming a documenting stories of men and women of God which will be helpful in kindling fire for ministry in the next generation of ministers.