Classic DACB Collection
All articles created or submitted in the first twenty years of the project, from 1995 to 2015.
Kaputula, George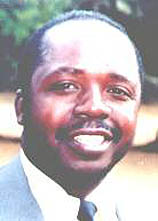 George Kaputula was born in Kitwe, Zambia to Muslim parents. He was converted on September 30, 1969 and joined the Church of the Nazarene through missionary Rodger Gastineau's influence. He and his wife Eunice Kunda accepted God's call to the ministry in 1970 and they enrolled in the Bible College at Limbe, Malawi, in 1973. Their son Roy was six months old at the time.
After graduation in May 1976 they went to pastor at Chililabombwe on the Copperbelt, a mining area where his father worked until he retired. Kaputula was the real pioneer of this work in the Copperbelt. The church had been closed and the building abandoned for nine years. There had been fighting due to party politics and as a result all the windows were broken and the doors broken down. The congregation had scattered. The Kaputulas came to attempt to restart a congregation there.
For the first six months only children attended. Some people laughed at them. Others threatened to burn or tear the church building down if they did not leave. But the Kapatulas persevered with prayer and witnessing. One Sunday morning the first adults, Chakopo and his wife, arrived and stayed. Kaputula welcomed them warmly and after the service apologized for not having any adults in the church. They replied, "That makes four of us; we have come to stay." The Kaputulas thanked God. After that the church began to grow and it expanded into the outlying areas of Chimfunshi, Konkola, Kawama, Fitobaula, and Kakoso. Kaputula was ordained by Dr. Coulter.
Most of the members were miners and strong lay leadership was developed. Moses Livanda was a strong and dedicated board member. When he retired, instead of staying in that area, he decided to return to his home at Chavuma, eight hundred kilometers away, to take the Church of the Nazarene to his people. There are now (2004) ten churches in that area. Strong leaders serving the church in Zambia have come from there. Another retiree, Ngosa Maleseli, also wanted to take the church to his people. He returned to his home at Lwapula about four hundred kilometres away. There are now (2004) five churches and about fifteen preaching points in that area.
Kaputula's church at Chililabombwe included workers in the local mines who were originally from Tanzania and Zaire (Democratic Republic of Congo or DRC). Kaputula and his church made strong efforts to follow up and help these people in their countries after they retired and went back home. Because of this work the church began to have influence in Tanzania and the DRC. This also contributed to the work in Chavuma in Zambezi. A member from the Chililabombwe church returned home to the Northwestern Province and started a church there.
After serving eight years at Chililabombwe, the Kaputulas went to pastor the Chamboli Church in Kitwe and the church grew. This was a turning point in the expansion of the church in that area. Rev. Musongwa organized and started the church at Nchanga North in Chingola and in 1985 Pastor John Chiluba started the church at Chiwepala.[1]
In 1987 Kaputula became district superintendent of Zambia North. During his five years in office he helped start ten new churches and preaching points. These included the Bread of Life Church (Kitwe), Baluba, Chibuluma, Ndola, Mufulira, Masaiti, Tulaso, Miputu, and Ibenga. They developed the work especially around Luapula and in the northwestern and Copperbelt provinces of Zambia. During his time as D.S., eighteen people were trained as pastors.
While Kaputula was D.S. he felt a great burden for taking the Church of the Nazarene into Tanzania. At that time no new churches were permitted to enter that country. The only way to enter was to establish a connection with an existing church registered there. One day during a Bible study session the problem was discussed. Kaputula knew people who had returned home to Tanzania from the mines at Chililabombwe. Jamson Mwansempe, a member of the Bread of Life Church, was from Tanzania. His sister was soon to return home and they gave her a supply of church magazines, Herald of Holiness, World Mission, and Trans African to take along and distribute there. After a few months they received a positive response from one church group. Shadrack Simbeye financed the journey for Rev. Kaputula, Jamson Mwasempe and Rev. P. Katongo to visit that group. However, after a three day visit this did not work out. They continued to pray and requested prayer through the Trans African magazine.
Then in October 1989, another church group in Tanzania led by Rev. Andambike Mwakasungula asked them to come and visit. After this meeting they had the assurance that God had answered their prayers. The merger was finalized with a trip along with Dr. Richard Zanner in May 1990. Simbeye funded all three of these trips. He was especially thankful to the church for help received for medical treatment of his young son Lunde who had been severely crippled from burns. This was the beginning of Nazarene outreach into Tanzania.
When the Kaputulas first began as workers in northern Zambia there were only two churches operating. In 2000 there were twenty-seven organized churches, some twenty preaching points, and some 3000 members.
His wife Eunice (1957-) was born at Serenje. She was supportive of her husband's ministry and served the church in many areas both locally and on the district level. While she was district president of the Nazarene Women's Ministries (NWMS) she introduced the custom of using empty Coca Cola cans for the Alabaster offerings, a custom still widely practiced in Central Africa. [2] The Kapatulas had four sons and a daughter.
In 1996 Kaputula was appointed the Zambia Literature Coordinator while pastoring the Kafue Church of the Nazarene.[3]
In 2000 the Kaputulas were pastoring the Matero Church at Lusaka on the Zambia South District. Early in 2002 George Kaputula, who was then Word Evangelism Broadcast (WEB) coordinator in Zambia, experienced paralysis in his arm and leg. He was diagnosed as having high blood pressure and a brain hemorrhage. He returned home but continued to have weekly therapy to relieve the paralysis.[4]
On July 20, 2004, George Kaputula was admitted to United Teaching Hospital in Lusaka, Zambia. Tests were made to determine the reasons for his loss of memory and appetite. His condition deteriorated and he passed away on August 20, 2004.[5]
Paul S. Dayhoff
---
Notes:
Emmanuel Mwase, term research paper entitled "How the Church Began in Zambia," p. 4, submitted to Prof. Daryll Stanton at Africa Nazarene University, Nairobi, Kenya in March 2001.

Rev. George Kaputula, biographical sketch, January 12, 2000, and report, February 2, 2000.

NCN News, weekly news bulletin of the Church of the Nazarene, Kansas City, MO, October 29, 2004.

Joanie Doerr, Out of Africa, weekly E-mail news from Africa Region Church of the Nazarene dated March 06, 2002, p.4.

Kyle Lauf, Out of Africa, weekly E-mail news from Africa Region Church of the Nazarene dated August 24, 2004, p.3.
---
This article is reproduced, with permission, from Africa Nazarene Mosaic: Inspiring Accounts of Living Faith, first edition, copyright © 2001, by Paul S. Dayhoff. All rights reserved.