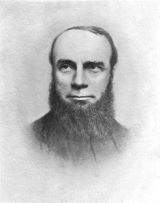 Edward Steere was an Anglican missionary and bishop in Africa. Born in London and trained originally as a lawyer at University College, London, Steere studied theology privately before being ordained in 1858. He was a friend of Bishop George Tozer and accompanied him to Malawi in 1863; when the Universities' Mission to Central Africa (UMCA) withdrew from Malawi the following year, he accompanied Tozer to Zanzibar. Though Steere had intended to stay only a couple of years, Tozer's illness and return to England left him in charge at Zanzibar. He oversaw the return of the mission to the mainland before returning to England. He then returned to Africa with the Livingstone search expedition in 1872. Consecrated bishop of Central Africa in 1874, he spoke and worked against the slave trade and helped to build Zanzibar Cathedral on the site of the old slave market. He was an excellent linguist, producing dictionaries, grammars, and hymnbooks in several African languages, including Swahili and Yao, as well as translating most of the Bible into Swahili. Like several other high Anglican missionaries to Africa, he followed a very spartan life-style and clearly distinguished between Christianity and European culture. On one occasion he said, "No man will ever be a good missionary who cannot be happy among the natives." He died in Zanzibar.
T. Jack Thompson
---
Bibliography
Edward Steere, An Account of Zanzibar (1870).
——-, Central African Mission (1873).
——-,Walks in Nyassa Country (1876).
——-, Walks in Zaramo Country (1880).
Anne E. M. Anderson-Morshead, The History of the Universities' Mission to Central Africa, 1859-1896 (1897).
R. M. Heanley, A Memoir of Bishop Steere (1888).
G. H. Wilson, The History of the Universities' Mission to Central Africa (1936).
---
This article is reproduced, with permission, from Biographical Dictionary of Christian Missions, copyright © 1998, by Gerald H. Anderson, W. B. Eerdmans Publishing Company, Grand Rapids, Michigan. All rights reserved.