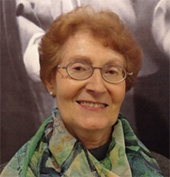 Janice McLaughlin was born in Pittsburgh, Pennsylvania, on February 13, 1942. When she was nineteen years old, she entered the Maryknoll Sisters, and she made her First Profession of Vows in 1964. She was initially sent to Kenya, where she took her Final Vows in 1972 in Kitale, and where she served as Communications Coordinator for the Catholic Church. She later went to Rhodesia to serve as Press Secretary, where she created a series of reports which were published as "Rhodesia—the Propaganda War." After only a few months of being there, she was arrested and charged with violating the Law and Order Maintenance Act. After being deported to the US shortly afterward, she returned again to Africa to serve refugees from Zimbabwe living in Mozambique. She later went on to write a PhD dissertation on the Catholic church and the Zimbabwe liberation war at the University of Zimbabwe, and she served as the president of the Maryknoll Sisters from 2008-2014. She also earned first prize from the US Catholic National Press for her book Ostriches, Dung Beetles, and Other Spiritual Masters (Orbis, 2009) and served as chair for the Africa Forum for Catholic Social Teaching (AFCAST). Sr. Mclaughlin passed away on March 7, 2021.
Josephine Kollmer and Claudette LaVerdiere
---
This biography, uploaded in 2021, was excerpted from the Letter of Appreciation prepared by Maryknoll Sisters Josephine Kollmer and Claudette LaVerdiere in preparation for Sr. McLaughlin's funeral. Find the full Letter of Appreciation here.