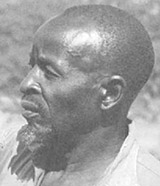 Founder and first bishop of Zion Apostolic Faith Mission Church (1923-1985) in Zimbabwe.
Early Life and Conversion[1]
Bishop Andreas Shoko I was born as Joni Chinatsira in Gororo village in Masvingo province, Zimbabwe (then Rhodesia), around the year 1889.[2] Although little is known about his childhood, he was a member of the vaMbire people, and of the Mukanya Vhudzijena kinship group with the Shoko totem. His father's name was Pedzisai and his mother's name was Estere.
It is unknown when exactly Shoko had his first conversion experience to Christianity. However, Inus Daneel has shown that by the early 1920s, Shoko was literate and had worked for a Dutch Reformed Church mission school named Zunga Primary School [3]. Later in his life, Shoko applied his literacy by reading and interpreting the Bible to his congregants.
In 1922, Shoko connected with Samuel Mutendi (another future leader of a large independent church group in Rhodesia / Zimbabwe) and they travelled from Rhodesia towards the Transvaal together. Shoko and Mutendi ate from the same plate and, as is African tradition, the younger one served the elder one.[4] They worked as bricklayers together for a year there before moving to Pretoria. At that point, they connected with the Zion Apostolic Faith Mission (ZAFM), which was led by an African man named Eduard David Lion of Basutholand. Eduard Lion had himself split from Zion Apostolic Church (ZAC) which was led by Elias Mahlangu. It is alleged that Eduard Lion had also been together with Elias Mahlangu who is thought to be the first black Zionist Leader.
Having felt confirmation through dreams, their interpretation of the Bible, and their new community's acceptance of their experiences of possession by the Spirit, Shoko and Mutendi joined the ZAFM in 1923.[5] They were baptized by Enginasi Lekhanyane, the preacher who first drew them to the ZAFM.
Around this time, Shoko had his first prophetic dream, in which he climbed a tall mountain. As he reached the summit of the mountain, he came across a troop of baboons. The baboons were so terrified when they saw his shiny white face with sun-like glory that they all fell over a ledge. When he went to the foot of the mountain, he found the whole troop of baboons lying there dead. He narrated the dream to the Zionist prophets in South Africa and who interpreted it as indicating that Shoko would be filled with the Holy Spirit, signified by the shiny white face, and that he would drive away many forms of evil spirits, symbolized by baboons.
At Shoko's nomination, Mutendi was chosen as the representative of the ZAFM in Rhodesia and was sent to begin preaching in that country.[6] Shoko, however, opted to remain in Pretoria for another nine years, until he returned permanently to his birth-country in 1931. Nevertheless, while there are sources on this claim, several interviews indicated that Shoko returned to Rhodesia in 1923. According to some sources, Shoko returned to his home area in Gororo, Chivi district while Mutendi also returned to his homeland in Bikita District in 1923. However, Shoko also returned to South Africa on several occasions.
In 1925, Lekhanyane began to lead his followers to split off from Eduard Lion's church. During this schism, Shoko remained loyal to Eduard Lion, while Mutendi decided to work with Lekhanyane to help found what would become the Zion Christian Church (ZCC).[7]
Ministry and Leadership
Despite his choice to remain in Pretoria, Andreas Shoko made several short-term trips to Rhodesia in the following years, during which he did some ministry as early as 1923.[7b] It was not until 1931, however, that he moved back to Rhodesia permanently to organize and lead a church. Shoko opened his first church branch at Goonono near the Nyuni range of mountains in chief Gororo's (Neruvanga) area and named his church Zion Apostolic Faith Mission Church (ZAFMC), carrying over the name of the South African mother church. Goonono is about three kilometers south-west of the Tokwe-Mukosi Dam wall.
Shoko visited Eduard Lion twice during the 1930s and '40s to report on developments in Rhodesia, and he remained loyal to Eduard Lion until the latter's death.[8] Thereafter, Lion's son, Bishop Johane, succeeded his father as leader of the ZAFM in the Transvaal. Although Shoko showed Johane respect as Lion's heir, Shoko did not submit his decisions to Johane but ran his church independently from the Transvaal body of the ZAFM. Indeed, as a general principle, Rhodesian leaders who had been members of Independent churches in South Africa "felt less bound by the link to the mother church" once the church's founder died.[9]
In the early years of his ministry, Shoko married his first wife, Margaretta Muzangwa,[10] who bore him a son named Dorias Pedzisai Pedzisai in 1934. Sadly, Margaretta Muzangwa later died in childbirth with their second child. Shoko would marry another six women across his lifetime, who together bore him 10 sons and 13 daughters that lived beyond the age of five years.
The colonial government, the main line churches and the traditional leadership were provoked by Shoko's church since it attracted multitudes at his Gororo base, and this resulted in him being persecuted on several occasions. He was jailed at Chivi and Fort Victoria (Masvingo) many times. These experiences inspired the composition of the song of praise amidst persecution called "Jehova Murena" (Jehovah is or remains Lord) by Shoko, in which he narrates that he is jailed as if he robbed a bank. The persecution resulted in him relocating to the Magomo Village under Chief Nemauzhe in the early 1940s.
The church that Shoko founded quickly began to grow and spread, first to all the provinces in Zimbabwe and eventually into neighboring countries such as Zambia, Mozambique, Malawi, and Botswana during his lifetime. Part of this growth was due to the fact that Shoko was known to perform various miracles. There are many accounts of him healing various forms of mental and physical illnesses; casting out demons and avenging spirits (ngozi); healing bareness/infertility; and praying for rains. His followers maintain that prayer meetings were not disrupted by the rains, and that he subdued evil spirits with his authoritative voice.
In 1948, Shoko faced a schism when a certain Jeremiah Mugari Shava split off and formed his own ZAFM in the Chivi district of Rhodesia, allegedly over Shoko's decision to take a second wife.[12] Given that Jeremiah proceeded to take a second wife himself not long after, it seems likely that this was a pretense to cover a personal ambition for leadership.
Two years later, Ruka Tschanga led hundreds of Shoko's followers away in a seccession that was mostly confined to the Belingwe district of (then) Rhodesia.[12] However, these followers soon returned to the ZAFMC, and before long Tschanga himself joined them, and was personally re-accepted by Shoko. Later on Tschanga broke away again.
In the 1954 (as indicated in the diary notes by Dorias himself), a seer named Samson Mabhigiri instructed Shoko to anoint his first-born son, Dorias Pedzisai Pedzisa, as his successor during his lifetime. However, he initially refused to be anointed due to his age. But, in 1955, Dorias Pedzisai Pedzisai was reportedly confirmed by the Holy Spirit and anointed as Shoko's first successor at a place that is now covered by the Tokwe-Mukosi Dam waters.
Death and Legacy
Shoko experienced illness for about three years before his death. Firstly, he went to Bikita (Mandadzaka) where he stayed with Ruben Mutendi, the second eldest son of Samuel Mutendi. Then, Shoko went to Zvishavane where he stayed with his son-in-law named Mandivona before he came and stayed briefly at his third son (Zakaria)'s home for a short time. In the end, Shoko passed away on 15 March 1985, at his home near Museva Business Center in Chivi District in Masvingo. He was buried beneath two large boulders at the top of a small hill to the east of his homestead.
In hindsight, it is clear that Shoko played a critical role in leading many people to join the ZAFMC, and that that organization continues to grow. He was a founding leader of a significant church from which many other churches have since sprung. For example, many present day Ndaza Zion (Zionists of the holy cord) members can trace their spiritual origins back to Shoko's ZAFMC, including Bishops Jeremiah Shava, Ruka Tschanga, Matuva, and others. In light of these achievements, Shoko was awarded an order of merit award alongside his founding colleagues Samuel Mutendi and David Masuka (see image below). This award was received by his son Dorias Pedzisai Pedzisai Shoko on behalf of his late father at an occasion held in Harare, Zimbabwe in the year 2012.
Ezra D.A.J. Pedzisai, Luke B. Donner, Sheunesu Dzipai, and Sunungurayi Charamba
---
Notes
Biographical data for this entry was provided by Ezra D.A.J. Pedzisai Shoko on 19 July 2023. The article was written by Luke B. Donner along with Ezra D.A.J. Pedzisai Shoko, Isheunesu Dzipai and Sunungurayi Charamba.
It is unknown when exactly Andreas Shoko was adopted and used in place of his original birth name, Chinatsira. Andreas is his baptismal name while Shoko is his totem, hence as soon as he was baptized, he started using this name. Following his own choice of appellation, however, this paper will refer to him by his commonly used name and family totem, Shoko.
Daneel, Inus. Old and New in Southern Shona Independent Churches, Vol. 1: Background and Rise of the Major Movements. The Hague, Mouton: 1971: p. 288.
Ibid, 291.
Ibid, 291-92.
Ibid, 293.
Ibid, 298-99. 7b. This claim agrees with oral evidence by Andreas Shoko himself who indicated that he returned to Rhodesia in 1923 to establish ZAFMC in his locality, specifically at Goonono, in Chief Gororo Chieftaincy. Therefore the above claim (that Shoko returned in 1931) may have to be corrected. As soon as he returned in 1923, he begun his church (ZAFMC) at Goonono which is currently recognised as the first branch of ZAFMC in then Rhodesia.
Daneel, Inus. _Old and New in Southern Shona Independent Churches, 299.
Ibid, 301.
Her name has alternately been spelled "Margaretta" and "Magretta."
Ibid, 309.
Ibid.
---
Sources:
We are indebted to Professor Inus Daneel for his scholarly works that covered in great depth and breadth the African Independent Churches of which ZAFMC is one. While additional research was conducted to living church and family witnesses, the largest contribution of the information recorded by Professor Daneel. His contribution to the information in this document is immeasurable. Living witnesses were interviewed, pictures, audio and video recordings also collected. A list of the consulted persons can be provided if necessary.
For further information, please refer to the works of Professor Daneel, which covers many of his publications, including information about the foundation, persecutions, schisms, miracles, teachings, healings. Additionally, a book that covers Shoko's life and the first hundred years of ZAFMC existence will be released soon, along with a documentary that is also currently under production.
To Access Dr. Daneel's Digital Photo Gallery on Shona Religion, please access the following: Old & New in Shona Religion
---
This article, received in August 2023, was written by Ezra D.A.J. Pedzisai, Luke B. Donner, Sheunesu Dzipai, and Sunungurayi Charamba. Ezra D.A.J. Pedzisai, also known as Bishop Andreas III, is the head of the Zion Apostolic Faith Mission Church in Zimbabwe. Luke B. Donner is a PhD Student in Theology, with an emphasis on the history and hermeneutics of mission, at Boston University. Sheunesu Dzipai is the Director of Information, Communication Technology and Media in ZAFMC. He collected data through interviews and drafted portions of the manuscript. Sunungurayi Charamba is a lecturer at Midlands State University and practicing social worker interested in spirituality and leadership. She collected data and drafted portions of the manuscript.
---
Photo Gallery