COLLECTED MEMORY: The following text belongs to our collection of eyewitness and fragmentary accounts that includes eulogies, obituaries, and primary materials. It may lack sources and proper academic verification for accuracy.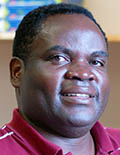 On March 20, 2016, Machozi, an Assumptionist priest, was gunned down by a group of armed militants in the village of Katolu, near Butembo, in the North Kivu province of the Democratic Republic of Congo. He was 51. He was killed in the courtyard of a social center where peace keeping meetings with local Nande chiefs were being held. His last words were "Why are you killing me?" He had been threatened and had escaped several other attempts on his life.
Machozi came from a family of thirteen children, several of whom died in infancy. For this reason, he was given the name Machozi which means "son of tears." His spiritual journey with the Assumptionists began when he was seventeen.
He held several degrees, including an STM from Boston University School of Theology. At one point he decided to shorten his graduate studies because he felt the need to return to his human rights advocacy work in DRC. Professor Dana Robert, professor of World Christianity at Boston University, praised her former student's life work as a Christian in a situation of witness, "giving voice to the voiceless." It was for this calling that he gave his life.
---
Sources:
"Gunmen kill Congolese priest who reported on atrocities," Catholic News Agency, accessed March 29, 2016.
"Priest's murder in Congo shows the need for a new concept of martyrdom," Crux, by John Allen, accessed March 29, 2016.
"USA, Assumptionist Recognized Father Vincent Machozi as 'MARTYR OF TRUTH'", Beni Lubero Online, accessed March 31, 2016.
"STH Alum Remembered as Courageous Humanitarian," BU Today, accessed April 28, 2016.