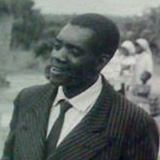 "Now the overseer is to be above reproach, faithful to his wife, temperate, self-controlled, respectable, hospitable, able to teach…" (I Timothy 3:2)
Bartolomeu Cassapa, son of Moisés Rufino Ngandu Ahumbu and Kuyela Ngandu Ahumbu, was born on April 15, 1938, and grew up in Kuema-Kapupa, in Cubal district, Benguela province, Angola. Cassapa married Angelina Nguvulo in 1956. They had five children, plus one foster boy, for a total of six children. He earned a 4th grade certificate, colonial level, in Cubal.
Cassapa heard the gospel through his uncle, who was his adoptive father, Moisés R. Ngandu Ahumbu. He applied himself to know Christ and his Word by learning the catechism. He was baptized in the evangelical center of Onamano in Hanha, Kapupa town, by Pastor José Bandeira. He grew in his dedication to the service of the Lord, and he was called to serve God in the holy ministry of the Word. In 1960, he entered the Kaluquembe Seminary, which is currently the Biblical Institute of Kaluquembe.. He graduated in 1963 and was appointed an evangelist at Onamano Center. After four years as an evangelist, he was recommended to take the pastoral course. In June 1968, he was ordained as a pastor, together with the late Pr. Ulombe and Pr. Lote, and was assigned to the evangelical mission at Ebanga, Ganda-Benguela. In 1971, he was assigned to the Kassua-Cubal mission.
In 1983, accused of political conspiracy during the civil war in Angola, he was arrested and taken to the provincial capital, Benguela, where he spent two years awaiting trial with other accused people. In 1985, he was tried and found innocent by the revolutionary court of the then People's Republic of Angola. He was not represented by a lawyer, but other accused people testified in his favor, leading to his release. Also in 1985, he was assigned to serve the local church of Camunda, located in Cubal.
At Kassua mission, Cassapa became involved in building the first studio for recording evangelical messages to be broadcast by TransWorld Radio from eswatini (eSwatini). He directed the Yeva Ondaka Project ("Hear the Message" in the Ovimbundu language) and recorded many sermons, Psalms, and other texts from the Bible in Ovimbundu so that many could hear and know the Good News of the Kingdom of God. He and his wife became advisers for this radio evangelism project. Today, the radio ministry is a department of the Synodal Evangelical Church of Angola (Igreja Evangélica Sinodal de Angola, IESA), broadcasting over medium wave radio to the entire province of Huíla.
In 1993, when the civil war worsened after the 1992 electoral crisis, the Popular Republic of Angola plunged into an armed conflict that claimed many lives. Cassapa left the city and took refuge in a safer area, fleeing from the war. He returned to the municipality's headquarters in 1995 and resumed his pastoral activities. He later served as a representative of his denomination in the municipalities of Caimbambo and Cubal.
Cassapa served in the local church as a preacher and counselor and as the head of the Yeva Ondaka radio ministry. But it is outside of the pulpit that we really know the whole man, who was easy-going and God-fearing. He was known as a wise father beyond his nuclear family. As Jesus' servant, he had victories and failures, but he was always faithful. One of the fond memories of those who knew him was the story of a man on a motorcycle who accidentally hit a sow of Cassapa's. The man was afraid he had killed the sow, but was later given one of her piglets by the pastor. Many other stories demonstrate Cassapa's generosity and love for others. He was a pious man with a willingness to learn, who recognized many good qualities in others. He was a very intelligent and calm man. He was a natural counselor and was well-respected in the wider community.
During his ministry in Kassua, many young people were called to serve God in pastoral ministry. The historical records based on the oral traditions of the Ovahanha tribe describe Cassapa as the first pastor of their tribe, located in the municipalities of Cubal and Caimbambo in Benguela province.
In 2002, Cassapa suffered a stroke (cephalic vascular accident). He died in 2006 in the hospital of Benguela at 9:15 pm. At the time, he was pastoring the local church of Camunda-Cubal. He left his wife, children, grandchildren, and many great-grandchildren who continue his legacy in their testimonies of walking with God in IESA churches and some also in the Church of Christ.
2 Timothy 4:7, which says, "I fought the good fight, I finished the race, I kept my faith," summarizes the life of this servant of God, Pastor Bartolomeu Cassapa.
Hermenegildo Bartolomeu Gervásio
---
Sources:
Sr. Bartolomeu Dumbo Jose, interview by author, March 28, 2020, Lubango.
Sr. Eduardo Sakambela Bartolomeu, interview by author, March 26, 2020, Benguela.
Sra. Mariana Bartolomeu, interview by author, March 29, 2020, Benguela.
Pr. Abel Madureira, interview by author, March 28, 2020, Lubango.
---
This biography, received in 2020, was written by Hermenegildo Bartolomeu Gervásio, a candidate for the Masters of Arts in Theology, with a specialization in linguistics and Bible translation, at the Higher Institute of Evangelical Theology in Lubango (Instituto Superior de Teologia Evangélica no Lubango, ISTEL). He has already received the title of Licenciado from ISTEL. He is a pastor in the Evangelical Synodal Church of Angola (Igreja Evangélica Sinodal de Angola, IESA) in Huíla-Lubango, and has served as a professor-monitor in theology and Greek courses at ISTEL. This biography was written under the supervision of Sindia Foster, instructor at ISTEL and missionary to Mozambique with Serving in Mission (SIM).
---
Photo Gallery