Catoquessa, Silva Capamba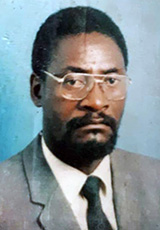 Silva Capamba Catoquessa (1947-1993) was born on March 3, 1947, at Catota mission, in the municipality of Chitembo, Bié province, in the town of Catoquessa in Angola. He was the son of Lubimbo Catoquessa and Nachindongo, of a rural farming family of the Cokue ethnic group, of the Bantu family. His parents were from the Lundas, the place where the Cokue people predominantly live.
They left there looking for a better life through the diamond trade, and Silva Capamba Catoquessa was born en route. "Catoquessa" is the family name, which means, in the Cokue language, "makes you lose" or "someone who lost a dear one or something precious." He had a very sad childhood and young adulthood without the love of parents, because they died when he was between eight and ten years old. After the deaths of his parents, Catoquessa and his siblings were raised by the oldest sister of their mother, and they lived under her care. To clarify, he was the second oldest of the four children, which were two boys and two girls. Catoquessa attended elementary school at the Catota mission and finished his studies in the 1980s (from 5-11th grades) in the capital of Cuando-Cubango, in the biological science course.
Catoquessa was converted to Christ in Chitembo. Before becoming a Christian, he was a singer and drummer for worldly dances and in traditional circles. In 1967, he was taken to Benguela to work for the sugar company on a forced-labor contract. He was injured there by a sugar cane cutting machine and rescued by his coworkers. His whole right forearm, from his elbow to his hand, was torn by the machine. He was taken to the Benguela provincial hospital and had operation after operation between recoveries. During this time, he was converted to Christ and received a call to serve God in ministry. His friend from school and ministry, Rev. Ngalangue observed, "That accident was an important event leading up to the call to ministry." The plans of the Lord are different than man's plans. God can use anything to develop the character of a man he wants to use in ministry. For Catoquessa, the accident was necessary to understand that God was calling him to his great mission. It was a great impetus to the confirmation of the call of God. The response of his servant was, "Here I am, Lord," and God's reply was, "Return to your land because I have a great plan for you."
Rev. Catoquessa returned to Catota, his birthplace, in Bié and to his family members. Returning home in 1971, he heard the call to enter the Catota Bible Institute and study the basic theology course there. He married Eunice, a fellow student in the basic theology course. After their graduation, the were sent to Moxico province, the area of the Luchaze people.
They lived in the town of Cangamba, where Eunice died in the quiet of the night of Good Friday of a traditional "landmine" curse that she stepped on unknowingly. This was the saddest moment in Catoquessa's life, in the land of the Luchazes, with no family present, trusting only in God as his guide. The marriage had produced no children.
After the death of his first wife, Eunice, Catoquessa met and married Maria Helena Chitumbo Catoquessa late in 1976 in Camgamba. He realized that as a pastor he could not remain unmarried because of the demands of the ministry. Maria Catoquessa (she added the name "Catoquessa" when she married) or, simply, Mama Helena was a support to him, having a soul that was a twin to his. She was a partner and helper, a refuge and an indispensable pillar of support behind this great man and leader who traveled land and sea and from city to city to fulfill the call of God, encouraging leaders and members to be strong in the word of God during the difficult time the country was passing through. He was a tender and attentive husband.
The Lord blessed their marriage with six children. Their names from eldest to youngest are as follows: Esperança Vapuila da Silva Catoquessa Cahombo, Paz Calimbue Catoquessa, Conceição Caunga Catoquessa, Orlando Perolino Chitumbo Catoquessa, José Limona Malichi Catoquessa, Noé Capamba Catoquessa. Their children all live in Luanda, the capital of Angola. He was a good father even with his busy schedule, and he found time for his children. He prayed with his children, was a friend to them, and was always giving thanks to God for his family.
From the founding of the Union of Evangelical Churches in Angola (União de Igrejas Evangélicas de Angola, UIEA) denomination in 1914, it had been governed by foreign missionaries and a few Angolans who had been found and trained by missionaries. After the independence of Angola was declared in 1975, most of the foreign missionaries had to return to their countries because of the armed conflict that existed then. Also, Catota mission was attacked in the civil war. The mission there closed, and the missionaries and pastors who were based there sought refuge in Cuando-Cubango. In 1978, with the return of Rev. Walter Zigrang, his wife Lois, and a single missionary, Elizabeth Suderman, classes reopened in Menongue at Menongue Bible Institute (IBM) which secured the future of the church by developing new leaders. At first, there were no teachers, so teachers were recruited from among the pastors.
So it was, in 1978, that Catoquessa accepted the invitation of Zigrang and the new mission to become a teacher at IBM, the first Bible school in Menongue. He moved from the beautiful town of Camganba, in Moxico province to the city of Menongue in Cuando-Cubango province. His wife was a member of the first graduating class in 1983. Many of her fellow graduates are still alive.
In 1979, Catoquessa was elected general director of UIEA. Currently, UIEA calls its highest leader "President." The previous general director, Pastor António Vapor, was in Portugal for theological studies on a scholarship. Catoquessa was entering a new stage of life as a pastor, combining this new responsibility as a teacher at IBM with fourteen years as UIEA general director (1979-1993). As general director, Rev. Catoquessa was responsible for Angolans from various ethnic backgrounds, including Nganguelas, Cokues, Ovimbundos, Nhanekas, Kimbundos and Bakongos. He often traveled to encourage his children in the faith to be strong in the Lord.
He was often invited to comment of the state of Angola for various media, including precipitating in radio debates, during the armed conflict. He was a man who had confidence that Angola would have peace, for both the city and the rural areas.
Catoquessa had a vision for developing leaders for UIEA, for Angola, and for Africa, who would be good citizens of the Kingdom of God. To realize his vision for ministry, he gave guidance and motivation to emerging (and pre-emerging) leaders who still remember his visionary leadership, his welcoming manner, and his personal times with each one. Preparing future leaders resonated with him because he himself had felt unprepared for leadership. Rev. Matongue, one of his students, remembered him saying: "I was not the ideal person or the intentionally educated person when the missionary leaders asked me to lead the denomination." He wanted to do better for the next generation, and this was his great mission: to find young people with potential and educate them. In his era, countless pastors were trained. Some of those had a vision for reaching the outlying areas. Some pastors had been educated only up to a level that would be useful in rural areas, while others achieved an academic level that made them effective in ministry in cities (achieving 6th grade or higher).
In 1987, the UIEA general assembly approved a proposal to move the national leadership of the denomination to Luanda. In December 1988, Catoquessa and his family took up this new challenge and moved to the capital. This challenge took up his last five years. He died in 1993, when his oldest child was only fifteen years old.
He served the Lord Jesus Christ faithfully as General Director of the UIEA and vice president of the Evangelical Alliance of Angola (AEA, Aliança Evangélica de Angola). In the eyes of his former students, he was a visionary man who developed young leaders into fruitful pastors. He found funding to send young leaders to study outside of Angola. Through UIEA, he established cooperation with Brazil to bring missionaries to Angola and to send Angolans there as students. It was in his era that there were Angolans who became doctors, coming from other parts of Angola to study in Lubango and Namibe. Rev. Catoquessa studied not just at Catota, but also at a Baptist seminary in Brazil through distance-learning. He was fluent in Chokwe, Luchazi, Umbundu, Mbunda, Portuguese, and English. Developing dedicated leaders and evangelizing Angola and Africa were his watchwords.
João Fernando Mussango Francisco
---
Sources:
Esperança Vapuila da Silva Catoquessa Cahombo. Daughter of Silva Catoquessa and member of the Igreja Evangélica do Bela Vista. Phone interview with author, April 27, 2020.
Lawrence Muconda. Member of the Igreja Evangélica do Aço in Moxico and former student of Silva Catoquessa. Communication with author, April 19, 2020.
Rev. António Ngalangue. Retired pastor, member of the Igreja Evangélica da Sofrio in Lubango and classmate of Silva Catoquessa. Interview with author, March 26, 2020 in Lubango.
Rev. Eduardo Matongue. UIEA leader, president of northern region, and former student of Silva Catoquessa. Interview with author, March 13, 2020, in Lubango.
Rev. António Domingos. Vice-President of UIEA, member of the Igreja Evangélica de Kantiflas in Bié, and former student of Silva Catoquessa. Interview, March 13, 2020, in Lubango.
---
This biography, received in 2020, was written by João Fernando Mussango Francisco, a master's degree candidate with a specialization in leadership at the Higher Institute of Evangelical Theology in Lubango (Instituto Superior de Teologia Evangélica no Lubango, ISTEL) in Angola. He has already received the title of Licenciado in theology from ISTEL. He is also a pastor in Namibe, Angola, with the UIEA denomination. This biography was written under the supervision of Sindia Foster, instructor at ISTEL and missionary to Mozambique with Serving in Mission (SIM).
---
Photo Gallery
[1] Catoquessa in his earlier years.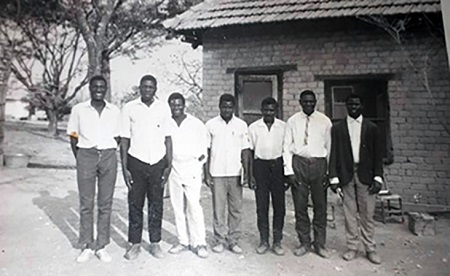 [2] Catoquessa with fellow classmates at Catota Bible School. Catoquessa is on the left.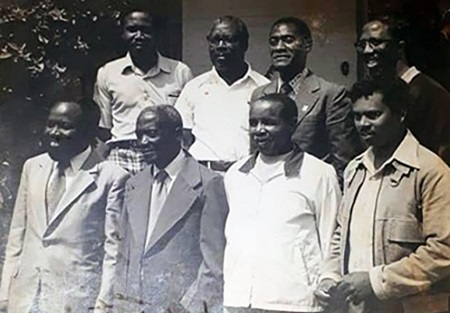 [3] Catoquessa is in the back row, third from the left (with tie).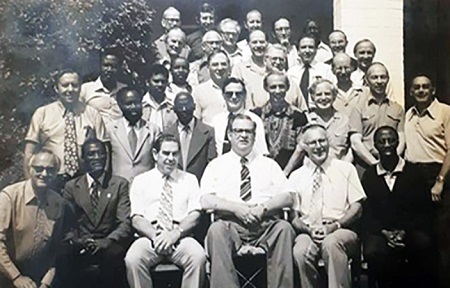 [4] Catoquessa in group photo of mission leadership around 1980. Catoquessa is in the first row on the far right.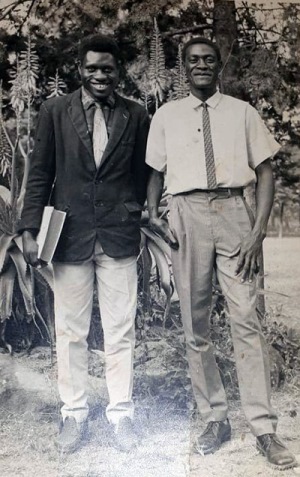 [5] Catoquessa with Rev. Ngalangue, a friend who was interviewed for this biography. Catoquessa is on the right.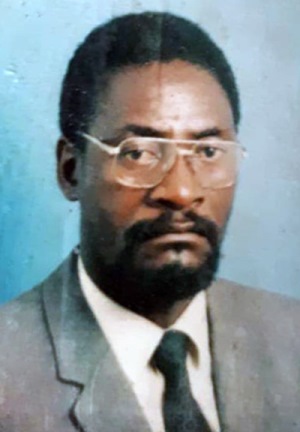 [6] Catoquessa in 1993, the year he died.