Classic DACB Collection
All articles created or submitted in the first twenty years of the project, from 1995 to 2015.
Moussounga, Jacques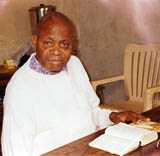 Jacques Moussounga was more than once in his life mistaken for a pastor of the Evangelical Church of Congo, because of his love for God and his passion for the work of God. He served his God with a total dedication. But who really is he?
Jacques was born on March 3, 1938 at Mbounou near Mossendjo, in the district of Nianga Louessé in the Republic of Congo. [1] His father, Miniongo, a polygamist with four wives, was a palm wine gatherer and a renowned wise man (nzonzi) who lived from hunting and did not know the true and living God. Jacques' mother, Magnouha, like all the women of that period, was a peasant consumed by field work. She did not have a personal relationship with the Lord either. Jacques' parents belonged to the Tsangui ethnic group; they practiced fetishism and resorted to sorcerers.
Jacques lost his parents at an early age. His mother died when he was about five years old. In an interview [2] conducted by his children Eliser and Medine, he recalls: "my mother died when I was about five years old… She showed me much affection and her death deprived me of maternal warmth." A few years later, in 1949, his father died. Life as orphan was not easy for him; his father's other wives did not take care of him the way they did their own children. Therefore he lived with various relatives at different times of his life.
Before his death, his father did something that changed the direction of Jacques' life: he enrolled him in elementary school. Jacques loved school and was so intelligent that from 1950 to 1951 he won a scholarship of 300 francs. His primary school principal at the time, Alfonso Massemba-Debat, later became the second president of the Republic of the Congo. After obtaining his elementary school certificate [3], Jacques began to work at different jobs. He worked in a company called the Colonial Fibers Corporation (SO.FI.CO). This work allowed him to save enough money to be able to marry his wife Malombe Antoinette [4] in 1956.
In 1954, Jacques' life took another direction, a heaven-bound destination. One Sunday morning, he went to the Protestant Church of Hammar (near the city of Dolisie), with his friend Rodolphe. After his message, the pastor asked those who wanted to follow Jesus to step forward. Encouraged by his friend, Jacques went forward to accept Jesus as his Savior. But he was truly born again only when he read the Word of God for himself and asked God to save him. He recalls that experience in the following terms: "I had bought a Bible before my trip to Mayoko and, one day, while reading it, I came across the book of Revelation. What I read inside led me to kneel and pray that God would completely transform me. And from that moment I became a new creature." [5]
Since that day, Jacques sought the company of experienced and devout men of God. He sought the face of the Lord for the direction of his life and for decisions to be taken. Therefore, for his marriage, he decided to marry a woman who walked with the Lord. He asked his cousin Mouke, to whom he gave a certain sum of money, to go to the Swedish missionary station of Madouma and find him a Christian wife. Mouke undertook the task eagerly and set his sights on a beautiful fourteen-year-old girl named Antoinette Malombe. After all the traditional negotiations which took a long time, Jacques and Antoinette celebrated their civil wedding in 1958. The couple went to church every Sunday, because at that time there were no Bible studies yet during the week. Jacques loved the Lord so much that he wanted to abandon his work at the SO.FI.CO to become an evangelist or pastor. But he felt that God had something else in store for him.
In 1958, Jacques took the national exam for the C.F.C.O [6] and passed it. This job that Jacques held throughout his life allowed him to spend a certain number of years in some cities or villages. Wherever Jacques went with his family, he served God and shared the Gospel with the population. We are going to describe his activities in four different locations to illustrate how God used him for his work.
Dechavanne
In 1960 Jacques was assigned to Dechavanne. While working with all his youthful vigor for the C.F.C.O in a village foreign to all that he had ever known, he tried to keep good relations with the population (made up of different ethnic groups) and he was actively involved in the local church where he sang in the choir. He became friends with Ngoma Moïse the evangelist, a man of prayer who had a highly developed prophetic gift. Ngoma Moïse mentored young Christians and he helped Jacques and his wife to grow in their faith. Jacques considered him a spiritual father. Every Friday at 8:00 p.m. Jacques and Antoinette met together in a prayer group with the following persons: Ngoma Moïse and his wife Moundele Julienne, the station master Jean Malonga and his wife Bavoueza Julienne, Mrs. Antoinette and her husband Nganga, and Mr. Bilombo and his wife Mama Ndoundou. Jacques was always grateful for his spiritual mentor, Ngoma Moïse, who richly blessed his life.
While in Dechavanne, Jacques met a Pentecostal Swiss missionary, Jacques Vernaud, [7] who befriended him. Jacques Moussounga and Jacques Vernaud met often and prayed together. Jacques says this of his missionary friend: "Pastor Vernaud came from time to time to the station, and that's where we met. I also visited him. He is the one who taught me the prayer of intercession for the sick. He encouraged me many times and taught me a lot of things. He gave me Bible tracts to give away." [8]
Those two friendships laid a solid foundation in the life of Jacques and imprinted on him a very strong passion for the Lord and for lost souls.
Jacques worked in this village for three years, then was assigned elsewhere. Sixteen years later, in 1979, he was again assigned to Dechavanne (which had become Loulombo; the village has kept this name until now). He worked there for three years. The population was very happy to see him again, especially the Christian brothers and sisters. Jacques and his family (he and his wife now had six children) found their place within the local church where Jacques served as a deacon.
It is worth mentioning in passing that this time around in Dechavanne, Jacques struck up a friendship with pastor-evangelist Ndoundou Daniel. He recalls that "the prayer times I had with this man of God were wonderful moments." [9]
Pointe Noire
In 1965, Jacques was assigned in the city of Pointe Noire–considered the "economic lung" of the Congo–for his work at the C.F.C.O. In this city, his ministry expanded. Jacques and his family were part of the parish of Mvoumvou and Annex Km4. At this time Km4 [10] was not yet a parish. When they arrived at the annex, there was neither evangelist nor pastor. Jacques, who was already a deacon in the EEC (Eglise Evangélique du Congo), and Mr. Daniel Diangouaya were preaching and teaching the Word of God; they also conducted prayer meetings during the week; on Sunday they all prayed in the parish. In a nutshell, Jacques Moussounga was a parish counselor (i.e. one who represented Annex Km4 and its needs at the parish), a deacon, an officiating minister, and a preacher; he was also part of the intercession committee.
Jacques loved preaching and by his life, his living relationship with God and his oral testimony, he helped many people who were searching for God. He put all his strength at the service of the church and God. After his workday at the railway company, he would work with the members of Annex Km4 to salu kia zola [11]. He took good care of the members of his annex. Pastor Jean Mouko of the EEC mentions another aspect of his ministry in Pointe Noire: "Brother Jacques is a man of God. He loved visiting patients after worship. When a brother had gone for a week or two without coming to church, he would visit him first before going to his home." [12]
Jacques was a simple man who dealt with men and women who came in contact with him as equals; he did not use his position as a member of the railway company managerial staff to dominate others or make them feel inferior. He welcomed all those who came to him, and was happy tell them about the Lord and provide assistance. Reverend Bakana Basile, who is pastor of a church in Ottawa (Canada) and a teacher, was still a young man in the 1970s in Pointe Noire. He knew Jacques Moussounga, one of the few Christian intellectuals in this city, in Annex Km4 and he respected him. Even though he taught Sunday school at the time, Basile Bakana was searching for God and facing many contradictions in his life. He notes that Jacques spent a lot of time with him:
He helped me to be able to see clearly. I could ask him any question and expect answers. He was the first person who showed me that he could live what he preached; a person who was in the truth. He made a strong impression on me. I spent a lot of time discussing the Word of God with him… He was the only person who had impressed me that much in the EEC. [13]
Jacques and Antoinette were open, welcoming and altruistic, serving God with all their hearts. Pastor Basile concludes his interview with these words: "He was more enlightened than many people. His wife held his views. I felt they agreed on all these points." [14] Several people became Christians through Jacques' testimony. People called him "Pastor Jacques" because of his ministry in the community.
A few years later, in 1973, a young evangelist, Jean Mouko, who had received the call to become a pastor, was sent to Annex Km4 to serve. Jacques, who continued to serve the church in this annex, took the young evangelist under his supervision and became like a big brother to him. Jean Mouko recalls it: "Brother Jacques and his wife, Maman Antoinette, financially supported me, offered me hospitality, and fed me. And when I wanted to pay they told me not to." [15]
At his work, Jacques was motivated by the desire to help his neighbor. He was a great trade unionist known for his direct and truthful words. Because of this, he had enemies. During the political events of the 1970s [16], some people took advantage of the situation and said that he did not like President Marien Ngouabi. His name was added to the list of opponents of the president and he was hunted down; he certainly risked death. But he confided in his God and did not run away. God protected him.
Later, one of his co-workers hired a professional killer to assassinate Jacques. This man began to look for him without delay and for an extended period he did not find him. For years he hunted for him, but God protected Jacques. Then one day, when he was in Loubomo railway station, the hit man heard about the station master who had revolutionized this station to the point where people felt secure crossing the tracks. Mrs. Jacques concludes this episode of her husband's life as follows: "When we came to Dolisie, years later, the hired killer met your father. He asked whether he was Jacques Moussounga. Your dad answered him affirmatively. He told him that he had been paid to kill him, but now the political landscape had changed and also he was retired. He told him that if he had found him at the time he would have certainly killed him. Having learned that your dad was a Christian, he said: 'Your God is great.'" [17]
Jacques' faith was also deeply tested in this city of Pointe Noire. In 1972, Jacques and Antoinette faced a major crisis; their youngest child, Gracia, who was seven months old, got very sick. At the hospital, the French staff, who took care of the child, told them that Gracia had meningitis and might not make it through the night. That evening one of Jacques' friends asked him politely not to disturb God with such a desperate case and advised him instead to face reality and begin the procedures for the funeral that would certainly take place. But Jacques and his wife spent that night in prayer asking God to save their little Gracia. The next morning when the doctor and the nurses arrived they expected to find the little girl dead. But instead, they found the child who was indeed very sick but still breathing. They then told Jacques that since the child had survived the night, it was probable that she would not die. Jacques seized the opportunity to tell them about his God and Savior Jesus Christ. Gracia healed progressively and today is the mother of two beautiful children, Praise and Lud. She has put her trust in the God of her father and mother.
During his stay in the city of Pointe Noire, Jacques made friends with many people, including Mr. Makoundou Damas, who was a man of an impressive spiritual caliber.
Mvouti
Jacques and his family arrived in Mvouti in October 1973. When they arrived there, they found Martin Ngoko (a physician) and the Ndouvou Antoine (a deacon) who were trying to help the church. Mvouti was an annex that had neither evangelist nor pastor. Pastor Dianga Elaston lived in Guena (currently called Bilala) and ran two parishes. He came to Mvouti from Guena parish (four railway stations away) once a month to preach and receive his wages. Jacques therefore joined Ngocko Martin and Ndouvou Antoine in the ministry. Jacques and Martin took turns going to preach the Gospel in the surrounding villages, Pounga (four km from Mvouti) and Dimonika (approximately six km from Mvouti). Jacques covered these distances on foot, accompanied by his wife and children.
When Jacques arrived at Mvouti, there were only five francs CFA in the annex fund. But with his help and that of his friend Ngoko Martin, the church planted orchards and the church's finances improved. Three years later, the church's fund had some 150,000 francs CFA. In 1975 when the new evangelist, Nsiete Viclaire, arrived in Mvouti with his family, the annex had many strong and faithful members.
Jacques' faith in God and his passion for lost souls increased in this village; his relationship with God was strengthened. Jacques' testimony was not only palpable for people from the outside, but also in his family. Jacques is a man of great faith. In his eyes, nothing was too big or too small to bring to God. He was a man of short prayers and had complete confidence in his God. God continued to manifest himself in his life and his family in many ways. Here is a precise example; the testimony of his daughter Médine's healing (the author of this article).
One day, in Mvouti, when I was ten years old, I was very sick; I had a high fever, an intense migraine and had lost my appetite. The physician, Ngoko Martin, had tried
what he could but my case was getting worse. He even injected some medicine into my belly without apparent result. That morning my father left me with the hope that my case would improve, mainly because of the injection, but when he returned from work around 12:30 PM, he found me lying in bed and very sick. He called me into his bedroom, asked me to kneel and said one of these prayers that we rarely forget: "Lord God heal my daughter Médine please, in the name of Jesus. Amen." Then he looked straight at me and asked: "Do you trust me?" Of course I did; he was my hero. So I told him I had confidence in him. (Honestly, I did not know where he was heading with this). Then he continued, saying: "Go wash up." It was a daring request for someone who had a high fever. Although it was a very hot day, I was shivering and I had a big pullover and was under a blanket. The thought of a cold bath–because the only water we had was the one fetched the day before–made me shiver more. But I trusted my dad and his God (I say "his God" because at the moment I had not yet accepted Jesus as my personal Savior). I went out of the room and headed for the bathroom. When I put my hands in the cold water I thought that I was not going to put it on me because it was so cold and I had goose bumps. But courageously and firmly I put water on my body. Something happened at this point that I can explain only as a miracle. Immediately the fever left me, headaches and joint pain abandoned me and I was instantly cured. I took great pleasure in that bucket bath. The only place that hurt was where I had received the injection. I finished my bath, put my clothes on and went to my dad, who put me on his knees. I told him that I was healed. Together we thanked God for his goodness.
In the village of Mvouti, Jacques saw a prophecy, given to him years previously by the evangelist Ngoma Moïse in Dechavanne, come to pass. The latter had said that he saw Jacques in an airplane going abroad. In 1975, Jacques was chosen, with two other colleagues, to go to France for a six month internship at the National Society of French Railways (SNCF). Jacques remembers his time in France in these words: "In the Congo we worked on a single track. In France, my internship took place at the administrative regulation with the double tracks. Thank God, I did really well, as if I had already worked on the double tracks. The white man who was there to teach me the job said one day: 'You're a champion.' We worked using a control table." [18]
When he returned to Mvouti, after his training in France, Jacques was welcomed home with great festivities and with fireworks. The success of this internship opened the door for him to receive a promotion and an assignment to Dolisie in 1976, the third most important city in the Congo.
Dolisie
In Dolisie, Jacques came to perform the function of assistant station master; he had to make sure that each employee was on time at his post. When he arrived in Dolisie, the station master was Mr. Ntouadi Amédée. This man was very often unwelcoming and people were afraid to approach him. His office, which he shared with Jacques, was filled with fetishes because he wanted to throw a spell on Jacques. As soon as Jacques set foot in the office, he told his superior that his fetishes had no effect on him in the name of Jesus. Indeed God protected him and nothing happened to him. [19]
Jacques caused a great stir in the station; he started to receive employees (switchmen, roadmen, and others) in the famous office; he listened to their complaints and attempted to provide satisfaction. One day, one of the employees told him: "This station has changed since you came. Today we can sit in this office; it is a big change." [20]
Jacques' work in the city of Dolisie was so successful that he was assigned to Loulombo (formerly Dechavanne) from 1979 to early 1981. After this interval, Jacques came back to Dolisie (which was called Loubomo at the time) in 1981 as the head of the PV station, a position he kept until 1993. His work now consisted of receiving and inspecting freight cars and granting empty ones to C.F.C.O. customers. The person that Jacques had replaced had not done a good job; he had accepted bribes and shown favoritism. Jacques restored the system which worked on a first-come first-served basis. That is why merchants, who came to ship their goods and initially wanted to use corruption, were quickly disappointed. Jacques lived his faith and honored his God everywhere he was, including in his workplace.
One day a Mauritanian merchant expecting a loaded freight car, having forged a false statement, came to see Jacques to retrieve his merchandise and gave him 100,000 CFA francs "to buy some juice." Jacques went home and prayed with his wife on this subject. The next day, he detected the deception and sent the man to the railway company's main office for an explanation. There he returned his money. When this merchant came to claim his merchandise, his freight car was overloaded and he paid the company twice or three times what he had planned in order to corrupt Jacques.
Another day, one of the railroad company's inspectors disguised himself as a customer to test Jacques. He brought a large sum of money to corrupt him, but Jacques refused and told him that this was wrong. The inspector went back to his hotel, changed back into his work clothes and returned to the Jacques' office where he warmly congratulated him for his integrity.
While working at the C.F.C.O company, Jacques was able to equitably help all those who came to him, rich and poor, reputable people and more ordinary folks. He made it easier for members of the Evangelical Church to travel from one place to another, ensuring that they had reserved seats in trains or cars at their disposal for spiritual retreats.
Jacques' zeal for the work of the Lord was as eloquent as his probity and his uprightness at his railroad work. Jacques was a member of the consistory of Dolisie, of Plateau parish, Mambwana Annex and later Kituadi Annex. He was part of the consistorial and parochial committees. He was chairman of the committee on the finances of the Plateau parish until 1996. He prayed constantly with the parish leaders to encourage them in the work of God. He continued to teach the Bible studies in the annexes, to exercise his functions as EEC deacon and to visit the sick and shut-ins. Jonas Kimbakala, who is now an evangelist at Plateau parish, considers Jacques "a great man of God in the Church" who took to heart parishioners' social and spiritual needs. [21]
Jacques has also helped many people to discern and pursue their ministry. Jonas Kimbakala recognizes that "Papa Jacques… is among the people who sent me to seminary for my training." [22] Pastor Soula Erka of the Church of the Alliance in Dolisie adds: "I have become a pastor today thanks to him [Jacques Moussounga]. He guided me a lot in spiritual and moral life." [23]
Jacques and Antoinette were part of a prayer group that helped many people. Mrs. Nzoumba Pauline, deaconess of Plateau parish remembers this period: "I knew them, he and his wife, through our prayer group at the consistory. We were also together in Kituadi Annex. We became friends in the Lord. Many people came so we could pray for them and there were people who were healed." [24]
In 1988, Jacques was appointed chairman of the great spiritual retreat celebrating the fiftieth anniversary of the consistory of Dolisie. While he was presiding over this great celebration, many people called him "Pastor Jacques," believing that he was also a pastor. In 1995, he was appointed president of all the deacons of the consistory of Dolisie. He held this position until his stroke in 1996.
Jacques Moussounga served his God wherever he was. He was not ashamed of the Word of God and he shared the Gospel with the people he met. He witnessed to many people. Some, like Mr. Toto Pierre, became strong in the faith and are now solid and radiant Christians. Others, like Mr. Ibala François, came to God with joy and served him during the time when Jacques was in their city, and then returned to their old way life once Jacques was gone.
Annie Justine also testifies about Papa Jacques. She was still a child when she saw him come share the Gospel with her father. She comes from a dysfunctional family and remembers that Papa Jacques was "patient and flexible in his charisma to preach the Gospel to others." Because of Jacques' perseverance, her father began to bring his children to church. Later on, her father abandoned the path of the church, but Annie's life was changed. She concluded by saying: "Papa Jacques was very significant in the beginning of my Christian life." "He has remained for me a very outstanding personality." [25]
Jacques Moussounga's influence spread in other places in the Congo as Mrs. Mariette Makita Moukanou recognizes.
Papa Jacques is a man anchored in Christ. He gave all his best for God's work in Dolisie. He was among the leaders exhorting others for Christ. During the spiritual retreats of Makala na Moufoutou in Madouma consistory, he was among those who came from Dolisie. He participated in the manual labor of the building of the temple of Madouma; transporting sand, stone and wood. He also contributed financially… Jacques Moussounga is one of the pillars of the church in this part of the Congo. [26]
In 1995 Jacques retired from his work in C.F.C.O., but for the work of God, there was no retirement. He was still active. However his exuberance came to a halt when he suffered a stroke on February 25, 1996. He stayed for a long time in the hospital and spent the last thirteen years of his life sick and paralyzed. Meanwhile, his testimony for Christ never failed. In the General Hospital of Brazzaville, many people came to visit him. Jacques was a warm and kind man. His smile and his laughter were contagious to such an extent that even in his illness while visitors came with sadness to share his grief, he would receive them with a smile which gave hope to those who saw him. Jacques Nziengue [27] says that "he was always happy even in the disease, even in old age." [28] Pastor Jean Mboungou [29] said the following words when he visited Jacques in his hospital room: "You're always happy!"
Jacques saw his illness as a tool to continue to serve God. Mr. Soula Erka expresses the same idea in these terms: "Papa Jacques Moussounga is a spiritual man, led by the Holy Spirit. Even on his sick bed, he blessed those who visited him." [30]
When Congo experienced one of its deadliest civil wars in 1998-1999, Jacques' faith in God did not falter. On January 25, 1999, Jacques Moussounga fled his beloved city, Dolisie, pushed in a wheelbarrow and surrounded by members of his family, under gunshots and bombardments. For about eighteen months Jacques and his family were war refugees, barely surviving with one meal a day, and often sick with malaria and diarrhea.
Jacques, although very often sick and weak, shared Christ with those who came to visit him, prayed for others, and opened his home to those who were hungry, alone, and despised because of their ethnic origin. By his example he taught people that we are all the same in God's sight; there is no favoritism on account of ethnic origin or any other human merits. His faith and hope in Jesus shone even in the midst of the most disastrous conditions, and God brought him through.
On Monday, October 30, 2000, Jacques and his family returned to Dolisie to find their home destroyed and in ruins, and all their belonging plundered and burned; all of their earthly possessions over the years were gone. For the whole family, the shock was so big that nobody spoke for what seemed like a very long time. Then Jacques said "Let's thank God because our lives have been precious in God's sight." [31] Jacques prayed and thanked God for his kindness in protecting their lives during the war. It was as if new strength was given to the family to go on.
Jacques Moussounga became the man of God that he was by God's grace and thanks to his wife of more than fifty years whom he calls an "exceptional woman." Mme. Jacques walked alongside her husband during his earthly journey from the day of their marriage. She encouraged him, shared his moments of joy and sadness, prayed for him constantly, and loved him throughout his life. People saw them together everywhere, as several people have testified. To Jacques Moussounga, Mme. Jacques was always "worth far more than rubies" as Proverbs 31: 10 indicates. During his interview, he described his beloved wife in these terms: "My wife was for me an exceptional woman since our marriage. I found her like a gift from God. I have been paralyzed for eight years now and she is the one who takes care of me completely." [32]
Throughout his life, and particularly in his last days, Jacques reiterated several times that he knew where he was going. "I am going to heaven," he stated with conviction. Thus, Saturday July 4, 2009 at 9 o'clock in the morning (Congolese time), Jacques Moussounga went to heaven to be with his God. He had lived for his God from the day of his conversion to the day of his death. He had fervently served God and his fellow men and women, witnessing to those who did not know that Jesus Christ loves them and died on the cross for them. We will continue to proclaim the same message.
At death's door, Jacques Moussounga said: "If I was asked to start my life over, I would again put myself in God's service." [33]
In an email sent Wednesday, July 8, 2009, Pastor Patrice Nsouami, current president of the EEC, said this on Jacques Moussounga's death: "I have just learned with dismay of the death of Papa Jacques Moussounga. The Evangelical Church of Congo in which he was an active member and a fervent deacon, the synodal committee and my house give thanks to God for the work accomplished in the Congolese land by this brave soldier of faith."
Médine Moussounga Keener
---
Notes:
At that time, the country was under French colonization and was called the Middle Congo.

This interview was planned by Medine and executed by Eliser in 2002. It's an unpublished source that we call "The Biography of Papa Jacques." Dolisie, 2002, p. 3

This diploma, at the time, opened doors to the world of employment.

At that time (and also now), marriage took place in three steps; first his customary wedding (1956), then his civil wedding (1958), and finally the religious wedding (in 1961).

"The Biography of Papa Jacques." P. 7

The C.F.C.O. at the time was a 510 km railway connecting the Pointe-Noire port on the Atlantic Ocean to Brazzaville on the Congo River. It was built under the French colonial administration between 1921 and 1934 and cost the lives of many people; workers who came from everywhere in Central Africa (Chad, Ubangi-Chari, Cameroon). The Governor General, Raphael Antonetti, inaugurated the railway line Brazzaville / Pointe Noire July 10th 1934, and called C.F.C.O. (Congo Ocean Railway). The last bolt was affixed in Moubotsi on June 1, 1934.

Jacques Vernaud spent eight months as a missionary in Congo-Brazzaville before settling in Zaire (now the Democratic Republic of Congo) where he is one of the most influential pastors in Kinshasa.

"The Biography of Papa Jacques," p.12.

"The Biography of Papa Jacques," p.12.

Annex Km4 became the Mount Sinai parish in 1998 and Jacques Moussounga was among those who started to put a firm foundation for the work of God in this locality.

This term means the manual activity that Christians do to support the work of God in the Congo; including cleaning the premises or working in a field owned by the church.

Phone interview with Pastor Jean Mouko of the Evangelical Church of Congo, Saturday, May 30, 2009 in Pointe Noire, Congo.

Phone interview with Pastor Bakana Basile ,Thursday, June 04 2009 in Ottawa, Canada.

Idem.

Interview with Pastor Jean Mouko.

On March 23, 1970, Pierre Kinganga attempted a military coup against President Marien Ngouabi. His attempt failed and he lost his life during the clashes.

Interview with Mme. Jacques, Monday, June 8, 2009 in Dolisie, Congo.

"The Biography of Papa Jacques," p.15.

The curse that he wanted to put on Jacques had no effect, but Amédée Ntouadi suffered from liver and prostate problems, was hospitalized months later and died.

"The Biography of Papa Jacques," p.15.

Phone interview with Jonas Kimbakala, Wednesday, June 3rd 2009, Dolisie, Congo.

Idem.

Phone interview with Soula Erka, Thursday, June 4th 2009, Dolisie, Congo.
24.Phone interview with Mrs Pauline Nzoumba, Wednesday, June 3rd 2009, Dolisie, Congo.
Phone interview with Annie Justine Pahou Bilimba, Thursday, June 4th 2009, Ottawa, Canada.

Mariette Moukanou (wife of Makita) is the first woman teacher in Mossendjo. She was trained in Ngouedi. She taught for years in the elementary schools. Then she went to Marien Ngouabi University where she graduated as a pedagogical counselor. She is a deacon in the EEC, a choir member of the Senior Choir of Mayangui Parish; Phone interview with Mrs. Mariette Moukanou Wednesday, May 27, 2009, Joliet, Il. USA.

Jacques Nziengue is a deacon of the Evangelical Church of Congo and a high school math inspector.

Phone interview with Jacques Nziengue, Tuesday, June 2, 2009, France.

Former President of the Evangelical Church of Congo, where he served three consecutive presidential terms for a total of twelve years.

Interview with Soula Erka, Thursday, June 4, 2009.

Excerpt from Medine's war journal.

"Biography of Papa Jacques," p. 18.

"Biography of Papa Jacques," p. 18.
---
Bibliography
"Biography of Papa Jacques," unpublished source. It was an interview prepared by Médine and conducted by Eliser in 2002. It has resulted in an unpublished document.
Médine Moussounga Keener, "Daniel Ndoundou," Dictionary of African Christian Biography, 2005.
Interview with Mrs. Moussounga (Malombe) Antoinette, known as Mme. Jacques who shared the life of this man of God for more than fifty years, Wednesday, May 27, 2009, Saturday, June 6, 2009, Monday, June 8, 2009.
Interview with Mrs. Mariette Moukanou on Wednesday, May 27 and Thursday, May 28, 2009.
Interview with Pasteur Mouko Jean, Saturday May 30, 2009.
Interview with Jacques Nziengue on Tuesday, June 2, 2009.
Interview with Mrs Pauline Nzoumba on Wednesday June 3, 2009.
Interview with Jonas Kimbakala on Wednesday June 3, 2009.
Interview with Sula Erka on Thursday June 4, 2009.
Interview with Annie Justine Pahou on Thursday, June 4, 2009.
Interview with Basile Bakana on Thursday, June 4, 2009.
Interview with Nzouhou, Pierre on Monday, June 8, 2009.
---
This article, received in 2009, was researched and written by Dr. Médine Moussounga Keener, adjunct professor at Eastern University in Philadelphia, Pennsylvania, U.S.A.