Moussounga, Jacques Emmanuel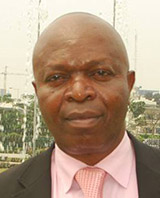 Known to his students by the nickname "Papa Mouss" and in his family and friends by "Grand Mayas," "Grand Emma," "Ya Emma," Jacques Emmanuel Moussounga was an honest, compassionate man, devoted to his Lord.
He was born February 7, 1961 in Deschavanne, Republic of Congo. His young parents—Moussounga Jacques, widely known as Papa Jacques (age 23) and Malombe Antoinette or Madame Jacques (age 19)—had a four-year-old daughter (Thérèse) and had lost their second child, Dieudonné. After a prophecy given by the evangelist Ngoma Moses: "I see two children; a boy, then a girl," their faith was encouraged by the birth of Jacques Emmanuel. Their gratitude to the God who is faithful and comforts the brokenhearted was evident on the day of their second son's blessing. [1]
Later, Papa Jacques and Mrs. Jacques welcomed a daughter (Médine), as the Lord promised them, then two more boys (Eliser and Aimé Anicet) and finally another girl (Gracia Lucienne). At the ages of 33 and 29, they were parents of seven children; four boys (including the one who died in childhood) and three girls. Jacques Emmanuel was very active among his siblings and he liked to tease them.
In 1965, Papa Jacques, who worked for the Congolese railway company (Chemin de Fer Congo Océan), was transferred to Pointe Noire where he moved his whole family to the Km4 district. In the center of the neighborhood was the public water well where families queued every night to fetch drinking water. It was in this district that in 1966, Jacques Emmanuel began kindergarten. Jacques Emmanuel's parents encouraged his curiosity; they raised their children in an environment conducive to spiritual, emotional, physical, and mental development. The firm limits of discipline put in place gave them a sense of security in their own personalities.
At the age of six, Jacques Emmanuel began his elementary education at Saint Pierre B School. He studied there until the age of twelve when he graduated with his certificate of elementary primary studies (CEPE) which allowed him to go to middle school.
The Moussounga children always went to school in a group, accompanied by other children from the neighborhood, because between their house and the school, there was a river with quicksand called Tchinouka (a child died there), a long crossing of the railway, a plain with a small forest, a second river filled with leeches and finally the school. The road to school was also infested with bandits who raped women and killed children. There was more safety in a group than in walking alone.
One day Jacques Emmanuel and his friend Michel went fishing behind Pita's school. While fishing they saw a sinister-looking man clearing a place on the other side of the river. The two pre-teens started running. As soon as the bandit saw them, he crossed the river and began to pursue them. The two were saved because they wandered into the schoolyard where there were many people milling around.
The years spent at Pointe Noire were very formative for young Jacques Emmanuel. The hours spent outdoors fishing, swimming or playing with friends and the healthy food cooked by his mother, were very beneficial for his physical development. The teachings received in Sunday school contributed to his spiritual formation.
Emotionally, he was surrounded by the love of his family. When his father's half-brother, who was mayor of Mossendjo, found himself out of work because of the political unrest in the country, Papa Jacques welcomed him into his home. The Moussounga family took care of his physical needs, while praying for him and his family back in the village. Then, when his family joined him in Pointe Noire, Papa Jacques provided for them for as long as it took for his half-brother to find work.
Being exposed to such generosity, Jacques Emmanuel developed a sensitivity to the needs of others. One day, he saved the life of his sister Médine who testifies here:
At the age of 9, while I was having fun by the sea shore, a great wave propelled me into the deep waters and I started drinking "the cup." Jacques Emmanuel (age 11) was too young to save me and the cousin who was in charge of us was in the middle of a conversation with other people far from where we were and he did not pay attention to us. Jacques Emmanuel ran to ask for help from a man who came to my rescue and brought me back to the shore, and I began to vomit the salt water. If Emmanuel hadn't kept an eye on me I could have drowned that day. My parents' God certainly protected me by using my brother. [2]
The faith of young Jacques Emmanuel also grew by seeing the miracles God performed in his family. For Papa Jacques, God was not inaccessible, but a friend to whom he talked about everything and in whom he confided. The healing of Gracia, the youngest member of the Moussounga family offers an example of this pattern.
In 1972, Gracia was about ten months old and suffering from meningitis. According to the French doctor who received them at the hospital, there was no hope of saving her. That evening one of Papa Jacques' friends politely urged him not to disturb God for such a desperate case, and underlined the importance of starting to make arrangements for the imminent burial of his little girl. Instead, Papa Jacques and his wife spent that night in prayer, asking God to spare the life of little Gracia.
The next morning when the doctor arrived, he expected to be informed of the death of the little girl who had meningitis. Instead, he found Papa Jacques praying with his Bible open and he saw the child who was in very bad shape, but still breathing. In addition, he learned that Papa Jacques had managed to get Gracia to take some breast milk overnight, using a small spoon. The doctor asked Papa Jacques who his God was because according to him, since the child had survived the night, she had a chance to live. Papa Jacques told him about his Savior Jesus Christ. Gracia's health gradually improved and God healed her completely to the point that the evangelist Ngani Martin called her Lazarus. Jacques Emmanuel also experienced a miraculous healing in his young life when he had a high fever, his father prayed for him and he was instantly healed.
The transition to middle school coincided with Papa Jacques being assigned to the village of Mvouti where new adventures awaited the young child on the brink of adolescence. Mvouti is a village of more than a hundred inhabitants, spread through the following neighborhoods: the train station, the post office, Massanvou, etc. Mvouti is located on the railway, in the Mayombe area. This is the domain of the Yombé tribe, but there are also people from other tribes.
In Mvouti, Papa Jacques and his family settled in one of the solid colonial buildings of the time. The ground floor was the railway station, with its offices and ticket counters. The upper part was the home of Papa Jacques, the stationmaster, consisting of 3 bedrooms, a bathroom, toilet, living room and kitchen. Mvouti was very famous for snakes of all kinds and colors. One day, while Jacques Emmanuel was going to school, he saw a black mamba that had curled by the tail and was erected upright, ready to bite. He stepped back without making a noise and started to run away from the snake, thanking God that he had seen the snake before it bit him.
In Mvouti Jacques Emmanuel continued to take risks to his life. The Mvouti train station was dangerous for young people who liked to jump on moving trains then get down when the train speed was faster. Most of the young men did it, including Jacques Emmanuel. One day, a young man who was very good at getting on and off the moving train lost his balance while trying to get off the train and was crushed by it. His death traumatized many people. The stationmaster decided to ban young people from jumping on moving trains. Jacques Emmanuel learned a lesson about the fragility of life and decided to obey the new regulations.
Emmanuel was a responsible teenager and he took great care of his family. For example, in July 1973, his little sister Médine was traveling to their village, accompanied by their father's nephew. Papa Jacques allowed him to accompany them to Dolisie where they were going to board the train going to the village. After making sure that 11-year-old Medine was on board the train bound for the village, Emmanuel went to board his own train back to his parents' home and did not know that the nephew was escorted out of the station by a group of very angry men. Médine was alone on the train, without a ticket, without protection and crying and praying. Jacques Emmanuel's train was about to leave, but he decided to make sure once more that everything was fine for his little sister, even though he had already said goodbye. When he saw the tears in his sister's eyes and heard the story, he took his sister and the two suitcases to his train and back to Mvouti.
In this village, Jacques Emmanuel continued to enjoy his favorite hobby: fishing. He spent a lot of time at the Loukoula River, which winds through Mvouti. It was also at the Loukoula River that the Moussounga children learned important lessons. For example, Madame Jacques often said to her children "nzali a tengimi dwe li busiha" (the river went crooked because it travels alone). With this saying, she taught her children the importance of family and community; no one is an isolated island. The formation of a person's character takes place in community.
Mvouti is also the place where Jacques Emmanuel's faith blossomed to the point where he made a personal decision for Jesus. When the Moussounga family arrived in Mvouti, the church was almost dead: the Sunday school teacher had committed incest with his younger sister; the evangelist was caught in an adulterous relationship. It was an atmosphere that was not conducive to spiritual growth. Therefore, Papa Jacques and his friend Ngocko Martin, began to evangelize the people of Mvouti and disciple the new Christians, fostering a deeper relationship with God. The number of Christians increased because many people were touched by the Spirit of God, including Jacques Emmanuel. The fact that his parents also took time to read and explain the word of God to their children, and then pray with them, was very important in the spiritual maturation of young Emmanuel. On Pentecost Sunday, May 18, 1975, he was baptized, after bearing public witness that he had given his heart to Jesus and that he now had a personal relationship with his Savior.
A few months later, Jacques Emmanuel went to Mossendjo to spend a year of study. His new faith in Jesus sustained him through the difficulties. Although he stayed in the house of a paternal uncle, Jacques Emmanuel suffered from hunger. Sometimes he was asked to do the dishes for the whole household before eating. The contrast was stark to him: his parents, as followers of Christ, lived their faith by welcoming with open arms all who came to their homes. Those who came to spend years of study were considered the children of the house. While here in Mossendjo Jacques Emmanuel was discriminated against and treated like an outcast. This was the second time it happened to him.
Four years earlier, he and his sister Thérèse went to another uncle's family and they treated them as if they were of a lower class. Jacques Emmanuel (10 years old) and Thérèse (14 years old) did not sleep in the children's room as their father and mother allowed for the guest children in their house. Instead, this uncle and his wife gave them a small camp bed in which both slept. They had no blankets or sheets. They protected themselves by using Thérèse's wrapper. Their bed was in the corridor where guests passed by to go to the bathroom. These two experiences sharpened in Jacques Emmanuel's mind a sense of social justice and ethnic equity.
After this year in Mossendjo, he returned to Mvouti mature for his age and aware of the fact that not all families have healthy Christian ethics. His desire to protect the weak and disadvantaged began to take root. Two years later, when Papa Jacques was transferred to the city of Dolisie, and he could not bring his whole family because he did not have a house yet, Thérèse and Emmanuel returned to Mossendjo to live with their aunt, while the other children ended up in Dolisie at the home of another aunt. Papa Jacques stayed in the Grand Hotel; and Madame Jacques and little Gracia remained in Mvouti. It was a difficult time for the Moussounga family.
At the impressionable stage of adolescence, Jacques Emmanuel, who needed firm direction of his parents, found himself once again far from them. Like most young men at this age in search of their identity, he went out with the girls and took care of his physical attire. But he continued to do well in school. At the end of that year, Thérèse and Jacques Emmanuel passed their national exam that opened doors for high school.
The family was overjoyed when the two returned home to Dolisie. Once again Jacques Emmanuel was encouraged by God's protection when he learned what had happened to his father while they were in Mossendjo.
In the early 1970s, while Papa Jacques was still working in Pointe Noire, there was a political coup d'état in Congo, and his neighbor added his name to the list of opponents sentenced to death. At that time, he was one of the leaders of the railway workers' union. Someone high-ranking who knew that Papa Jacques was not involved in politics, erased his name and saved him from being executed.
But because of his jealousy, this same neighbor hired the services of a hitman to eliminate Papa Jacques. For more than three years, this gentleman searched for Papa Jacques in the city of Pointe Noire to kill him, without ever catching up with him. When he finally met him, it was in Dolisie, in 1977 after 7 years of pursuit; Papa Jacques had just been assigned to this city. And that's when the hitman arrived in Dolisie and inquired about the big changes that had occurred at the railway station. He learned that Jacques Moussounga was the author and he decided to meet him. As soon as the hitman saw him, he asked him the question that had presumably been burning on his lips for some time: "Who is the witch doctor who protects you?" Without hesitation, Papa Jacques replied: "Jesus Christ" and he took the opportunity to once again share about the God who is the savior of all, including this man. This story encouraged Emmanuel's faith in the God who performs miraculous acts on behalf of his children, and he gave thanks to God for protecting his father's life.
During his high school years, Jacques Emmanuel had sexual escapades. The church does not teach enough, and in sufficient depth, about the consequences of premarital sex; popular culture in Congo encourages a life of immorality. Jacques Emmanuel followed the fray knowing deep in his heart that he was straying from God's way. The fight inside him was constant. His parents' advice often came to mind. Papa Jacques taught his children through anecdotes such as the following story: a young man succumbed to immorality by having several sexual relations with girls. Sometime later, he contracted a sexually transmitted disease. As illness ravaged his body, his faith in God began to be rekindled. After telling this story, Papa Jacques looked at each of his children and said, "God created sexuality to be enjoyed in marriage; outside of marriage, sexual intercourse is a sin against God and against the person with whom you have these relationships."
Jacques Emmanuel's parents did not consider sexuality a taboo subject; it was important for them to lay a solid biblical foundation of sexuality. When he had sexual escapades with girls, Jacques Emmanuel often found his mother the next morning outside his room, ready to talk to him about the importance of following Christ with all his heart and giving every aspect of his life to God, including his sexuality. Madame Jacques told him that it is important to reserve his love and physical passion for the girl he would marry one day, because the consequences of immorality are unwanted pregnancies, sexually transmitted diseases, the destruction of the girl's reputation, etc. Often, she would say to her children, "Look at the fish in the river; those who follow the water stream constantly are either sick or dead. A healthy fish goes against the current. Sometimes you have to go against the pressure of friends and culture to stay alive." The Church of Jesus Christ in Congo needs to go against the tide of popular culture by teaching our children and youth the importance of a biblical understanding of sexuality.
After several years of sexual struggle, Jacques Emmanuel found deliverance in Jesus. This is one reason why he spent the rest of his adult life urging young people, including family members, to watch out for the pitfalls and consequences of immorality. His constant desire was to exhort the future generation to live a sexually pure life.
The three years of high school in Pointe Noire culminated in passing the national exam, thus allowing him to attend the university. In October 1981, Jacques Emmanuel found himself in Brazzaville, the capital of the Republic of Congo, to begin his university studies. This was a period of growth in his identity as a follower of Christ.
In 1982, for example, Jacques Emmanuel and his sister Médine, rented an apartment on Joseph Nkeoua street, number 2, in Bacongo. It was a year filled with blessings in their walk with the Lord. Emmanuel and Médine served the Lord as Sunday school teachers. They helped their friends who had no support in Brazzaville. Their apartment was open to several people. Some lived with them and others came to eat with them. Emmanuel and Médine were the only ones who had a scholarship and paid for rent and food. Médine remembers this period in these terms: "At the end of each month when we received our scholarship of 30,000 CFA francs, Grand Emma and I took time to thank God. We put our money on the table and prayed. Then each of us took away 3,000 for tithe, 15,000 for food, 5,000 for rent and 8,000 for personal expenses. During this season, God taught us to give generously, without expecting anything in return. Our service to our brothers and sisters stemmed from the joy of knowing Jesus personally!" [3]
In the fall of 1986, after getting his master's degree in science, Jacques Emmanuel found himself at the University of Reims in France where he began his doctoral studies. His years in France were filled with long hours of research in the laboratory and in the library. While working on his thesis, Jacques Emmanuel continued to seek the Lord in the different aspects of his life. His long years of study culminated in the defense of his PhD thesis entitled: "Reactivité thermique de thiocétènes et de céténimines alpha-insatures. Application en synthèse d'héterocycles"(Thermal reactivity of thioketenes and alpha-unsaturated ketenimines. Application in the synthesis of heterocycles) in 1993, with professor Josselin Chuche as his mentor.
After defending his dissertation, Jacques Emmanuel worked in France for two years, before returning to Congo. He spent a few months with his parents in Dolisie then came to Brazzaville to look for work. Unfortunately, war broke out in Brazzaville on June 5, 1997 and later in other parts of the country. During the war, Jacques Emmanuel risked his life to protect his family. As they ran for their lives, he would often push his handicapped father in a wheelbarrow, and if necessary – such as when they crossed a single rail on a river below – he would carry his father on his back. During their 18 months on the road, the Moussounga family learned to depend on God for their needs and to accept the humiliations due to their status as refugees. [4] The end of the war was not the end of the difficulties for the Moussounga family, many of them being unemployed.
After a long period of looking for work, Jacques Emmanuel ended up landing a position at Marien Ngouabi University as a professor of chemistry in 2008. An exemplary and compassionate professor and researcher, he rose above traditional tribal and regional loyalties to serve all of his students alike, with a heart full of grace. As a university professor, Jacques Emmanuel fought against the practice of "sex for grades" or "pay in kind," a practice that requires young girls across Africa to have sex in exchange for a good grade. In his concern to protect the young women who came to him for help, Papa Mouss, or Le Prof. (as his students called him) prayed for them and introduced them to his male colleagues as his nieces, thus ensuring their protection. One of his former students remembers: "Many students testify to the person that ya "Emma" was, because as a professor, he had never failed in his duties. Moreover, throughout his career he was part of the minority of teachers with good morals and ethics." [5]
As a researcher, he examined traditional herbal remedies for their biochemical efficacy [6], published articles and attended international conferences. [7] One of his colleagues remembers him in these terms: "He was head of Laboratory at the Center for Research and Initiation of Technology Projects (CRIPT). He worked tirelessly as a researcher and was appreciated by all for his attitude, his temperament, his behavior and the cohesion that he possessed during his lifetime." [8]
Another colleague says this of him:
He was a resource person, gifted with all the qualities of a person working in a team in all the research laboratories of which he was a part; namely the physicochemical laboratory of food bioprocesses (in acronym LPBA), the laboratory of food and medical bioprocesses (in acronym LBAM) located at the ENSP. His skills also enabled him to hold the position of head of the process engineering laboratory at the center for research and initiation of technology projects (in acronym CRIPT) but also as head of the engineer-type course in the food industries. He fulfilled his duties perfectly, with respect and reporting to whom the work was entitled. [9]
One of his students remembers: "You were among my research mentors. You took time explaining organic chemistry to us at ENSP in simple words. Your passion for science, your love for teaching, made you this rare teacher that we former students of ENSP UMNG had dreamed of having." [10]
On the spiritual level, Jacques Emmanuel was director of the ECODIM (Sunday school) of Mfilou from 2004 to 2007. After this mandate he continued to serve the children in the Evangelical Church of Congo tirelessly. And in 2017 he was consecrated deacon at the parish of Diata until his death. Jacques Emmanuel's voice came out loud and clear in his teachings: "keep yourself pure by relying on the grace of God, despite what others say". He often said, "it is never too late to come back to the Lord and consecrate yourself to him again."
After the war, Jacques Emmanuel fell in love with a young woman he wanted to marry. They had a little girl who became the apple of his eye. Following the failure of their relationship due to, among other things the request of an exorbitant bride price, Emmanuel went through a difficult season in his life. The Church of Jesus Christ in Congo needs to stand up against the misuse of the bride price, a custom that sometimes serves to satisfy people's greed.
In December 2014, Jacques Emmanuel instead married Inès Farya Massolola; and because he was working at the university at that time and loved Inès, he was able to pay the excessive bride price requested by her family. Emmanuel's own experience propelled him to financially help those who wanted to honor God by marrying, instead of living together, as the following testimony reveals: "I am counted among those to whom mukutu (big brother) expressed his great generosity. Indeed during the preparation of my upcoming wedding in Brazzaville, he introduced himself as my uncle and he was able to pay most of the bride price. There will never be words to express his charity, his sense of humor and his joy in serving others." [11]
On August 30, 2020 Jacques Emmanuel spent the day with his wife and father-in-law in their village. The next morning, August 31, 2020, he carried on his activities normally until he felt severe pain in his stomach in the afternoon and collapsed on the ground. He immediately lost the use of his eyes and feet. Probably, knowing that he was going to meet his Savior in the following minutes, Emmanuel asked forgiveness for his sins and it was while praising God with the song below that he entered into glory:
I will wholeheartedly sing the wonders of my Father Yahweh
He took me out of darkness, he delivered me from all my sins
My Father is faithful, he never abandons me
I have nothing more to fear because Yahweh has delivered me
Oh I am happy, immense joy
I am emotional because Yahweh has delivered me.
For Jacques Emmanuel Moussounga, Psalm 116:15 came true: "Precious in the sight of the Lord is the death of his saints."
The sudden death of Jacques Emmanuel was received as a shock by his family, the university and evangelical community, his friends and acquaintances. Liph Merveille Ngolo and Kelson Diele's words capture the atmosphere of Facebook comments:
Ya Emmanuel, for us who shared unforgettable moments by your side What sadness!
sad to have lost an elder;
sad that we didn't see you being sick;
sad to have lost a mentor;
sad by such a sudden disappearance;
sad just never to listen to you again;
I'm crying and I can't pull myself together, the pain of your disappearance is deep.
May your soul rest in peace [12]
Ya Jacques Emmanuel Moussounga your unexpected death leaves us speechless.
Ecodi has lost a brother, the nation has lost a professional executive, the entrepreneurial world has lost a heavyweight. [13]
By his deep faith in Christ and his generosity Jacques Emmanuel helped many people; he was a father to the orphans or those abandoned by their parents; he cared for widows and the underprivileged. His impact on young and old was so profound that several people made the difficult journey from Brazzaville to Dolisie for his burial.
Jacques Emmanuel is survived, among others, by his beloved daughter Keren. Jacques Emmanuel sent Keren to the USA in the care of Médine and her husband Craig, who, with the agreement and blessing of Jacques Emmanuel and Raïssa Boyembe (Keren's biological mother), later adopted her as their own daughter.
Jacques Emmanuel leaves us a legacy of a life lived under the grace of God, and an invitation to fully seek our compassionate God who desires to have an intimate and personal relationship with anyone who turns to him.
Médine Moussounga Keener
---
Notes:
In Congo, babies are brought to church for the blessing and presentation to family and friends when they are about three months old.
Medine Moussounga Keener' s testimony, 09 November 2022
Médine Moussounga Keener' s testimony, November 09, 2022.
A detailed explanation of their lives as refugees and the miracles God performed on their behalf can be found in the book Impossible Love, by Craig Keener and Médine Moussounga Keener. The war account comes from Médine's journal
Dr. Pambou-Tobi Nadia's testimony, January 19, 2021.
In 2017, 2018 and 2019 he participated in workshops organized by UNESCO such as his oral presentation on "the use of renewable energies in the valorization of basic foodstuffs in partnership with UNESCO" organized in Brazzaville on June 23, 2017 at the scientific city and by the Center for Research and Initiation of Technology Projects (CRIPT).
Here is one of the articles he published with his colleagues Moussounga J. E., Dzondo Gadet M., Pambou Tobi N. P. G., Tamba Sompila A. W. G., Zassi-Boulou A. G., Diaboua J. F. and Desobry S. "Physicochemical characterization and technological valorization of Python fat (Python sebae) of Congo Brazzaville". (2018), International journal of current research, vol. 10, Issue, 02, pp.6531565322, DOI: https://doi.org/10.24941/ijcr.2017 Published: February 2018; IF: 7,749. Indexée dans CASSI, ISSN: 0975-833X. http://www.journalcra.com/sites/default/files/issue-pdf/28744.pdf
Dr. Arnaud Tamba's testimony, January 19, 2021.
Dr. Pambou-Tobi Nadia,'s testimony, January 19, 2021.
Waris BK, testimonyu on facebook, September 1, 2020.
Dandy Marcinel Godlive Ottoniky,'s testimony, December 19, 2021.
Liph Merveille Ngolo, Facebook post, September 1, 2020.
KI Kelson Diele Facebook post, Septembre 12, 2020.
---
This article, received in 2023, was researched and written by Dr. Médine Moussounga Keener, adjunct professor at Eastern University in Philadelphia, Pennsylvania, U.S.A.
---
Photo Gallery