Classic DACB Collection
All articles created or submitted in the first twenty years of the project, from 1995 to 2015.
Sibandze, Patrícia Phetfwayini (Matfunjwa)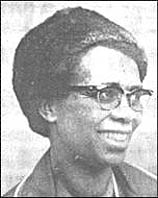 Mrs. Patricia Phetfwayini (Matfunjwa) Sibandze, Leonard Sibandze's wife, was born at Phophonyane (Pigg's Peak area). Her father had died when she was an infant; hence her name, Phetfwayini ("What will become of her now that she has no father"). Her mother left her with a non-Christian uncle. When she was nine years old, she began walking over five miles to school every day. As there were no fees to pay, she was able to attend the Hhelehhele Mission School.
Her first teacher told the children, "If you pray Jesus will answer." She had no soap and each day on her way home she prayed in the tall grass for soap. Some days later she was sent to fetch a parcel. It had her name on it and contained a bar of soap. Under the ministry of the beloved teacher, Rev. John Dlamini, and the pastor, Rev. Solomon Ndzimandze, she prayed, confessed her sins and became a follower of Christ. In 1935 Patricia found the blessing of entire sanctification while in school at Endzingeni.[1]
At that time she experienced a definite call from the Lord to be a teacher. She trained as a teacher at Manzini and taught for many years in mission schools. She married Leonard Sibandze in 1943. They taught together at Hhelehhele where Sibandze was the headmaster.
In 1971 she felt called to Sunday School promotional work and gave up a salaried position to devote full time to it. She had a map with seventy-four stars showing the main Sunday Schools in organized churches and challenged them to establish four new ones around each of them.
Patricia Sibandze was a great leader of Swazi women, and she organized a district-wide annual women's retreat that still continues. This was blessed of God with deep moving of the Holy Spirit and joyful spontaneous giving. The women prayed for their husbands and children. She arranged for Nazarene women to go as a group to the royal residence at Lobamba to pray especially for the king and the nation. Once the king served them food afterwards at his home.
Rev. Juliet Ndzimandze paid her this tribute: "Patricia Sibandze was a great prayer warrior. Her prayers have changed the destiny of the church, brought revival fires, rebuilt broken homes, paved passages through mountains, brought waters to the wilderness and opened prison doors." With the leadership of Patricia Sibandze, two or three times a year, about twenty Swazi Church workers would meet for four or five days at a time for prayer and fasting. They would pray for revival among workers, the people, the youth and national leaders.
At her last Sunday School Convention she was given the name Mthwalizizwe ("One who carries the burdens of nations") in appreciation for her nearly twenty years of service to the District Sunday School program. Her entire life was lived for others.[2] At her death there was a total of two hundred and ninety Sunday Schools in eswatini with an enrollment of about 20,000. Churches had been organized from some of them. Her constant, personal friendship with Christ made her a powerful Christian witness that influenced many, both near and far. She was a very caring person who hurt when others hurt and rejoiced when they rejoiced.
After suffering with cancer for a year she died victoriously in the Lord. Over a thousand people attended her memorial service at Manzini Church.[3] Rev. Leonard and Mrs. Patricia Sibandze were survived by their three children, Joe, Helen, and Samuel.
Paul S. Dayhoff
---
Notes:
Florence Davis, "True Stories from the Life of Patricia Sibandze," in Missionary Stories from Around the World, (Kansas City, MO: Nazarene Publishing House, 1941).

"'Mthwalziziwe' 1920-August 8, 1979" in World Mission, (Kansas City, MO: Nazarene Publishing House, February 1980), 4.

L. Sibandze, "Patricia Phetfwayini," World Mission, (September 1980), 11.
---
This article is reproduced, with permission, from Living Stones In Africa: Pioneers of the Church of the Nazarene copyright © 1999, by Paul S. Dayhoff. All rights reserved.