Classic DACB Collection
All articles created or submitted in the first twenty years of the project, from 1995 to 2015.
Nesib, Onesimus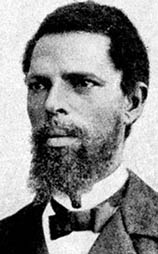 Onesimus Nesib was born around 1856 near Hurumu in today's Illu Abbaboora. His original name was Hika, an Oromo name meaning "translator." His father died when he was four years old. Raiding tribesmen stole Hika from his mother and sold him as a slave, giving him a new name, Nesib.
Nesib was again stolen again from his owners and sold four times before Werner Munzinger (1832-1875), the vice-consul of the French Consulate, liberated him at Massawa on the Red Sea coast, where missionaries from the Swedish Evangelical Mission (SEM) had a boys' school headed by Rev. Bengt Peter Lundahl (1840-1885). Here, Nesib was given to Mr. W. Ahlborg (SEM) as a servant in October 1870 and become one of the students of that school. Mr. P. E. Lager (SEM) became his first teacher but Lundahl took over in December of the same year. A bright student, Nesib was soon converted and, when he was about sixteen, he was baptized on Easter Sunday (March 31, 1872), taking the Christian name Onesimus.
Even as a youth, he led a life of Christian devotion and completed his education in five years at Massawa. He volunteered to be a missionary hoping to evangelize the Oromo people some day in the future. His prayer was, "How long, O Lord, how long will it be before you send a preacher of the gospel there?"
In 1876, Lundahl sent Onesimus to Sweden for further education at the Theological Training Institute of Johannelund, where he stayed another five years. He returned to Massawa in the fall of 1881 ready to go out as a preacher of the gospel to his country. A classmate, A. W. Pahlman (1852-1931) came with him as a volunteer. As Onesimus had married nineteen-year-old Mehret Hailu, she also came along, accompanied by her father and three others on the journey to Wellega. This was the first "Oromo expedition" which failed from the outset because Emperor Menilik's raiding armies hindered peaceful travel southward.
Consequently, Lundahl planned the second "Oromo expedition" by way of Sudan to reach Wellega since the short highland route could not be used due to the emperor's decree against western missions. Onesimus and his group traveled by ship north of Massawa port to Suakin where they were favorably received by the governor and then undertood a twelve-day trek through the Nubian Desert by camel. At Berber, they took the boat across the Nile and reached Khartoum in early December. From there, after obtaining a travel permit, they sailed up the Nile for another two weeks and then traveled on camelback. On January 4, 1882, they reached Famaka, the Egyptian border post on the Nile and rejoiced at the sight of the Ethiopian hills rising above the plain. However, they were told that they could not reach the Oromo land as easily as they thought and were advised to proceed through Asosa. Three of them went to Asosa only to discover that it was impossible to reach Wellega from there. Instead, they were told to try going through Metema. In the meantime they began suffering from fever in Famaka, and the two foreigners were not allowed to pass through Metema due to the imperial decree, though they were only a two week journey away from Wellega.
These obstacles as well as the tribal unrest in the area, the slave trade that Egyptian authorities enjoyed secretly behind the backs of the Europeans who tried to stop it and finally the dishonest advisers who kept them in the dark led them to despair. They left Famaka for Khartoum on March 2, 1882. In fact, little did they know, they were only about sixty kilometers from Asosa where the Sibu Oromo lived-a people yet unreached either by the Orthodox priests or by the Muslims.
On the way back, one man died, Pahlman lay unconscious on deck and Onesimus suffered so much that his only desire was that the Lord would take him home. Finally they reached Khartoum on April 10, 1882 when the Mahdist revolt had broken out throughout almost all of Sudan. Onesimus hovered between life and death while the others kept improving day by day. One couple, still weak, was sent back to Imkullu but Mehiret and Arrhenius, the doctor, remained in Khartoum until Onesimus had regained his strength.
A few days later, the group in Khartoum was informed that the way from Metema though Gojjam was open not only to Ethiopians but also to foreigners. They had prepared to leave for Imkullu, had equipped themselves for the journey, and had bought a ticket when suddenly Arrhenius died on May 30, 1882. After burying him, Mihiret and Onesimus left for Imkullu but had many difficulties because of the Nubian Desert where they were almost buried in a sandstorm. They ran out of water and had several attacks of fever and Onesimus despaired of ever reaching Imkullu again. But they finally arrived about mid July 1882 where they rested for several weeks while Onesimus recovered from his illness and exhaustion. He wrote a letter to Stockholm on September 5, 1882, volunteering to resume his journey once more. While waiting for the response, he started writing his first book of hymns entitled 100 Songs and Psalms, and began translating hymns and other small books such as Man's Heart, by Bunyan, and Luther's catechism into the Oromo language. These first books were published in Imkullu a year later.
In January 1883, a merchant from Jimma named Damote, came to Imkullu to tell Onesimus the amazing story of Abba Jufar II (1861-1932), a young sultan who was eager to introduce modern education in Jimma by hiring teachers from Massawa. Damote told him how the sultan's messengers had come to Famaka to invite the foreign missionaries to Jimma but had arrived two weeks after their departure.
Onesimus asked his visitor many questions to see if the people were open to being evangelized and found out that the people were eager to learn about God. So he asked the main office in Stockholm to send messengers of peace through Harer to Jimma and requested permission to go with them. He made this proposal because a German baron had stopped in Imkullu on his way to Harer and needed an interpreter. Harer was a trading center connected to Jimma.
This was the third "Oromo expedition," in which Onesimus, his wife, and three others were given permission to go to Shoa. After waiting until March 1885, they began the journey, encountering severe danger on the way, and finally reached the Shoa boarder. By order of Menilek II, the group was sent to Aliu Amba in Shoa to recover from fever and they remained there until all had recovered. Since this place was a commercial center, the members of the Imkullu expedition utilized their protracted stay at this town for evangelism and medical care. Onesimus found opportunities to proclaim the gospel both to the local people and to the many traders who came from different parts of Ethiopia. A. Bergman (1855-1923) gave medical treatment to more than two thousand people, the majority of whom suffered from syphilis, eye diseases, or wounds.
However, all the foreign missionaries including Onesimus and his group were asked to become Orthodox believers or leave. They chose to leave and returned to Imkullu, arriving in 1886. On the journey back in early May 1885, Onesimus was happy to see a group of his countrymen who had been rescued from slavery. This really inspired him again to teach and to remain with them for a while. Some of them were also destined to be his supporters in his future career. One lady among them was also destined to be his supporter in his future career. He joined the group of teachers at Imkullu as a member of the staff.
At this point, his hymnbook was ready for use at the girls' school. Although he was very discouraged because he had had to leave Shoa, this new responsibility challenged and invigorated him so much that he reported, "I labor with delight and happiness together with our newly-arrived Galla girls. … What a joy it is to teach them in our mother-tongue." One of these girls who had a gift for languages and literature was Aster Ganno (1874-1964). As soon as he discovered her talent he arranged for Emelie Lundahl to award her a Bible on Christmas 1887 so as to encourage her in her gifts. She later made important contributions to Oromo literature assisting Onesimus.
In 1886, in addition to teaching Onesimus decided to work on translating the entire Bible into Oromo. But translating the Bible proved much more difficult than the other texts he had undertaken because he did not have adequate knowledge of his mother tongue in terms of vocabulary and idioms as he had not lived in the Oromo culture since childhood . Luckily for him, Aster Ganno was able to come to his rescue in this area. After finishing school she was assigned the task of composing a dictionary of pure Oromo words by listing derivatives of every particular root and removing dialectical and alien forms. Even though she was a constant source of material for Onesimus' work as he worked on the New Testament which was revised and published by the Imkullu Press in 1893 she was not acknowledged for her contribution.
This New Testament translation was ready for the fourth Oromo expedition. A group headed south with it but Onesimus stayed and continued work on the Old Testament translation, while Aster started translating Dr. Barth's Bible Stories and wrote down from memory five hundred riddles, fables, proverbs, parables, cradle-songs and ballads in the Oromo language. These two authors put together selected versions of the above into an Oromo Reader.
With Aster's continued assistance, Onesimus completed the Old Testament translation in June of 1897. After revising it, he took the manuscript to the printing press at St. Chrischona where he personally supervised the printing process. In the midst of this, he was worried about his family because he had left them in Eritrea. In October of 1898 he was shocked to hear that his baby girl had died and that the two older children were sick. He wanted to return home and be with his wife, Lydia Dembo of Sayo in Wellega, whom he married after the death of Mihiret during childbirth in November 1888. But Lydia, who had a great concern for the gospel, wrote to him saying he should not interrupt the work he was doing. So this allowed him to stay until the publishing work of the entire Bible was complete at St. Chrischona in June 1899. This remarkable work of translation has been used for more than seventy-five years and a group of experts just recently undertook to revise it.
Now when everyone expected Onesimus to go back to Wellega with his new Bible, he was reluctant to do so because he was tired and worn out. He explained in a letter to a friend that the hardships of such a journey would be too heavy on him and his family. So he returned to Eritrea around mid-August of 1899 and began evangelizing the approximately five hundred Oromo people living in Asmara. His work which focused mainly on the market place bore fruit although attendance was sometimes as poor as twenty people at a time.
On April 13, 1903, Onesimus received a letter from Boji, Wellega, in which the pioneers told him that the evangelism work under the protection of two leaders was promising. At this news, he decided to leave Asmara and return to his country, because the journey was now easier thanks to the railroad built from Djibouti to Dire Dawa in 1902.
So the Asmara congregation commissioned Onesimus, his family of four, Aster, and four other people as messengers to the Oromo on behalf of the church on December 6, 1903. The next day the entire congregation was there to send them off when they started their journey. Although Onesimus expected to meet Swedish missionary and personal friend Karl Cederqvist at the Port of Djibouti, that proved impossible. Onesimus and the group had to go on to Addis Ababa, because Cederqvist was behind schedule by six weeks.
Onesimus was introduced to Abune Mateos, the archbishop of Ethiopia, by Kentiba Gebru Desta. During their conversation, Onesimus was allowed to freely present the gospel as long as he avoided disputes on delicate questions like fasting and the role of the Virgin Mary and the saints. The archbishop also helped him to get an appointment to meet with the emperor who gave him a safe-conduct for the journey to Naqamte, capital of Wellega. All these favors that Onesimus never expected made him very happy because he believed that all was done in sincerity. The group proceeded west to Wellega on March 28, 1904, as Cederqvist was arriving in Addis Ababa only one day after their departure. It seemed that God's will was to be carried out by the natives without foreign staff.
Cederqvist also chose to live and work in Addis Ababa where he stayed until his death on November 11, 1919. His work in evangelistic ministry, medical service, and in the founding of an English School laid the foundations for the work of the Swedish Evangelical Mission in Addis Ababa.
On April 15, 1904, Onesimus arrived at Naqamte with his companions from Eritrea. He was already known in the area as the translator of the Oromo Bible and was received with great honor by Dejazmach Gebre-Egziabler, the governor of Wellega.
The governor gave him a piece of land and built him a house near his residence where Onesimus settled down and opened a school, hoping to use this as a means of evangelism. But since he was not a priest, he did not have the Orthodox background of his friend Gebre Ewostateos (a pioneer church leader before him), and did not dare introduce evangelical ideas and practices in the Kidane Mehret Church at Najo as the latter had done in the Mariam Church at Boji. However, these two met from time to time to discuss matters of common concern, while in the open they acted independently of each other.
By early September 1904, Onesimus had enrolled twenty students who were divided up into three classes. He said that education was so important for the youth that he would accept several hundred students if he only had teachers and classrooms. Practically all the parents were in favor of him teaching their children. He also began proclaiming the gospel to his students, which made the Ethiopian Orthodox Church (EOC) priests uneasy. They had received a letter from the archbishop saying, "If his teaching deviates from our faith and our church, let him teach and allow no man to prevent him." The Orthodox clergy grumbled over the archbishop's letter but were not as yet in a position to show their discontent. Onesimus was aware of their grumbling but paid no attention to it. Rejoicing at the opportunities to do evangelism among his own people, Onesimus asked his friends in Eritrea to send him more evangelists and many more copies of the Scriptures.
In response to his request, two families came to Wellega from Eritrea escorted by three men who had been sent to Eritrea to fetch them. The journey took them four months and finally they settled in Boji and Najo. The Orthodox Church leaders opposed this activity in Wellega but the governor of the province was friendly to the evangelical Christians who worked secretly in the Boji Mairam Church where a converted priest had served for some time before perishing in a fire. All the evangelicals who came from Eritrea–including Onesimus–were lay people and this made the evangelical movement of that time a lay movement. In fact, Onesimus' Swedish mentors wanted to ordain him as a minister in the Protestant church as early as 1883 but he declined for the third time. Consequently, as the Orthodox clergy's opposition to the evangelical movement mounted, Onesimus became a prime target.
In the beginning, for the sake of the clergy from Gojjam, Onesimus preached in Amharic (the official language of Ethiopia) and had someone interpret into Oromo so that they would not press charges against him. Unfortunately, his advisor who had instructed him preach this way died and Onesimus started preaching directly in Oromo. Amharic-speaking clergy did not understand what he said and lodged complaints against him. As a result Onesimus was ordered to go to Addis Ababa and defend himself.
Originally the archbishop had helped Onesimus by encouraging him to preach Jesus Christ as the only Savior of the world. This time, however, in the presence of Onesimus' accusers, the archbishop said that he disturbed the peace of the faithful with his teaching. Later Onesimus understood the Abun's double-dealing tricks. However, when Gebre-Egziabher (the governor) testified to Menelik a couple of months later, Onesimus was allowed to accompany the governor to the capital, where they together paid their respects to the archbishop. On that occasion, Onesimus was very surprised to be well received by the archbishop who explained that he could not openly support his ministry without being condemned by the Ethiopian clergy.
As a result of this meeting, Onesimus' accusers were called to Addis Ababa to specify their charges, but when they failed to appear, the matter was postponed until after the rains. On June 9, 1906, Onesimus left to return to Naqamte, while it seems the governor stayed in Addis Ababa. But as soon as Onesimus arrived home, he received a letter from the governor, ordering him to come back to defend his case in front of the archbishop since his critics and some witnesses had arrived in Addis Ababa. He was told to get there soon, "running day and night." That was a time of heavy rain and the rivers were in flood, making traveling very difficult. Onesimus, about fifty years old at that time, made the journey in eleven days–quite fast considering the circumstances.
On July 13, 1906, he was tried on several false charges. Only Alequa Tegenye witnessed in his favor. Abune Mateos, the archbishop, joined the accusers in calling down the judgment of heaven on Onesimus who was sentenced to lose all his property and was imprisoned laden with heavy chains. The same punishment was to be meted out to all his followers in Wellega, including the governor of Leqa and Wellega. As a result, in order to avoid suffering this punishment and to save face with the local clergy, the governor was forced to carry out the archbishop's orders and to excommunicate Onesimus and denounce his teaching.
However, the emperor refused to confirm the archbishop's verdict and ordered Alequa Istifanos, minister of church affairs (later Afe Nigus–the King's spokesman–and minister of justice) to examine the case. Istifanos, who was known for his fair outlook when it came to harsh judgments, listened to the parties for several hours and concluded that Onesimus was not guilty of any crime. The only charge that could be brought against him was that he did not believe in the mediating role of the Virgin Mary and the saints. Menelik therefore decided that Onesimus should stop preaching and teaching. However, the emperor sent him to the minister of commerce to see if he had the skills to work there. He was examined for his knowledge of languages, mathematics, and crafts. But since Onesimus did not possess technical skills, he was instead sent back to Naqamte to live on farming and trade.
Even though his opponents had crushed Onesimus' hope of evangelizing they could not get rid of him completely. In September and October of 1907, the evangelistic leaders gathered together for a conference at Naqamte to discuss common policy. After discussing the problems they faced in various places, they resolved to continue their evangelism without hesitation but cautiously, not giving their opponents occasions to accuse them. They acted independently and decided that Onesimus did not have to teach in his school but that he was free to read the Bible to people in his own home and to sell and give away Bibles and other books.
In October of 1908, Onesimus was accused of holding devotions and teaching students in his own house. The governor pretended to take the charges seriously and wrote a stern letter in Amharic in order to show the Amhara (Orthodox) secretaries that he was on their side. In this letter–which he intentionally did not send to Onesimus–he ordered him to immediately stop all teaching, even of his own children. When the secretaries reminded the governor that he had not called back the three slave boys that he had asked Onesimus to train, he was angry and told them not to meddle in his private affairs. When Onesimus got the letter at a later date he understood the governor's support. Four years later, in 1912, however, the governor joined the archbishop in condemning Onesimus to banishment for life, though nothing came of it because the council of ministers did not sanction their sentence. Another year later, in 1913 or 1914, the archbishop twice tried to persuade the governor to send letters and messengers to Cederqvist, urging him to remove Onesimus from Wellega. Cederqvist, however, was not easily intimidated and he flatly refused. Onesimus was allowed to continue living in his home at Naqamte.
He still continued to labor for the Lord as before but, in the autumn of 1915, he reported that the work had slowed down in the last year and a half. His colleagues then came from different districts to help. They held Bible classes together and no one stopped them from doing it. The sale of the Scriptures was also growing more than ever in some locations. Onesimus regretted that he had taken only five students at a time when he could have dealt with more. In fact, the leader of the Sayo Oromo people came to Neqamte to recruit teachers from Onesimus who, unfortunately, had none to give him.
In August 1916, Cederqvist succeeded in obtaining official permission for the evangelical enterprise in Ethiopia. Now it became possible to establish two girls' schools at Naqamte with Lydia and Aster as teachers and another in Addis Ababa with Desta Schimper (d.1976) as a teacher. Onesimus rejoiced at the new opportunities for evangelism and planned more centers, one between Addis Ababa and Naqamte, and another between Naqamte and Sayo. Looking forward to more peaceful times, he announced his intention to go ahead and train young men for the task, specifying that he had Fayissa Alabe and Jammo Sori, who were experienced men and dedicated to the Lord.
In 1916, Onesimus was granted permission from Lij Iyasus which finally established, once and for all, that he was free to proclaim the gospel as he had hoped when he moved from Eritrea to Wellega. This brought the problems of this era to an end. Then the next leader, Ras Teferi Mekonnen, began a program of modernization which was to be characterized by far-reaching religio-political reforms and called for the help of foreign experts. Years later, Emperor Haile Selassie I was fully aware of the benefits of the gospel in the areas of education and medical care for many and, as a result, allowed the gospel to be preached in many parts of the country. The year 1916 therefore constitutes a landmark in Ethiopian Christianity as well as in Ethiopian history in general.
On October 6, 1919, Onesimus wrote to Cederqvist that the highest magistrate, Tura Wolde-Mariam, had stated in public that there would be no peace in town until Onesimus was banished. This man had become a Roman Catholic and that was the cause of his opposition to Onesimus. But eight months later, in 1920, Onesimus reported to the board in Stockholm that many people owned Bibles and that those who read the Scriptures in the vernacular were now aware of the Bible truths and had stopped believing in the legends of the saints. They no longer condoned polygamy, slavery, false witness and lying, and other old practices that many Bible students had condemned. The mission base encouraged him by sending a medical team to Wellega. They established a mission in a small hut and the doctor and Onesimus took turns preaching. Onesimus was thus spiritually refreshed after a long period of loneliness in his ministry.
Slowly over time, the animosity between the Orthodox Church leaders and the mission leaders wore away after the death of the archbishop. The missionaries and Onesimus continued evangelizing and giving medical care and educating the youth in the area's growing schools.
After seeing such peace Onesimus died at the age of seventy-five on Sunday June 21, 1931-the day of the seventy-fifth anniversary celebration of the Swedish Evangelical Mission in Stockholm, Sweden. It was a Sunday morning and he was supposed to preach. So he made his way to church very fast without greeting people as he usually did, being in a great hurry because he said he was going to die that day. But as he was feeling some discomfort he first stopped at the doctor's house near the church. There, before receiving any medical help he had a stroke and died a sudden death.
Dirshaye Menberu
---
Sources:
Gustav Aren, Envoys of the Gospel in Ethiopia (EFS forlaget Stockholm: the Evangelical Church Mekane Yesus Addis Ababa, 1999).
Gustav Aren, Evangelical Pioneers in Ethiopia: Origins of the Evangelical Church Mekane Yesus (Uppsala: Offsetcenter ab, April 1978).
Terfasa Diga, Onesimus Nesib (Addis Ababa: EECMY, 1999).
Tulu B. Bacha, information from email message ([email protected]).
---
Works by Onesimus Nesib in Oromo:
Galata waqayo Gofta Macha ("Evangelical Songs and Psalms"), (Imkullu: n.p., 1887).
Kakku Hara ("the New Testament"), (Imkullu: n.p., 1893).
Machafa Qulkullu ("the Holy Bible"), (St. Chrischona: n.p., 1899).
Katekismos ("Luther's Catechism"), (St. Chrischona: n.p., 1899).
Garan Nama Mana Waqayo Yokis Ido Bulti Setana ("Man's Heart"), (St. Chrischona: n.p., 1899).
Works by Onesimus Nesib and Aster Ganno in Oromo:
Jalqaba Barsisa ("the Galla Spelling Book"–and Reader), (Imkullu: n.p., 1894).
Dr. Barth's Bible Stories (translated into Oromo), (St. Chrischona: n.p., 1899).
---
This article, received in 2005, was researched and written by Dr. Dirshaye Menberu, retired professor from Addis Ababa University and 2005-2006 Project Luke Fellow. She is a graduate of the Ethiopian Graduate School of Theology (EGST), a DACB Participating Institution.
---
Photo Gallery