Classic DACB Collection
All articles created or submitted in the first twenty years of the project, from 1995 to 2015.
Andriambelo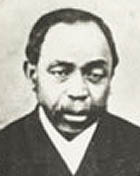 Andriambelo was one of the persecuted Christians during the "Period of Christian Persecution" in Madagascar (1835 - 1861). As he did not want to renounce his faith, Queen Ranavalona I put a price on his head. Andriambelo was one of the five great Christians of renown who were called the mpivahiny (the wandering ones) during the persecution. When the persecution was over (1861), Andriambelo and two others in the group of five became pastors.
Andriambelo was born around 1829 in the village of Ambatafotsy, located on the outskirts of Antananarivo. His father, Razaka, belonged to a princely line on the Zanadralambo side (descendent of Ralambo, among the kings of the Imerina). His mother's name was Rabodomanitrandriana. Since he was the youngest of his nine brothers and sisters, he was also called Andriamparany ("youngest boy). He was still a child when his father died from the tangena [1] and his mother took charge of his education.
His brother was one of the students in the very first LMS school (London Missionary Society). He was a Christian, and it is said that he was among those who died during the first wave of persecution that started in 1835.
Before the age of fifteen, Andriambelo was not interested in the Christian religion. In 1847, he shared a room with a young Christian, but since he didn't see how that boy was different from others, he adopted a "wait and see" attitude. Later however, when he saw that his neighbor's behavior was changing for the better, he began to accompany him to secret prayer meetings that were held at night. A few months later, he formed a prayer group with young men his own age. They would meet during the day to read the Bible, to talk about it and to sing. Sometimes they even ate together so that they wouldn't be noticed as much.
In February of 1849, the second wave of persecution began. Andriambelo was denounced because he had a Bible and had given Bible studies. In light of his youth, his death sentence was commuted to slavery and he was sold for six francs - a large sum at that time. His family bought him back.
Now that he was free again however, he couldn't find his Christian friends, as they were either fleeing or in hiding. He was also quite frightened at having seen some fellow Christians in chains, and he became inactive for several months. Later, having found his former friends, his zeal for reading the Bible and prayer took hold of him again. Sometimes he even preached, and the others were happy to listen to him.
The Christians asked him to be baptized, so he was baptized on December 25, 1849, and took Communion. From then on, he attended the secret meetings of the Holy Communion every Saturday - these meetings that took place at night and did not end until dawn.
For six or seven years, Andriambelo was in the habit of visiting four or five homes around Antananarivo during the day, in order to encourage those who couldn't come to the meeting because they were sick or because they were afraid of being seen, or recognized as being Christian. At night, he went out to the villages to preach and give Holy Communion. Sometimes fatigue would overtake him and he would take a nap while en route. Once, he almost fell into a ditch; he was more careful after that incident.
The last wave of persecution happened in 1857. Andriambelo was being sought because the Queen had been told that if he were captured, he would give up the names of the other Christians. For that reason, Queen Ranavalona I put a price on his head. His name was spoken about publicly on every market day in Antananarivo and the surrounding area. He had to run away and hide deep in the forest to the east. During the day he would often hide in caves, but when night fell, he would come out to preach to those who lived at the edge of the forest, or he would go to the nearby villages. On many occasions, he was nearly caught.
One day he tried to come back to Antananarivo, but on the way he met some Christian friends who advised him to go back, as he was still being actively sought. He went towards the west, and stayed in hiding for about fifteen days. He met other Christians who were in flight, and together, they wandered about in the desert for about three months. They were so poorly dressed that the soldiers who were pursuing them didn't even recognize them. Sometimes, when they met people they didn't know, they disguised themselves as slaves by covering their faces with charcoal dust and pretending to be picking up wood or hunting for birds. During this time when he was in hiding, his friends called him be finoana (full of faith), or masina (saintly), and later, they called him Andriambelomasina (Andriambelo the saint).
Toward the end of 1857 the persecution calmed down and Christians were able to breathe a bit easier. Andriambelo managed to stay in hiding in Antananarivo. But what a surprise to find that his wife had been married to someone else by his in-laws, and that all his goods had been confiscated by the state! He had absolutely nothing left. He asked Prince Rakotondradama (Queen Ranavalona I's son, who would inherit the throne when she died) for advice, and he promised to protect him. His Christian friends helped him and bought him a house in Amparibe. One year later, as was his custom, he started to visit people again in order to encourage and strengthen the Christians who had become tired and impoverished from all the fleeing.
When the Queen died in 1861, the church bells rang throughout the city - not to mourn her death, but to announce to all the Christians that they could come back because the time of terror was over. Christians openly came back from wherever they had fled, tired but strengthened in their faith. The persecution had spread them throughout the country; the Queen had actually helped Christianity to flourish instead of destroying it. Christian soldiers had also played an important role in this expansion of the faith. Through that time of persecution the Protestant Church of Madagascar was born.
Andriambelo led the worship service for Holy Communion when the end of the persecution period was celebrated on July 6, 1863 in the Ambatonakanga church.[2]
Soon there was a regime change, and freedom of worship was proclaimed. On August 22, 1861, Andriambelo and his friends came out publicly in the court of the Prime Minister, Rainivoninahitriniony. Queen Ranavalona II - who succeeded King Rakotondradama after his assassination - converted to Christianity and was baptized by Andriambelo. Since the example was now coming from above, many of the Queen's subjects became Christians as well in order to please her, even if they didn't know much about it. This period was called the period of rebikondry (of behaving like sheep).
A lot of Protestant churches were built in Antananarivo and the surrounding area at this time. Under the leadership of Andriambelo and his colleague Rainimamonjy, the Christians built a church in Amparibe. The two men were elected pastors of that parish on February 3, 1862. Andriambelo led the worship service and Holy Communion on July 6, 1863, in the church at Ambatonakanga, at which time the church celebrated the end of the time of persecution. [2] A few years later, Andriambelo had another, larger church built, because the first one wasn't big enough for the constantly growing parish. The Queen came to the inauguration of the new church on October 6, 1870. Andriambelo stayed there as a pastor for forty-one years (from February 3, 1863, to July 13, 1904).
Andriambelo was well-loved and appreciated by all the faithful. He was a great orator and people loved to hear him preach. He was a brilliant man, full of faith and courage. The Queen also asked him to lead the Palace Church that she had built in Anatirova [3] as a public witness to her faith.
Rev. W.E. Cousins, who worked with Andriambelo as a missionary in the parish of Amparibe, wrote the following in a letter to Rev. Ellis, in 1869, "He was a remarkable man. The love that the Malagasy people had for him did not waver over time. He was often called to preach before the Queen in Anatirova. [3] You have already heard about how he preached and about how well he knew the Holy Scriptures. He learned his theology while on the run and as he endured hardships. Not a single pastor was his equal when it came to his work - he was tireless, full of faith and confidence."
Andriambelo was one of the pillars of Malagasy Protestantism. He inaugurated the organization of the Protestant Church of Madagascar.
He fell ill on April 19, in 1897. Even though he was retired, the church in Amparibe continued to support him financially until the day he died, which was July 13, 1904. His body was taken to the church in Amparibe on July 15 for a final farewell, and then he was buried in the family crypt in Ambatofotsy, his birthplace.
Berthe Raminosa Rasoanalimanga
---
Notes:
During the* tangena* ritual, a person who was accused of having done something wrong had to drink a poison. If the accused survived, he/she was considered innocent. If they died, it was so-called "proof" of their guilt.

The first Protestant church, which was built in Antananarivo by missionaries of the LMS. On the advice of W. Ellis, a missionary, the church was rebuilt in stone as a memorial to the martyrdom of Rasalama, who had been kept there as a prisoner before her execution.

The name designates the enclosed area of the Queen's palace.
---
Bibliography
Richard Lovett, The History of the London Missionary Society: 1795-1895, vol. 1. (London: Oxford University Press Warehouse, 1899). Accessible on the internet site: http://books.google.com/
Protestant Journal Gazety Mpanolotsaina [The Counselor], No. 221, October-December 1958, pp. 2-8.
Protestant Journal Ny Sakaizan'ny Tanora [The Friend of Youth], No. 89, May 1964, pp.73-76.
Protestant Journal Fiangonana sy Sekoly [Church and School], No. 248, August 15, 1904, pp. 60-61.
Protestant Journal Teny Soa [The Good Word] No. 79, October 1936, p. 154. Juvenile Missionary Magazine, October 1, 1867.
Pastor Rabary, Ny daty Malaza: na ny dian'I Jesosy teto Madagasikara [Significant Dates in the Footsteps of Jesus in Madagascar]. (Antananarivo: Trano Printy Fiangonana Loterana Malagasy, 2004).
---
This article, received in 2008, was written and researched by Ms. Berthe Raminosoa Rasoanalimanga, directress of the FJKM National Center for Archives (1984-2007), and recipient of the DACB Project Luke Scholarship for 2008-2009.
---
Photos Gallery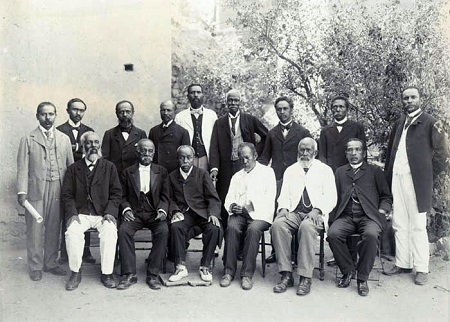 [1] Photo of a group of pastors with Andriambelo, around 1896: (standing) Rabary, Ramanitra, Rainialijemisa, Rainamanga, Ranitaray, Frank Rasomerana (FFMA), Rainimakaola, Radaniela, (sitting) Rainidamary, Ramaka, Andriambelo, Rahe, Raimitrimo and Andriamifidy. Many of these people had been persecuted for their faith.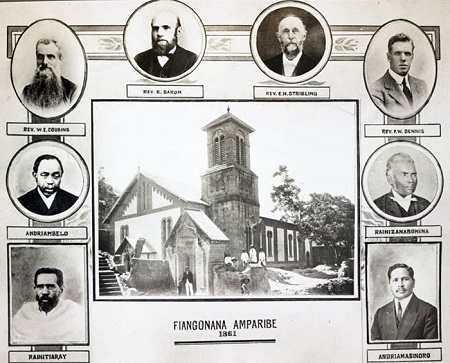 [2] Photomontage of the church in Amparibe, dated 1861, with the portrait of Andriambelo and of other pastors and missionaries. Photograph: Razaka.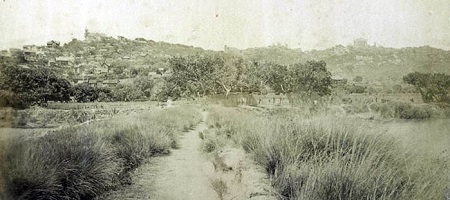 [3] Photo of Antananarivo from the west. Photograph: John Parrett
All photographs reproduced from the archives of the London Missionary Society/Council for World Missions (CWM).