Classic DACB Collection
All articles created or submitted in the first twenty years of the project, from 1995 to 2015.
Langa, Lazaro Thandavatu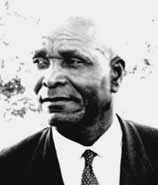 Muzonda Nhacale refused to be married to Chief Ngungunyane and fled to Inhambane. Her son, Lazaro Thandavatu Langa, was born at Nhacale in Wutxopi (Manjacaze District). His father was Mr. Samo Muianga Langa.
One day as a small boy he was on his way to the river to slake his thirst. Beside the path he noticed three human forms almost hidden in a thicket. They were thieves and were cutting up Hokoya, his grandfather's pig, that they had stolen. Seeing Lazaro, they sent him to fetch their wives with the cooking pots and promised that he would share in the meat. He complied and enjoyed the feast before going home.
Next morning at sunrise he was out calling for Hokoya. His grandfather said it was clear that the pig had been stolen. He said he would have Mabongwe, the traditional doctor, prepare strong medicine to sprinkle around on the ground. This would insure that all who had eaten Hokoya's meat would shrivel up and die. Lazaro was frightened and finally confessed to his mother what he had done. She whipped him. The thieves were caught but he was happy to be free from the evil spell.[1]
Lazaro Langa was first touched by the gospel as a boy in 1915 when some Zulu-speaking preachers visited his village. He wondered who Jesus was and where He came from, so he followed one of the preachers. The preacher was his uncle, Simon Nhacale, and he moved to Cuaie in 1924. Lazaro eventually entered a school and at fifteen was baptized at Mausse after being able to prove he could read a Bible verse, this being the chief requirement for baptism. He was given the name Lazaro. In 1928 he married Alina and later went to the gold mines in Johannesburg where he became a leader in his church.
Back home in 1930 during revival meetings at Chidumo, he heard Rev. John Mazivila tell of the need of forgiveness of sins and baptism with the Holy Spirit. There Lazaro Langa truly found salvation.
In 1939 he was the Nazarene church leader on the West Rand (Johannesburg area) and lived at the Jumpers compound of the City Deep mines. He continued however to beat men who were under him. One day one of them told him, "Don't preach to us while you also hit us underground in the mine." He prayed secretly for a perfect heart to overcome his temper. One evening in a service at City Deep he went to the altar weeping and asked God to kill the old person in his heart, and he experienced wonderful cleansing and victory.
The compound manager had been cautious at first about permitting services. When he found out, however, that Lazaro Langa was the Nazarene church leader in the area his attitude changed immediately. He told Missionary Charles Jenkins "Nkomoyahlaba" (the cow that gores),[2] "If what you preach will do for others what it has done for this wonderful man, you are free to come and go as you please."[3]
When Langa went back home in 1940, Rev. Paul Seweia asked him to start a church at Manguenhane, near Manjacaze. In 1950 as overall leader of the work on the mines, he was the first to visit the Orange Free State mines and extend the Church there. In 1961 he went to Tavane Bible College for two years and was ordained in 1963 by General Superintendent G. B. Williamson. As a leader on the Macuacua Zone in Gazaland he usually travelled on donkey back as it was too sandy to ride a bicycle. He became leader of the Alto Chengane Zone on the Manjacaze District.
One day while travelling through a deep forest, a monkey blocked the path ahead and frightened his donkey. The donkey jumped and ran. Lazaro Langa fell and broke his leg. All alone in the bush he called for help. Finally some women found him and carried him home. Many prayed for him but he was months recovering in a Maputo hospital. He was a great evangelist and always preached entire sanctification, the need for the old self to be killed.[4]
Retiring in 1973 Rev. Langa pastored for a while at Laranjeiras. During the civil war the attack by rebel forces on Aldeia de Laranjeiras in June 1986 left the family in great mourning. The Langas' son was killed. Their grandson's wife had her leg severed. The attackers then abducted four of their grandchildren, scattering the family.[5]
Paul S. Dayhoff
---
Notes:
Oscar and Marjorie Stockwell, The Ant Sends The Elephant: Parables and Sermon Illustrations from Mozambique, (Hampton, NH: Yankee Printer, 1989), 79-81.

Prof. Leonard Sibandze, "eswatini Annual Assembly Report," Mutwalisi (The Herald), Shangaan/Tsonga magazine of the Church of the Nazarene in Mozambique and South Africa, (Florida, Transvaal, South Africa: Nazarene Publishing House, February-June 1955), 55.

William Esselstyn, letter (Rockton, IL, 17 June 1995).

Vicente Mbanze, report from interview with Lazaro Langa (1992).

Rev. Lazaro Langa, "Testimony", Mutwalisi (December 1987), 3.
---
This article is reproduced, with permission, from Living Stones In Africa: Pioneers of the Church of the Nazarene, revised edition, copyright © 1999, by Paul S. Dayhoff. All rights reserved.