Classic DACB Collection
All articles created or submitted in the first twenty years of the project, from 1995 to 2015.
Africaner, Jager Christian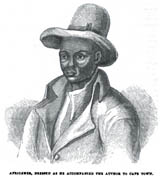 Jager Christian Africaner was an outlaw who became a Christian leader of his people after he was converted. He was a chief of the Oorlams (Khoi) people. His father, Klaas, was a cattle farmer and headman of the Oorlams people in the Witzenberg district near Tulbagh. He was gradually driven from his land by white farmers, his livestock dwindled and, unable to retain his inheritance, in about 1790 Klaas Africaner and his family moved to the farm of a Dutch farmer named Piet Pienaar at Hantam, near Calvinia. They worked as herdsmen and shepherds, protecting the farmer's livestock from attacks by the San. Pienaar gave them guns to protect the herds and often accompanied them on the punitive expeditions. Campbell, the London Missionary Society missionary, wrote in 1815 that the plundering expeditions they carried out for the farmer taught the Africaners how to survive as outlaws (Campbell 1974, 376).
In 1795 Jager Africaner succeeded his father as chief of clan. He was in charge of the family when the quarrel with Pienaar came to a head a year later Pienaar was an overbearing man who did not understand or respect the Khoi people. When he ordered Africaner and his followers to go on an expedition that they knew would end in disaster they refused to obey. They were summoned before the farmer. An argument followed, either about the expedition or about wages, and Pienaar knocked Jager to the ground. Titus Africaner, his brother, could not stand by and watch and he fired a gun at the farmer, killing him. Campbell's account reports that the farmer's wife and child were also killed. The Africaner clan now became outcasts, on the run as murderers. They took the cattle and the firearms belonging to the farmer and hurried north to the Orange River. They eventually crossed the Orange River and settled in Great Namaqualand (Marrat 1895, 15).
Africaner, now an outlaw, proved a formidable cattle raider among the frontier Boers. He had as his enemies both the farmers in the Cape Colony and the Namaquas, among whom he was an unwelcome settler. He managed to strike terror into them all until at last Governor Dundas at the Cape offered a large reward for his capture (Moffat 1889, 27).
After a number of years Africaner met the missionary Christian Albrecht. By this time Africaner was tired of life as an outlaw and had settled in Africanerskraal in what today is Namibia. Africaner lived in peace until 1810 when he attacked the London Missionary Society mission station at Pella and returned to his old way of life raiding and plundering.
Albrecht persuaded Africaner to accept a German missionary, the Rev. Johannes Ebner, for his clan. In June 1815, Ebner baptized Jager and his family and from then on Jager became known as Christian (Mossolow 1993, 5).
Three years later the Rev. Ebner took Robert Moffat, a fellow missionary from the London Missionary Society, to visit Africaner. A farmer they passed on the way warned them of the desperate character of the man they were going to visit. He told Moffat that he was taking his life in his hands by going near Africaner.
At first Africaner was cool and reserved towards Moffat. Ebner quarreled with the chief's brother and left Africaner's clan to work among the Bondelzwarts people, who had invited him to be their missionary. Moffat was left alone with the clan. Gradually a strong personal friendship grew between Moffat and Africaner.
Africaner took a keen interest in what the missionary taught, attended the worship services and learned to read the Bible and write. His way of life was so changed that in 1819 Moffat persuaded Africaner to accompany him to Cape Town. Africaner was wary at first because he knew that there was a price of 1,000 rix dollars for his head. On the way to Cape Town Moffat spent the night at the home of a farmer named Engelbrecht, who was amazed to see that he was still alive after visiting the outlaw. As nothing had been heard of the missionary, people feared that the outlaw chief had ordered his death. Africaner was introduced to the farmer who raised his eyes heavenwards and said in amazement: "O God, what a miracle of thy power! What cannot thy grace accomplish!' (Marrat 1895, 23).
The governor, Lord Charles Somerset, was so impressed when he met Africaner that he granted him amnesty and gave him a wagon worth 80 pounds. During the interview Christian introduced his second son, Jonker, as the one who would succeed him (Mossolow 1993, 5). Africaner returned to his clan and when Moffat moved to Lattakoo in 1820 he took over as church leader of the Oolams.
In 1822 Klaas Africaner died, followed soon afterwards by his son Christian. Before he died, Christian Africaner reminded the clan that as Christians they should live peaceably with other people.
Christian Africaner was succeeded by his son Jonker. Some years later Jonker decided to separate from his brothers and moved his followers to near Ai in Namibia. He embarked on a series of raids against the Hereros before settling at what is today Windhoek. Here he built a stone church and encouraged missionaries from the London Missionary Society, the Wesleyan Methodists and the Rhenish Missionary Society to start work in Namibia.
J. A. Millard
---
Bibliography
Campbell, J. Travels in South Africa, Undertaken at the Request of the Missionary Society, rev. ed. Cape Town: C. Struik, 1974.
Marrat, J. Robert Moffat: African Missionary. London: C.H. Kelly, 1895.
Moffat, R. Rivers of Water in a Dry Place: The Introduction of Christianity into South Africa and of Mr. Moffat's Labours. Philadelphia: Presbyterian Board of Publication, 1863.
Moffat, J. The Lives of Robert and Mary Moffat. London: T. Fisher Unwin, 1889.
Mossolow, N. Gross Barmen: The History of The First Rhenish Herero Mission Station in South West Africa 1844-1904. Windhoek: J. Meinhart, 1993.
Verwey, E., ed. New Dictionary of South African Biography. Pretoria: HSRC, 1995.
---
Photo:
[1] Missionary Labours and Scenes in Southern Africa by Robert Moffat (London: John Snow, Paternoster Row, 1846). http://books.google.com
---
This article is reproduced, with permission, from Malihambe - Let the Word Spread, copyright © 1999, by J. A. Millard, Unisa Press, Pretoria, South Africa. All rights reserved.