Classic DACB Collection
All articles created or submitted in the first twenty years of the project, from 1995 to 2015.
Maenetja, Josefa Monare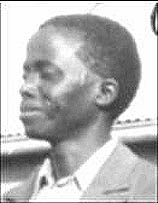 Pastor Josefa Monare Maenetja was the pioneer minister at the Thabeng Mission. He was born at Ga-Manamela near Ramokako (Tzaneen/Letaba area today) at about the time of the Boer victory over the British at the battle of Majuba Hill in northwest Natal. The family later moved to Moime in the homeland of the Pedi Chief Maake. In those days the gospel was unknown in that region and white people had not yet moved into the area. His grandfather and father each had several wives and were famous professional rain doctors. People brought gifts and asked the borokapula to appeal to the ancestral spirits to send rain. Monare's father was a headman and Monare's mother was his first wife. Monare was to follow his father as rain doctor.
While Monare was a small boy, herding goats, sheep and calves, a terrible drought occurred. The ensuing famine brought great suffering. Children dug for edible roots in the bush. There was no other food. People were lying dead alongside the paths. Animal skins were eaten and people sent their chilren to the white farmers on the plateau above the mountains as servants in exchange for maize. Monare became sick with dysentery. One day he tried to run from a snake and was so weak he fell unconscious. His father found him. A friend very kindly gave his father a piece of stiff maize porridge. With it they were able to feed the boy gruel and he recovered.
When he was twelve Monare went through the tribal initiation rituals. There were no schools at all in the area. At the age of fifteen he travelled to Pretoria (two hundred miles to the Southwest) to earn money for magadi (marriage dowry). There he learned to read and write. He also heard the gospel, became a believer, joined a church and took the name Josefa. In 1902 he was baptized at the Medingen Lutheran Mission (about thirty miles north of his home). He heard about the martyrs that had died there under the Lobedu Queen, Modjadji.
Mr. Johannes Kgashana Mamatlepa was a prince of the Lobedu tribe. The Queen sent Kgashana and some other young men to Port Elizabeth (a thousand miles to the South) to obtain guns. Kgashana met with the Moravian missionaries there and was converted. He returned home in 1869 with a gun and a Bible. Kgashana came to be hated by many because he tried to witness for Christ and opposed polygyny and ancestral worship. Finally in 1883 he left the court and gathered around him a group of Christians. Kgashana hid the royal divining bones and amulets in a hollow morula tree and refused to disclose where they were. On Good Friday 1884 tribal warriors killed him in front of the church door at Modubeng.[1] About forty other Christian converts, men, women and children, were also killed at that time. In 1887 however Queen Modjadji permitted Rev. Fritz Reuter to found the Medingen mission there. He was the only white person living in that part of the lowveld at the time. [2]
This martyrdom for the faith must have greatly influenced Josefa Maenetja because, when he returned home and his father died in 1907, Maenetja refused to accept the mantle of rain doctor "Borokapula," as was required by the family. After marriage to Johana he settled down however to the normal life of his people involving drunkenness and traditional worship. During that period of over twenty years he lost interest in Christianity but refrained from taking additional wives.
In 1928 Johanna became sick and Josefa visited a traditional doctor to find help for her. While there he was writing a letter for the doctor when Missionary Abram E. Zook from the Thabeng Mission came to visit and asked to have prayer. The doctor refused but Josefa invited the missionary to his own homestead and called the family together for prayer. This contact made a very great impression on Joseph Maenetja. After that he began to attend services at the mission from time to time. For months he sought the Lord and often came to pray at the altar.
In 1931 two missionaries on horseback, Reverends Irvin E. Dayhoff and Leon R. Sturtevant, visited his homestead one Sunday morning. A beer party was in progress but he invited them to hold a service. Irvin Dayhoff spoke on the verse John 3:16 and illustrated his message by offering a sixpence (ten-cent piece) to anyone who would take it. At first there was no response. Finally a boy, dressed only in a loin cloth, jumped up and claimed the coin. The message was that salvation is just that free to anyone that would claim it. Although he had been a little tipsy, Josefa became completely sober. Later he explained, "I said in my heart 'I accept Christ' and joy filled my heart."
He shared his newly-found faith with Johana that night and told her he felt these missionaries were telling the truth about the way to heaven. She also found the Lord and they had their first family prayer. He said that all desire for non-Christian traditional customs left him. They began attending services regularly at Thabeng mission. The mission was about a six-mile walk across the mountain pass from their home. Johana brought their things that were dedicated to the ancestral spirits to be burned. Maenetja became deeply concerned about the spiritual darkness of his people.
Johana died a few months after that, leaving an infant boy with no one to care for him. Her final words were, "I think now I will be called away to go to heaven." Little Timothy was brought to the missionaries, Leon and Ethel Sturtevant, to be cared for. When old enough, he was given back to his grandmother but was very delicate and soon died. This caused a serious spiritual struggle for Josefa. Some time later he brought six gold sovereigns to the Sturtevants to thank them for looking after the child.[3]
Josefa was so eager to learn and serve the Lord that he used to follow Brother Sturtevant around everywhere he went.[4] He began going from home to home in the surrounding areas telling the story of salvation. Feeling God's call to full-time ministry he entered classes at the mission. He was one of the first four converts to be baptized and soon became a regular helper in the Lord's work. He married Esther. She found the Lord and was baptized in 1937. Maenetja began a church under a tree at his home at Moime and started a small school nearby. This school is today named after him. Through his influence Chief Maake became a friend of the mission.
The Maenetjas moved to Thabeng and he started the school there. Mr. Billy Mohlare took over as the teacher at Moime. There was strong opposition from a rival Tsonga school in the valley below the Thabeng Mission but Mr. Makasane, a prominent resident whose homestead adjoined the mission, affirmed this to be his school and the Chief's court allowed Maenetja's school to continue. Esther passed away before her children were grown and in 1948 Maenetja married Dorcas, a Christian lady at the mission.[5] She came to be called Mama Katrina.
Telling of his sanctification he said, "I do not remember the date but I remember the day that God met me. My spirit troubled me very much. I went alone to pray out under a tree. I shall never forget that day. The things of the world became very small to me. I knew it was then that God cleansed my heart from sin and gave me the Holy Spirit."[6]
Maenetja used to plow a large field with his donkeys and would help others with their harvest. He believed in sharing and attracted many friends among both the Pedi and Tsonga tribes in the region. People trusted him and he was known far and wide. He wrote letters and sent money for illiterate people, helping them in every way he could. He was a man of love and he prayed much. Many came to him for advice on personal and home problems and he helped them with God's Word. During an outbreak of dikomole (sores) he helped at the clinic to put on dressings. Maenetja feared God, respected people and worked for both. Maenetja established a strong tradition of good fellowship between Pedi and Shangaan people in the congregations which continues to the present.[7]
During 1942-43 there were no missionaries at Thabeng, and Maenetja carried the leadership of the work alone. He called people together with a cowhorn trumpet. Visiting in homes he had extended classes and times of discussion. People repented. He often walked fifteen miles for services and he started numerous preaching points. These were consolidated into three permanent congregations: (l) Thabeng mission, (2) Khopho, in Chief Mogoboya's area around the mountain to the west and (3) Moime, across the mountain to the east.[8]
In 1955 Maenetja was the first Nazarene minister in the Transvaal to retire from the ministry. During his last years he was becoming blind. He looked forward to receiving new glorified eyes. Although retired because of sickness, blindness and physical weakness, spiritually he was like a young person.
On his death bed before finally losing consciousness he said he was going home. He went home indeed on 12 July 1963. One of his favourite sayings was the ancient Pedi proverb, "Go kgona go phala ke go theeletša" (Obedience is better than ability). He often also quoted the biblical proverb "The fear of the Lord is the beginning of wisdom" (Ps. 111: 10).
The work begun by Josefa Maenetja has developed, together with the churches in the Lorraine mission area, into the great Northeastern District. In 1995 this area became a regular district of the Church of the Nazarene.
Four of his daughters are teachers. A son, Mr. Samuel Maenetja (1934-1980), Esther's son, was also a teacher. While teaching he started the Sofaya Church (near Chief Sekororo's royal homestead) and was its lay-pastor for years. After he passed away his wife, Mrs. Maria (Letsoalo) Maenetja (1938-), continued to lead the congregation.
Josefa Maenetja's son, Rev. Dalton Maenetja, and a nephew, Rev. Abram Maenetsha, were both ministers of the gospel.[9] His grandson, Rev. Calvin Maenetja, is also a minister. He pastors and resides at Thabeng.
Paul S. Dayhoff
---
Notes:
O. Rathupetsane, "Life Story of Johannes Kgashana Mamatlepa the Martyr," Tšhupa-mabaka a Kereke (Church Almanac). Northern church magazine. (Cape Town, South Africa: Evangelical Lutheran Church, 1969), 92, 94.

Rev. Fritz Reuter, Berlin Mission, "Modjadji, a Native Queen in the Northern Transvaal," South African Journal of Science, (Marshalltown, South Africa: South African Association for the Advancement of Science, vol.3, 1906-07), 249.

I. Dayhoff, Pioneering in Pediland, (Kansas City, Missouri: Nazarene Publishing House, 1964), 29ff.

Told by Mr. Robert Sturtevant as he heard it from his father, Rev. Leon Sturtevant (Weiser, Idaho, October 3, 1994).

Leah Mashele, research paper, NTC, Johannesburg, 1992.

I. and F. Dayhoff, 1938, Missionary vicissitudes. Cincinnati, Ohio: God's Bible School and Revivalist, p.46, 77ff.

Simon Moagi, Research paper, NTC, Johannesburg, 1992. (From interviews at Thabeng with Dorcas, Maenetja's wife and Mary Nkwana, a convert of Josefa Maenetja.)

Calvin Maenetja, taped interview with Dorcas Maenetja, Dalton and Sophie Maenetja, Thabeng, 1993.

Calvin Maenetja, letter, May 28, 1995.
---
This article is reproduced, with permission, from Living Stones In Africa: Pioneers of the Church of the Nazarene, revised edition, copyright © 1999, by Paul S. Dayhoff. All rights reserved.